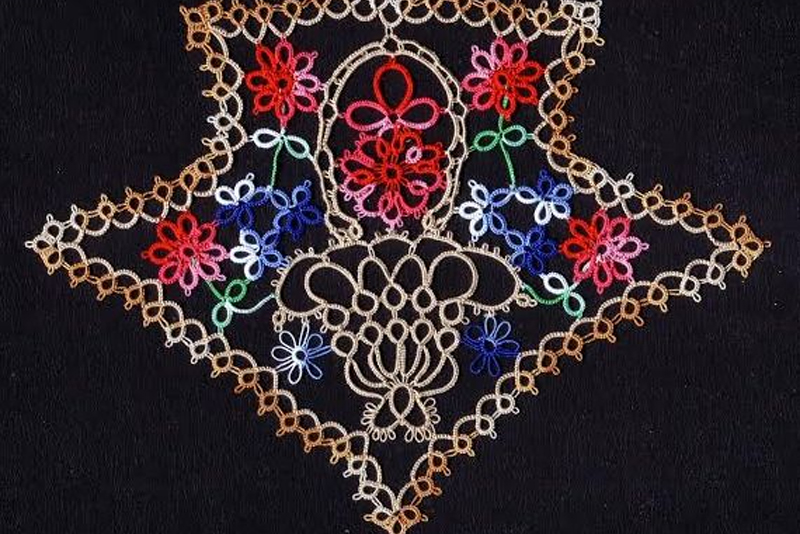 Inspiration for Tatting
I was down with a virus recently and could not find the energy to pick up a shuttle. Until I got a call from Nadine Nunnelley who needed help for a new tatter she had just got started. It seems that the two of them have an interest in tatting those 3-dimensional soft toys as taught by Angeline Crichlow and made famous by the creative Carol Amich.
Well, I put the three of them in contact and now await photos of the results. I am probably a little more impressed with Nadine's interest than others. You see, Nadine is 98 years young now. This is just one of her recent books.
Well, just talking to her got me going again and I started reading another of the neat old vintage tatting books. I found an interesting page or two.
In the 1883 "Manual of Needlework Teaching how to do Kensington, Applique, cretonne, roman, cross-stitch, outline and other embroideries, how to make Honiton Macrame Lace, Darned net, etc., also, give instructions in Knitting, Crocheting, Tatting, Rug Making..." and on and on went just the title!
Flipping pages, I finally found the few tatting pages in the book and studied page 52, cut no. 6. Of course, there is no pattern given, no double stitch counts and few other clues. But let's see what we can tell.
First is the tatting "joined" by the picots? Or are the picots sewn together after the tatting is done? I think they were sewn. But let's modernize it as we go along. There 5 four ring groups and each has 3 picots. There are 2 three-ring motifs at each end. The center mostly is a round motif. There is a traditional round ring with 12 picots. The next row joins to those picots (again they look sewn to me but you can make regular picots.) One more row joins to these picots and the ends while 6 individual tucked in here and there to hold it together.
So we have little to go one but it does now look hard. Decide on a ds count, 2 double stitches between each picot or join. Make those 4 rings groups three times as large as the individual ones. Good luck on it.


Related Articles
Editor's Picks Articles
Top Ten Articles
Previous Features
Site Map





Content copyright © 2023 by Georgia Seitz. All rights reserved.
This content was written by Georgia Seitz. If you wish to use this content in any manner, you need written permission. Contact Georgia Seitz for details.