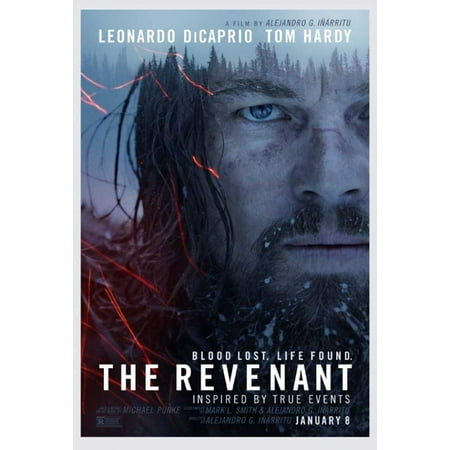 Hugh Glass and his son, Hawk, are helping to lead a fur hunting/trading expedition through the wilderness in the 1820s. After Glass is attacked and mauled by a bear, the team decides to continue their journey, leaving his son and two men, Fitzgerald and Bridger, behind to help him. Agitated that he's losing money on the expedition, Fitzgerald kills Hawk and leaves Glass behind in a shallow grave. Glass, refusing to die, crawls his way out with the motivation to find the man that killed his son. Here are a few movie mistakes to look for while watching "The Revenant".

· Fitzgerald has dug a grave for glass and has dragged him, alive, into it. Bridger puts the canteen on Glass' chest and tells him he's sorry. The strap of the canteen is coiled, falling on Glass' chest. A little later, when Glass is trying to get out of the dirt, the canteen's cord is pulled up, near his chest.

· Also, during this scene, as Glass pulls himself out of the grave, the canteen falls off him as he rolls over. Glass crawls over to his son, Hawk, and puts his head on his chest. A little later, Glass wakes up with his head still on Hawk's chest, but the rope of the canteen is around his neck.

· Fitzgerald puts the end of the gun against Bridger's forehead while he's on the ground. Bridger's head is on a black bag and his hair is dry. The gun clicks and Fitzgerald tosses it on top of Bridger before walking away. Fitzgerald tells him to "come on" and the close-up of Bridger shows he's still on the ground but he's now in the snow with ice covering his hair.

· Glass is trying to get out of the snowstorm by using the horse carcass. He takes his shirt off and tosses it on the ground. The camera pans around and the shirt can be seen under the horses extended left hoof above. The scene cuts to an overhead view and the shirt has been moved.

· CAUTION: May Contain Spoilers! Near the end of the movie, Glass is watching the Indian Chief and his men kill Fitzgerald. There are long strands of hair over Glass' face. The hair is still in his face when they approach, and he sees Powaqa. It cuts to a close-up after she passes and Glass' hair is neatly out of his face.

"The Revenant" (2015) stars Leonardo DiCaprio, Tom Hardy, Domhnall Gleeson, Will Poulter, Forrest Goodluck, Paul Anderson, Kristoffer Joner, Joshua Burge, Duane Howard, Melaw Nakehk'o, Fabrice Adde and Arthur RedCloud. It runs 156 minutes and is rated R for strong frontier combat and violence including gory images, a sexual assault, language and brief nudity.


Get your copy of "The Revenant" here:




Related Articles
Editor's Picks Articles
Top Ten Articles
Previous Features
Site Map



Follow @IGMovieMistakes
Tweet



Content copyright © 2022 by Isla Grey. All rights reserved.
This content was written by Isla Grey. If you wish to use this content in any manner, you need written permission. Contact Isla Grey for details.