8 Great Things To Do In Ocho Rios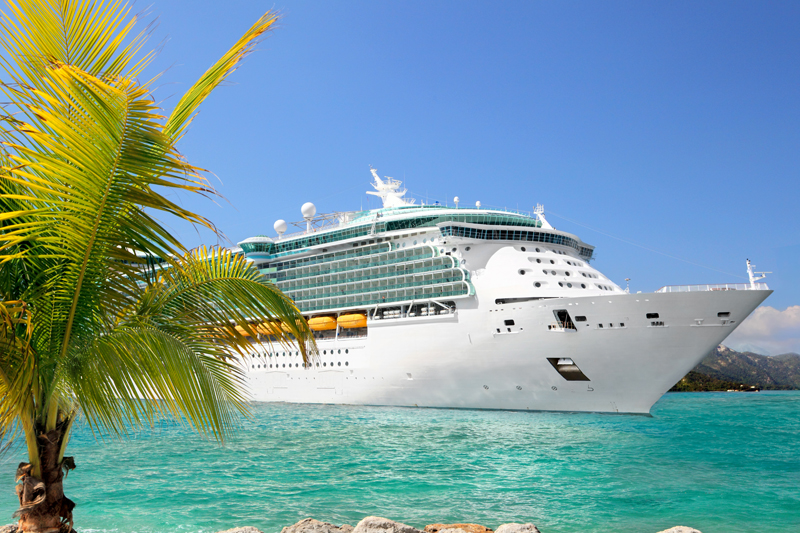 If you're sailing on a Western Caribbean cruise, it's likely that your itinerary will include a visit to Ocho Rios, Jamaica. Once a small Jamaican fishing village, Ocho Rios - meaning "eight rivers" in Spanish, has expanded to become one of Jamaica's top destinations for cruise guests and land-based tourists alike. Vacationers looking for beautiful beaches, adventure, history, relaxation and unique experiences are likely to find a memorable excursion that matches their interests here.

If you're planning to visit Ocho Rios on your next cruise vacation, here are eight great things to do while your ship is in port:

1. Climb a Waterfall. Dunn's River Falls is one of Jamaica's most famous tour attractions. Take a guided climb over 600-feet up to the top of the falls - definitely a great bonding activity. Wear water shoes with good treads for the best experience. Those who don't wish to make the climb can watch people ascending the falls from a series of observation decks. There's also a beach below the falls for swimming and playing before or after the climb. Many cruise passengers combine trips to Dunn's River Falls with other activities on their shore excursions, including river tubing, catamaran sails, snorkeling, zip lining, horseback riding and more.

2. Play at a Resort. Cruise guests looking for the ultimate in relaxation may choose to spend their day at an all-inclusive resort near Ocho Rios. Resort for a Day offers day passes at several all-inclusive beach properties. Some of the resorts are available for adults only, including Jewel Paradise Cove Beach Resort and Jewel Dunn's River Beach Resort. Jewel Runaway Bay Beach Resort's day pass option is available for families, couples and groups, and includes transportation and admission to the resort's water park. All include private beach and pool access. For more information, visit ResortForADay.com.

3. Fly through the Canopy. Cruise passengers have a number of exciting zip line shore excursion options in Ocho Rios. One choice is to head to H'Evans Scent Zip Line Facility for a thrilling zip line experience that sends guests soaring through the treetops. H'Evans Scent has a total of four zip lines including one that stretches a total of 1200 feet, the longest in Jamaica. Guests can also take an adrenaline-filled ride of a 50-foot giant swing and cavort on a large outdoor playground complete with a hedge maze, trampoline, swings and an obstacle course. Zip line courses are available at other locations near Ocho Rios, including Mystic Mountain and Cranbrook.

4. Go Rafting or Tubing on a River. Get out on the water while you're in Jamaica. Treat yourself to a unique rafting experience and journey down the White River on a 30-foot long bamboo raft built for two. This romantic river rafting excursion is one of Jamaica's most popular experiences. As guests glide along the water, they can relax and enjoy the area's lush scenery. More adventurous tubing options are also available on the White River and river boarding excursions are offered on the Rio Bueno River as well.

5. Saddle Up and Swim. This popular tour takes cruise passengers on a trail ride through Jamaica's countryside, wooded areas and wetlands. After completing the trail ride, the horses will come to a deserted beach where guests can go on a 10-15 minute bareback horseback ride in the Caribbean Sea. This is a unique and exhilarating experience, one you'll seldom find outside of the Caribbean. On the return ride, guests can see some of the remains of an old sugar plantation. Guests must be at least 6 years of age and weigh 250 pounds or less.

6. Visit Jamaica's Blue Hole. Located in a tropical rainforest, the Blue Hole is a stunning azure-colored natural lagoon located within a relatively short drive from Ocho Rios. Surrounded by cliffs, this limestone sinkhole area features cascading waterfalls, a Tarzan-like rope swing, multiple pools and even a cave. If you're planning to visit the Blue Hole, bring along water shoes with good treads, a towel, and a waterproof camera. It's also best to have a guide show you the safest places to jump into the water, swim, cross the river and access the falls.

7. Live the Legend. Visiting Nine Mile, the birthplace of reggae legend Bob Marley, is the equivalent of a Graceland pilgrimage for many fans. On this tour, cruise passengers have the opportunity to learn about Bob Marley's life, see his home, and visit his final resting place. If you choose your tour company well, your excursion will also stop at Jamaica's lush Fern Gully - home to over 200 different species of ferns.

8. Ride a Jamaica Bobsled. Mystic Mountain offers a number of exciting adventures for cruise guests. One of the most popular is the single-person bobsled ride, featuring 3,280 feet of thrilling twists and turns down the mountain's track. Height and weight restrictions apply. The bobsled ride is accessed by taking a scenic trip on Mystic Mountain's Sky Explorer chairlift, providing beautiful views of the forest canopy and the Caribbean Sea. A zip line experience, infinity pool and restaurant facilities are also available.

Popular Ocho Rios tours can sell out prior to arrival, so it's wise to book your shore excursions in advance. While the majority of these excursions can be purchased directly through the cruise lines, some travelers prefer to buy their tours through independent shore excursion companies. These companies sometimes provide lower prices, smaller groups, and easy pre-booking options. Some popular independent shore excursion companies offering tours in Ocho Rios include Shore Excursions Group, Chukka Caribbean Adventures, Island Routes and Viator.







Related Articles
Editor's Picks Articles
Top Ten Articles
Previous Features
Site Map





Content copyright © 2023 by Nancy Schretter. All rights reserved.
This content was written by Nancy Schretter. If you wish to use this content in any manner, you need written permission. Contact Nancy Schretter for details.