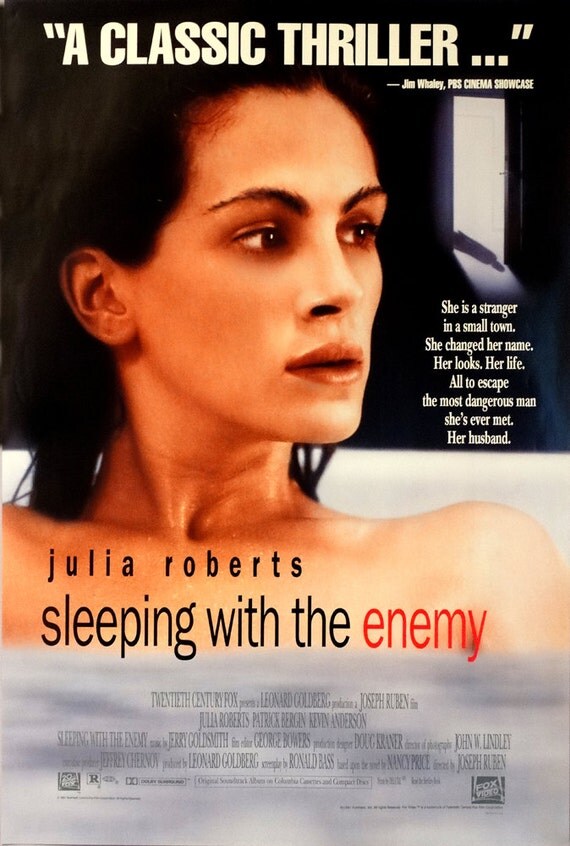 From outward appearances, Laura and Martin Burney have the perfect marriage. In reality, Laura lives in constant fear of her abusive, controlling husband. Seizing the opportunity to get away, Laura fakes her own drowning and travels to a small town in Iowa where she starts to make a new life for herself. The shadow of her life with Martin is never far away, especially when he realizes his wife is still alive. Here are a few movie mistakes to look for while watching "Sleeping with the Enemy".

· In the opening scene, Laura is collecting climbs in the water. In the farther, overhead view, she's standing in the water with the basket next to her. Her pants / khakis are noticeably wet. It cuts to a close-up and her pants are dry.

· Martin falls off the boat when it tips sideways in the water. Fleishman yells, "Give me your hand", and Martin reaches out for him. In the close-up of their hands, Fleishman grabs him with both hands to pull him back onto the boat. It cuts to the wider view of the two men and Fleishman is only using his right hand, which is on Martin's upper left arm, to pull him in.

· Laura sneaks into the care facility to visit her mother. In the close-up of her mom (right side/rear view of Laura), her mother asks, "you be OK alone?", and Laura's left hand, which hand been on her mother's wrist, can be seen moving to her arm. It cuts to a close-up of Laura and she moves her hand again. Also, during this scene, when Laura mentions she has a friend, her mom's right hand is still on the left side of Laura's face. It cuts to the front view of her mom when she mentions, "a man", and her hand is shown trailing Laura's face, near her chin. Her mom's thumb is on the right side of Laura's face. The scene cuts to a close-up view of the two when Laura says, "he's nice, ma," and her mom's hand is back in its original position on the left side of her face.

· Laura visits her mom at the care facility. A view of her opening the door from inside the room, shows the door opens from the left. It opens the same way when Martin is shown opening the door while Laura is in the restroom. A little later, when Martin visits Laura's mom again, the door opens on the right.

· CAUTION: May Contain Spoilers! Martin sees Laura through the crowd at the carnival as she and Ben walk away. The close-up of Martin shows him walking by a tilt-a-whirl ride. It cuts to a view of Laura and Ben on the Ferris Wheel and back to Martin, who's walking past the same tilt-a-whirl ride again.

· CAUTION: May Contain Spoilers! Laura is taking a bath at the carnival. In the left side view, her wet hair is back, away from her face. It cuts to a close-up view and part of her hair falls over her left eye, which she pushes back.

· CAUTION: May Contain Spoilers! At the end of the movie, Martin has been shot by Laura when he suddenly grabs her and points the gun toward her. He pulls the trigger, and nothing happens. His left hand, which had been holding Laura's head, falls near his side as he dies. Laura runs to check on Ben, as the camera pans out just before the end. Martin is shown and his left hand and arm are now extended past his head on the floor.

"Sleeping with the Enemy" (1991) stars Julia Roberts, Patrick Bergen, Kevin Anderson and Elizabeth Lawrence. It runs 99 minutes and is rated R for wife abuse terror and a sex scene.

Get your copy of "Sleeping with the Enemy" here:





Related Articles
Editor's Picks Articles
Top Ten Articles
Previous Features
Site Map



Follow @IGMovieMistakes
Tweet



Content copyright © 2023 by Isla Grey. All rights reserved.
This content was written by Isla Grey. If you wish to use this content in any manner, you need written permission. Contact Isla Grey for details.