Miracle On 34th Street (1994)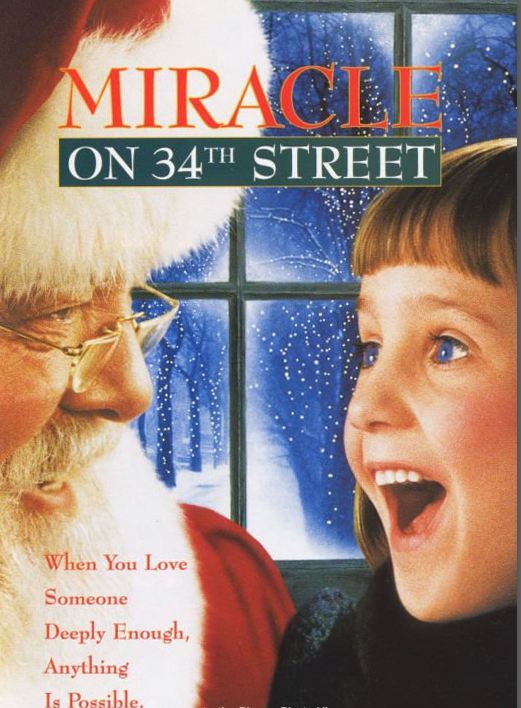 There's something about the Santa Claus that Dorey Walker hires for the department store she works at. When her young daughter, Susan, becomes enamored with Kris Kringle, the young girl becomes convinced he's the real Santa. Convincing others may be harder than she thinks when Kris goes on trial to prove whether he really is Santa Claus. Here are a few movie mistakes to look for while watching 1994's "Miracle on 34th Street".

· Near the beginning of the movie, the real Kris Kringle confronts the drunken Santa at Cole's Parade. The drunken/imposter Santa gets in the sleigh which tips backwards and flips off the float. Three band members try to get out of the way, with one dropping his cymbal as he runs. In the overhead view, as the sleigh crashes down, there is nothing near it on the pavement. In the next view, the cymbal is on the ground beside it.

· Also, during this scene, in the overhead view, as the sleigh lands upside down, the presents are noticeably out. A few moments later, when people come and pick up the sleigh, the presents aren't there.

· Jack Duff and Alberta Leonard drop Kris off after giving him a ride in the limo. Kris steps out the vehicle with Jack and says, "Goodnight". As he walks away, Alberta's bare legs are revealed in the background. Jack gets back in the limo as Alberta says, "he's completely out of his mind", and the top part of her legs are covered.

· Jack Duff is meeting with drunk/imposter Santa at the bar. Imposter Santa yells for another beer and puts his Santa hat on the table with his right hand. The scene cuts to a wider view of the two when Jacks asks if he had any contacts for "the old guy", and the hat is gone. It's back when Jack tells him he has a little job he wants him to do.

· Kris is staying with Susan while Dorey and Bryan are out on a date. Susan is in bed with pillows behind her. Kris mentions "keeping secrets" and the close-up of Susan shows the flower pattern on her pillow is to her left. She gets out of bed a moment later and the pillow's flower pattern is to her right.

"Miracle on 34th Street" (1994) stars Richard Attenborough, Mara Wilson, Elizabeth Perkins, Dylan McDermott, J.T. Walsh, James Remar, Jane Leeves. and Allison Janney. It runs 114 minutes and is rated PG for some mild language.


Get your copy of "Miracle on 34th Street" here:






Related Articles
Editor's Picks Articles
Top Ten Articles
Previous Features
Site Map



Follow @IGMovieMistakes
Tweet



Content copyright © 2022 by Isla Grey. All rights reserved.
This content was written by Isla Grey. If you wish to use this content in any manner, you need written permission. Contact Isla Grey for details.