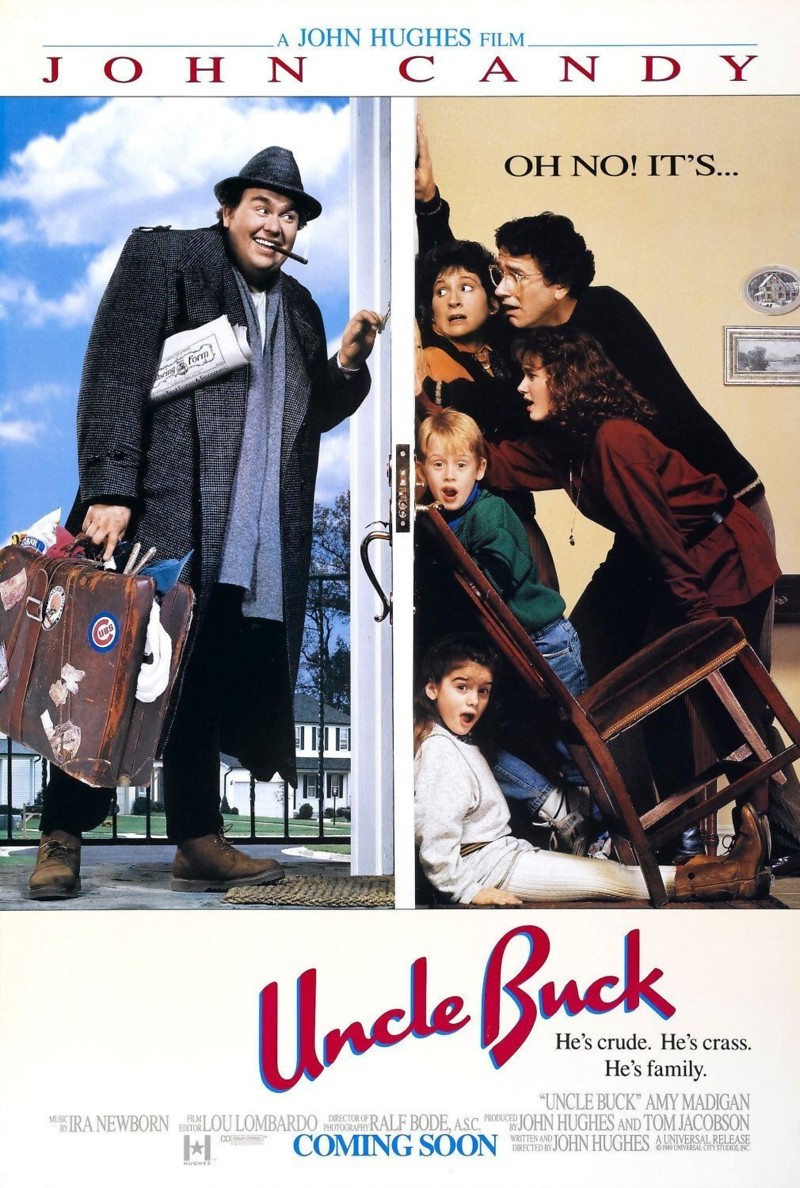 Buck Russell isn't the most reliable person. But, during a family emergency, his brother, Bob, has no choice but to ask a favor—to watch his three kids while he and his wife are out of town. Buck happily agrees, but the happy go luck bachelor might get more than he bargained for. Here are a few movie mistakes to look for while watching "Uncle Buck".

· Buck is talking to Chanice on the phone while she's at work. Chanice's right sleeve is pulled up, away from her wrist while she's talking. She yells, "OK, I've got to go now", and, in the front view, she slams her right hand down, with the sleeve still pulled back. A close-up is shown of her hand on the inkpad and her sleeve is pulled down to her wrist along with her pearl bracelet. It cuts back to the front view of her lifting her hand off the ink pad, and her sleeve is in its original position, pulled back.

· Miles takes everything out of the lunch bag Buck has packed for him. In the close-up, front view, Miles' hands are on the table when he turns to his friend on his right and asks about a lunch trade. The scene cuts to an overhead view as all the other students flee and Miles is holding is holding his lunch bag with his left hand while pulling a plastic bag out with his right hand.

· Buck is at the bowling alley with Tia, Miles and Maizy. Miles and Maizy get up to bowl, leaving Tia alone in the seat. Pal comes along, sits down and starts talking to her. The scene cuts to a view of Buck helping Maizy bowl and Tia can be seen in the background, still sitting alone in the seat. It cuts back to Pal, sitting in the seat, talking to her before Buck sees him.

· Maizy is in class and the teacher asks if anyone has a special story they want to tell the class. The close-up view of Maizy, when she raises her hand, shows the little girl in the background wearing the red shirt, has an open box of Crayola crayons and an open book on her desk. She's also holding one of the crayons in her right hand. It cuts to a quick view of the teacher and back to Maizy, and the little girl's desk is clear of crayon's and books.

"Uncle Buck" (1989) stars John Candy, Jean Louisa Kelly, Macaulay Culkin, Gaby Hoffmann, Amy Madigan, Elaine Bromka, Garrett Brown, Jay Underwood, and Laurie Metcalf. It runs 100 minutes and is rated PG for language.

Get your copy of "Uncle Buck" here:






Related Articles
Editor's Picks Articles
Top Ten Articles
Previous Features
Site Map



Follow @IGMovieMistakes
Tweet



Content copyright © 2022 by Isla Grey. All rights reserved.
This content was written by Isla Grey. If you wish to use this content in any manner, you need written permission. Contact Isla Grey for details.