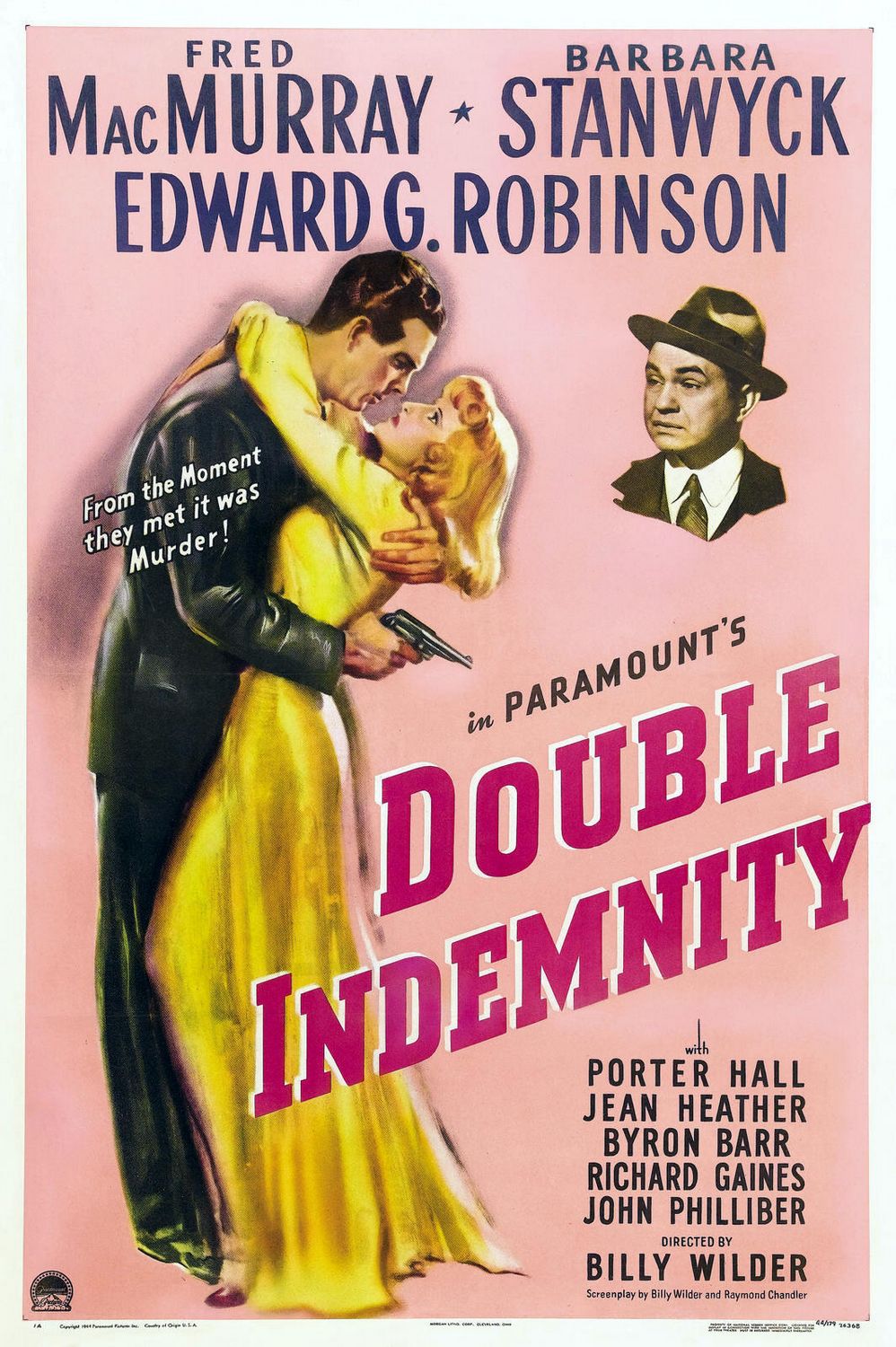 Walter Neff is an insurance salesman who's captivated by Phyllis Dietrichson, the wife of one of his clients. Smitten by Phyllis, Walter soon finds himself planning the scheme to murder Phyllis' husband after he unwittingly signs a new insurance policy with a double indemnity clause. Getting away with the plan may be easier said than done, when the murder is investigated by insurance claims adjuster, Barton Keyes. Here are a few movie mistakes to look for while watching "Double Indemnity".

· Walter and Phyllis first kiss at Walter's apartment. In the close-up view of Walter (rear of Phyllis), when he says he's crazy about her, Phyllis' left hand is not on his shoulder. It cuts to a close-up side view when Phyllis answers, and her fingers are over his right shoulder, over the seam of his clothes.

· Phyllis sits on the couch with Walter. In the close-up, Phyllis says, "I hate him", and Walter's hand is on the mid part of her left arm. It cuts to a close-up of Walter (rear view of Phyllis) and his hand is farther up, with his fingers on her left shoulder. It cuts back to the original view when Phyllis asks, "Do you know what you're saying?" and Walter's hand is back in its initial position on her arm. He then moves his hand up to her shoulder.

· Also during this scene, in the close-up of Walter and Phyllis as they kiss, Phyllis' left hand is resting on Walter's shoulder. It cuts to a wider view of the two and her left hand is caressing his cheek.

· Phyllis and Walter meet at the grocery store. He drops the insurance policy in her bag and, as they're talking, both of Phyllis' arms are down. It cuts to a rear view of Phyllis when she tells him her husband isn't going on the trip and her right arm is extended with her hand against the shelf.

· Walter returns to his apartment after his meeting with Mr. Norton and Barton Keyes. He tosses his black business folder in the chair next to the door. He's tidying up when Keyes rings the doorbell. Keyes walks in and the folder is gone, the chair is empty.

"Double Indemnity" (1944) stars Fred MacMurray, Barbara Stanwyck, Edward G. Robinson, Porter Hall, Jean Heather and Tom Powers. It runs 107 minutes and has a "Passed" rating.


Get your copy of "Double Indemnity" here:



Related Articles
Editor's Picks Articles
Top Ten Articles
Previous Features
Site Map



Follow @IGMovieMistakes
Tweet



Content copyright © 2023 by Isla Grey. All rights reserved.
This content was written by Isla Grey. If you wish to use this content in any manner, you need written permission. Contact Isla Grey for details.