The Day The Earth Stood Still (1951)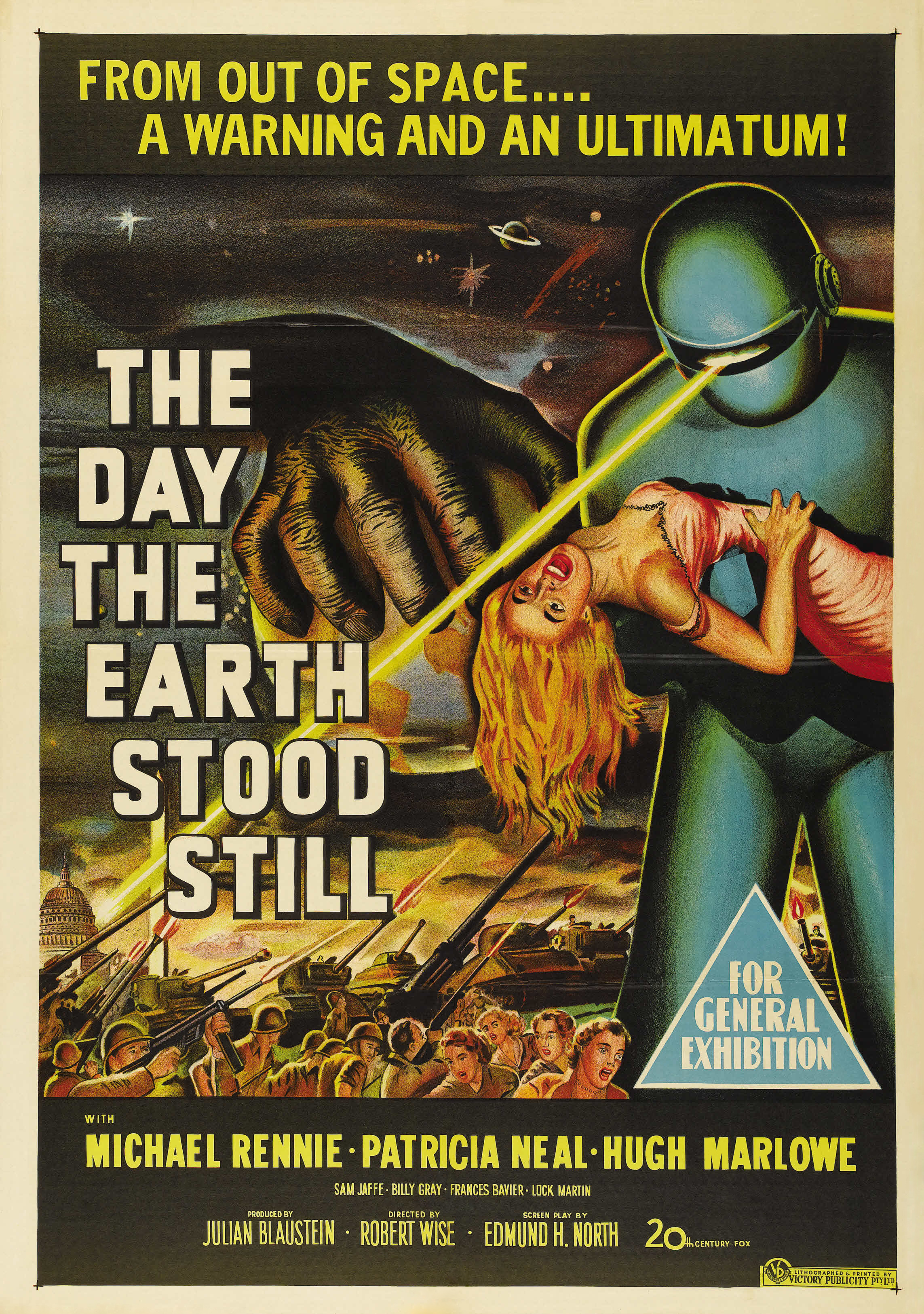 Klaatu, an alien from another planet, lands in Washington D.C., accompanied by his protective robot, Gort, with a message for the people of the world: humanity must learn to live peacefully or risk annihilation by other planets. Getting people to listen proves to be the hard part, when Klaatu finds himself running from those, who want to capture him. Klaatu befriends widow, Helen Benson, and her son, Bobby, who help him locate Professor Jacob Barnhardt, who may be Earth's last hope. Here are a few movie mistakes to look for while watching 1951's "The Day the Earth Stood Still".

· Drew Pearson is making his broadcast. In the right side view, when Drew is talking about the arrival of a spaceship in Washington D.C., there is a pen/pencil on the table to Drew's left, on the far side of the microphone. He starts reading from the paper placed in front of him. The scene cuts to a close-up front view and there are now two pens/pencils on the table in front of him.

· Klaatu and Bobby go to Dr. Barnhardt's home. They look in the window and there is a sign on the left side of Dr. Barndhardt's blackboard that reads "Do Not Touch". The sign is still there later in the evening when Dr. Barnhardt tells the guards, "I know this man". Dr. Barnhardt sits at his desk and comments he has several thousand questions. The front view of Klaatu, with the blackboard behind him, shows the "Do Not Touch" paper is gone. The paper is back when Dr. Barnhardt is pacing and comments "scientists are misunderstood", but gone again a few moments later.

· Gort picks up Helen. In the first views of Gort carrying Helen toward the ship, black wires holding Helen up can be seen behind her left and right shoulders.

· Helen is on the spacecraft watching Gort. Her arms are by her side and, in the close-up, front view, Helen is shown moving her right arm/hand behind her. It cuts to a view of Helen from over Gort's left shoulder, and her right arm is by her side. The scene switches back to the close-up view and her arm is behind her again. It's by her side when the view switches to Gort.

"The Day the Earth Stood Still" (1951) stars Michael Rennie, Patricia Neal, Sam Jaffe, Billy Gray, Hugh Marlowe and Frances Bavier. It runs 92 minutes and is rated G.


Get your copy of "The Day the Earth Stood Still" here:



Related Articles
Editor's Picks Articles
Top Ten Articles
Previous Features
Site Map



Follow @IGMovieMistakes
Tweet



Content copyright © 2022 by Isla Grey. All rights reserved.
This content was written by Isla Grey. If you wish to use this content in any manner, you need written permission. Contact Isla Grey for details.