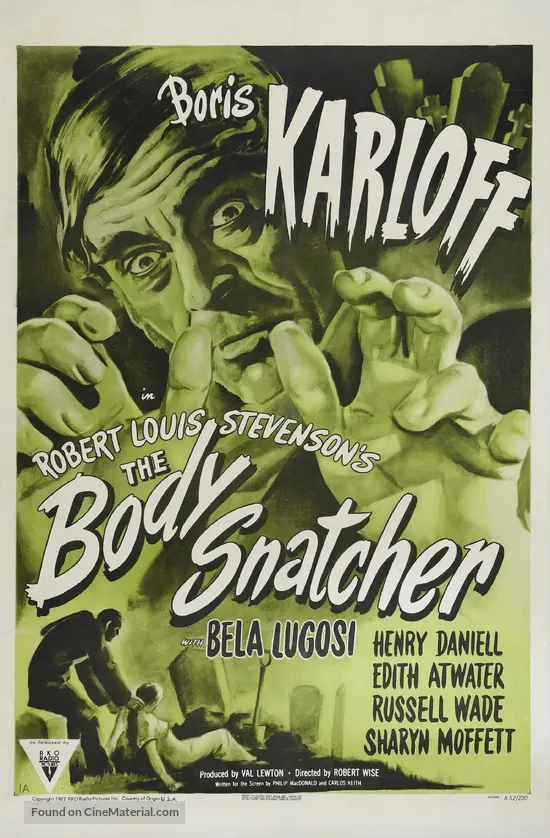 Dr. Wolfe MacFarlane runs a successful medical school in 1830s Edinburgh with dark secrets. Donald Fettes, one of his students, takes a keen interest in the case of Georgina Marsh, whose mother brings her to see the doctor in hopes he can help her walk again. But, as Fettes takes on the young girl's case, he also finds himself pulled into MacFarlane's secrets, and the pull that the mysterious cabman, Gray, has over him. Here are a few movie mistakes to look for while watching "The Body Snatcher".

· MacFarlane and Fettes go to the "commonality" where they see Gray. Gray invites them to join him and they sit at his table. In the front view of Gray when he says, "I'll do the ordering", he puts his right hand on his cup and starts to move it. It cuts to a wider view and the cup is in his left hand while he movies it.

· Also during this scene, Gray sticks a knife in the loaf of bread that is on the table. The knife is in the middle with the handle angled toward MacFarlane. It cuts to Fettes talking and back to the view of Gray and MacFarlane. The knife is sticking upright in the bread, with more of the blade showing.

· Gray and MacFarlane are having a drink at Hobbs. In the wider side view, when MacFarlane says, "Gray, you know something about the human body", he moves his right arm off the table and props it on his right leg. It cuts to a closer view when Gray answers, "I've had some experience", and MacFarlane's right arm is once again on the table.

· Fettes finds MacFarlane at the tavern. Before he comes in, MacFarlane is shown moving his dinner plate to the side of the table as the other men in the tavern start to sing. Fettes walks in and MacFarlane folds his hands in front of him on the table. It cuts to a closer view as Fettes sits at the table and MacFarlane is moving his plate to the side again.

· CAUTION: May Contain Spoilers! MacFarlane and the sheet wrapped body of Gray careen off the cliff in the carriage. The body is still in the sheet and is shown landing near the wheels of the carriage. Fettes runs down and he body is now next to MacFarlane on the ground.

"The Body Snatcher" (1945) stars Boris Karloff, Bela Lugosi, Henry Daniell, Edith Atwater, Russell Wade, Rita Corday and Sharyn Moffett. It runs 78 minutes and is rated "Approved".

Get your copy of "The Body Snatcher" here:




Related Articles
Editor's Picks Articles
Top Ten Articles
Previous Features
Site Map



Follow @IGMovieMistakes
Tweet



Content copyright © 2022 by Isla Grey. All rights reserved.
This content was written by Isla Grey. If you wish to use this content in any manner, you need written permission. Contact Isla Grey for details.