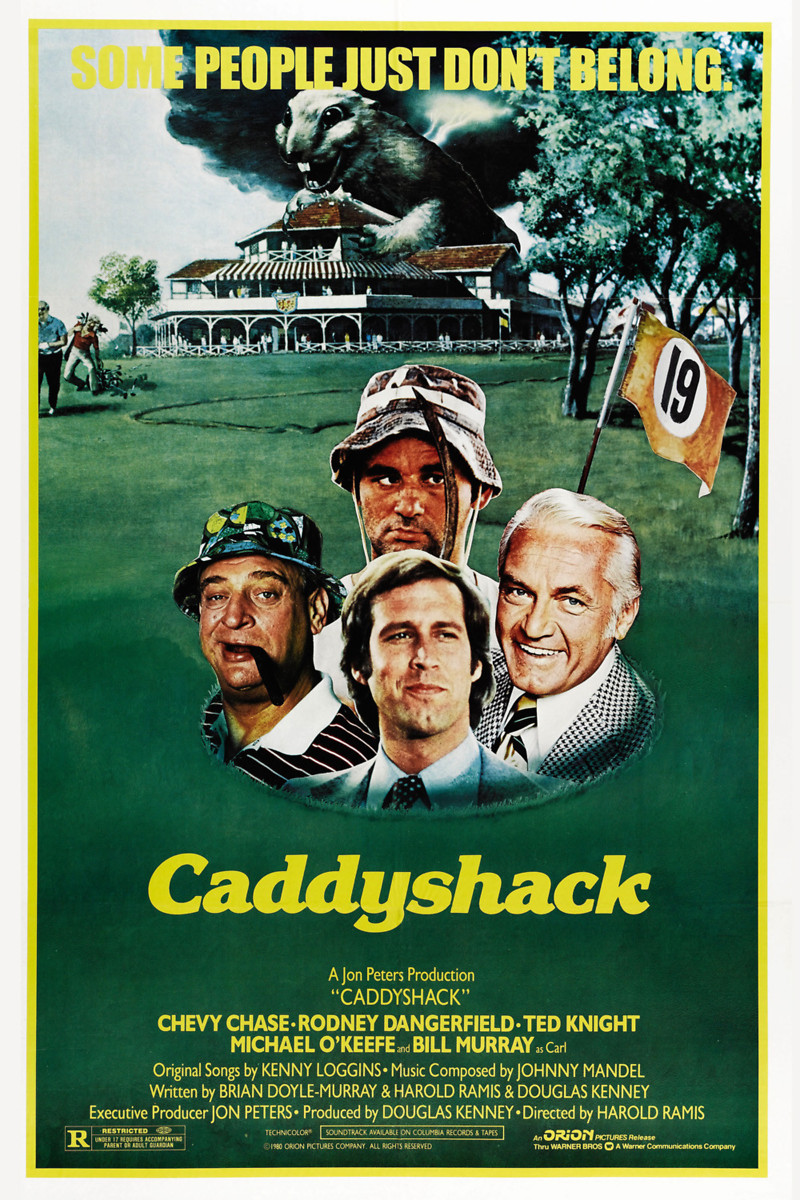 Welcome to the Bushwood Country Club where Judge Elihu Smails is in charge, or so he thinks. Despite being an exclusive club for the upper crust of society, Ty Webb and Al Czervik aren't exactly Smails' favorite people. Even with the Caddie golf tournament approaching, and Danny Noonan determined to win by trying to find favor with his boss, Smails also has to get rid of a mischievous gopher that's made its home on the club's golf course—a job that he's bestowed upon Carl Spackler, the club's groundskeeper. Here are a few movie mistakes to look for while watching "Caddyshack".
· Ty Webb and Danny Noonan are first shown on the golf course. Three golf clubs spill onto the ground and are behind Ty when he hits the ball while wearing the blindfold. The golf clubs are gone in the farther view when the ball lands. They're still gone when Danny talks his shot.
· In the first close-up view of Lacey Underall, she's walking toward the caddies while carrying a tennis jacket in her right hand. In the wider view, when Lacey walks up to them and then over to Judge Smails, she's carrying a golf glove in her hand.
· Al Czervik is golfing when he stops. The Czervik Condominium sign is in the background. In the far view, when Al says, "They'd love a shopping mall right here", he's on the hill, to the left of the roadway. It cuts to a closer view as he continues to talk about "country clubs and cemeteries" and he's walking on the right side of the roadway.
· Danny is busing tables at the country club by putting butter on the table. In the far view, when Danny approaches Judge Smails table, Lacey is holding her water glass in her right hand, near her mouth. It cuts to a closer view as Judge Smails starts talking about his uniform and Lacey's right hand is empty, sitting on her arm. It cuts to a close-up of the plate of butter and Lacey's right arm is down on the table with her hand empty. The scene cuts back to a closer view when she says, "I think I have enough butter now", and Lacey's right arm is elevated with her hand holding her water glass near her face. As Danny walks away, the farther view shows Lacey is now holding a fork in her right hand.
"Caddyshack" (1980) stars Chevy Chase, Rodney Dangerfield, Bill Murray, Ted Knight, Michael O'Keefe, Sarah Holcomb, Scott Colomby and Cindy Morgan. It runs 98 minutes and is rated R for sex and nudity, language, alcohol, drugs and smoking.
Get your copy of "Caddyshack" here:
Get your copy of my latest –
Reel to Reel – Movie Mistakes from Hollywood's Favorite Films
.


Related Articles
Editor's Picks Articles
Top Ten Articles
Previous Features
Site Map



Follow @IGMovieMistakes
Tweet



Content copyright © 2022 by Isla Grey. All rights reserved.
This content was written by Isla Grey. If you wish to use this content in any manner, you need written permission. Contact Isla Grey for details.