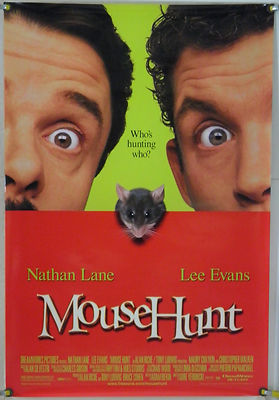 Two brothers, Ernie and Lars Smuntz, inherit a dilapidated old house from their father that turns out to be the long missing house of renowned architect, Charles LaRue. As the brothers try to restore the house in order to cash in on its history, the home's current tenant, a mischievous mouse, has other intentions. Here are a few movie mistakes to look for while watching "Mousehunt".
· Alexander Falko walks into the house and is talking to Ernie and Lars. Falko calls for a vegetarian snack. In the view of him from over his right shoulder, Falko is shown biting off the top half of the cucumber slice. It cuts to a front view as he continues talking and Falko bites off the top half of the cucumber slice again. The scene cuts to a wider front view as Falko talks about making it forty-three La Rue houses and he's biting the top of the cucumber yet again.
· Lars is at the factory when his clothing gets caught in the machinery. In the front view of Lars, when his sweater and tie get caught and are being shredded, his hands are in front of him, holding onto the fabric. It cuts to a rear view and Lars' hands are on the machine.
· Ernie is arguing with Lars and is getting the shotgun to kill the mouse. There's a lamp to Ernie's right. Ernie hits the top of the lamp with the gun when he yells for Lars to stay back and knocks the lamp to the floor. But, when Ernie starts to walk past Lars, he also walks past the lamp, which is upright again. When they're fighting over the gun, the lamp can be seen in the background, once again laying on the floor.
· Falko and Ernie are talking in the kitchen. In the front view, Falko asks Ernie to call off the auction and writes out a check for $10 million. Falko has his pen in his right hand and drops it as he rips the check out of his checkbook. He shows the check to Ernie. It cuts to a close-up view of Ernie with Falko's right hand seen holding the check…and the pen.
"Mousehunt" (1997) stars Nathan Lane, Lee Evans, Vicki Lewis, Maury Chaykin, Eric Christmas and Michael Jeter. It runs 98 minutes and is rated PG for language, comic sensuality and mayhem.
Get your copy of "Mousehunt" here:
Get your copy of my latest –
Reel to Reel – Movie Mistakes from Hollywood's Favorite Films
.


Related Articles
Editor's Picks Articles
Top Ten Articles
Previous Features
Site Map



Follow @IGMovieMistakes
Tweet



Content copyright © 2023 by Isla Grey. All rights reserved.
This content was written by Isla Grey. If you wish to use this content in any manner, you need written permission. Contact Isla Grey for details.