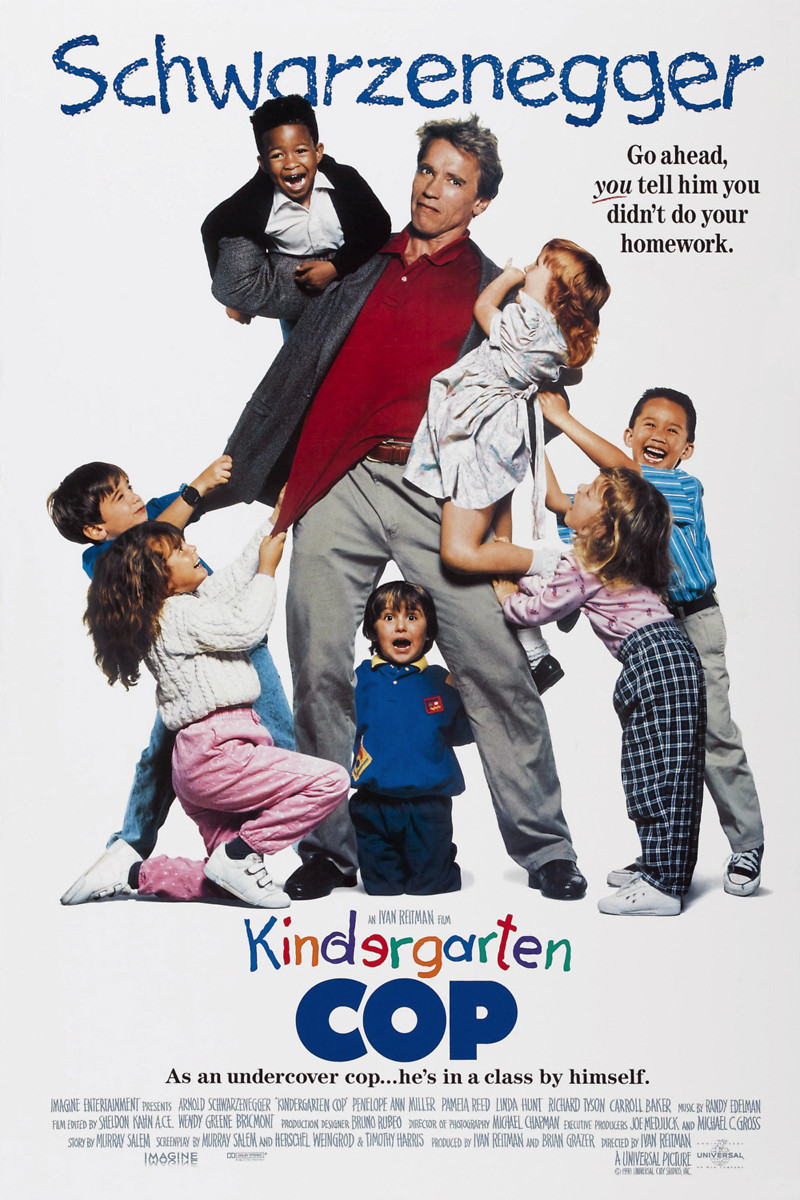 Hardened LAPD cop, Kimble, is determined to put away renowned drug criminal, Crisp. When his only witness is found dead, Kimble's only hope to put Crisp behind bars is to locate his long-lost ex-wife and son. Tracking the pair to a small town in Oregon, Kimble must pose as a substitute kindergarten teacher, when his partner, Phoebe, becomes ill. But, locating Crisp's wife and son might be harder than expected, when Crisp and his mother show up on the scene. Here are a few movie mistakes to look for while watching "Kindergarten Cop".
· On Kimble's first day of school, he's shown wearing a white shirt with green jacket and jeans. On the second day, he's wearing khaki pants and a maroon short sleeved shirt while carrying his jacket. He's wearing the khaki pants and maroon shirt throughout the scene. Kimble picks up the boy for eating the other children's lunches and he's wearing the white shirt, green jacket and jeans from the day before. In the next scene, when they're playing "Who's Your Daddy", Kimble is back to wearing the maroon shirt and khakis.
· Kimble blows the whistle, telling the kids to grab one toy and bring it back to the carpet. In the wider, front view, when Kimble says, "bring the toy back", the boy in the gray and white shirt is shown sitting on the carpet with his toy. It cuts to a view of the kids scrambling for toys and the same boy is shown grabbing a yellow truck.
· During the Gettysburg Address practice, Zach can be seen on the second row, third from the right, next to the twins wearing a blue striped shirt. After the group returns to the classroom, Zach's mom is shown bringing him to school, apologizing for being late.
· Kimble is walking over to Zach's father who's standing outside his car. On the other side, in the background, a man has a water hose, spraying a blue station wagon in the driveway. Kimble pushes Zach's dad into the car. In the close-up view of the dad starting to swing at Kimble, the driveway behind them is empty. It's still empty when Kimble tells him he's pressing charges.
"Kindergarten Cop" (1990) stars Arnold Schwarzenegger, Penelope Ann Miller, Pamela Reed, Linda Hunt, Richard Tyson, Carroll Baker, Joseph Cousins, Christian Cousins and Cathy Moriarty. It runs 111 minutes and is rated PG-13 for violence, language, frightening and intense scenes.
Get your copy of "Kindergarten Cop" here:
Get your copy of my latest –
Reel to Reel – Movie Mistakes from Hollywood's Favorite Films
.


Related Articles
Editor's Picks Articles
Top Ten Articles
Previous Features
Site Map



Follow @IGMovieMistakes
Tweet



Content copyright © 2022 by Isla Grey. All rights reserved.
This content was written by Isla Grey. If you wish to use this content in any manner, you need written permission. Contact Isla Grey for details.