Paphiopedilum or Slipper Orchids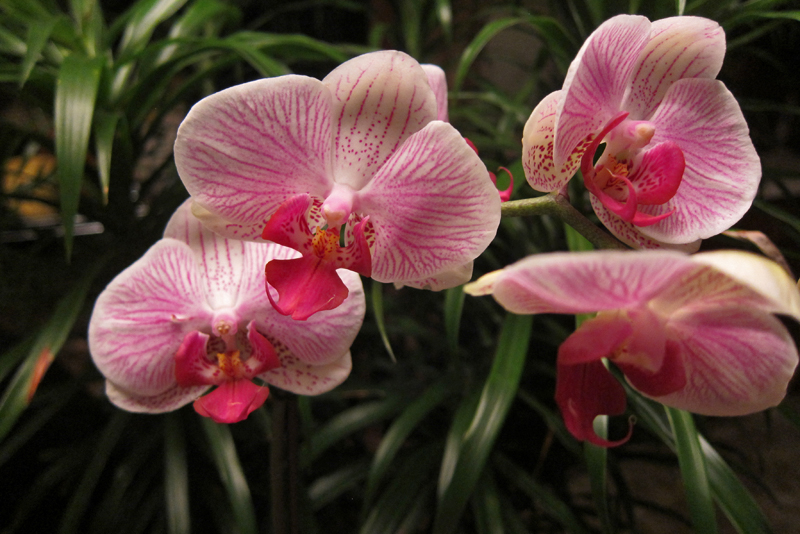 One of your fellow readers asked that I do a column on Paphiopedilum, or Slipper Orchids. These orchids are exceptionally good to grow indoors due to their lower light requirements and generally small size. Here's a link to the
American Orchid Society
culture sheet on them.
Slipper Orchids are the most primitive of the orchid family and are found naturally from the Himalayas to New Guinea. They are characterized by the fused lip or labellum which is modified into a pouch-shaped organ. The common name of "Lady's Slipper" or "Slipper Orchid" comes from this shoe or slipper looking pouch whose purpose is to lure an insect to pollinate the flower. The top petal generally stands up above the rest of the flower giving it an unusual look.
The flowers are generally thick textured and shiny which allows them to last up to three months on the plant. The leaves are relatively heavy, somewhat reminiscent of a Phalaenopsis.
Paphiopedilums are semiterrestrial in nature growing in moss and leaf mold in areas that are relatively moist. They should never be allowed to dry out completely, but do need a porous soil of fine to medium grade bark mixed with perlite and peat. Commercial mixes prepared especially for them are what you should start out with.
Paphiopedilum orchids are divided into two general temperature groupings, warm growers are the mottled-leaf types and the cool growers are generally plain green-leafed. In actuality, they can all be grown together in temperatures in the home. The mottled leaf varieties are handsome plants even when they are not flowering as the leaves are interesting and the plants will form a pleasing mound. They require shaded conditions as can be found in a shaded south window or an east or western exposure.
Humidity of 40 to 50 percent should be provided by growing on humidity trays or tryas with rocks. Be sure that the water does not reach the bottom of the pots since you do not want to rot the roots. Paphiopedilums made wonderful companion plants to Phalaenopsis orchids since they thrive under similar conditions.
Paphiopedilums are not sold commercially as commonly as Phalaenopsis and Dendrobiums at the big hardware stores. However, many nurseries will have them available and all orchid nurseries carry them due to their popularity. Here is a link to my article on
Miniature Orchid Series
which provides links to several large orchid vendors who have provided good service to me. Please mention that you found their name at BellaOnline.
You Should Also Read:
Paphiopedilum liemianum


Editor's Picks Articles
Top Ten Articles
Previous Features
Site Map





Content copyright © 2021 by Susan Taylor. All rights reserved.
This content was written by Susan Taylor. If you wish to use this content in any manner, you need written permission. Contact Anu Dharmani for details.