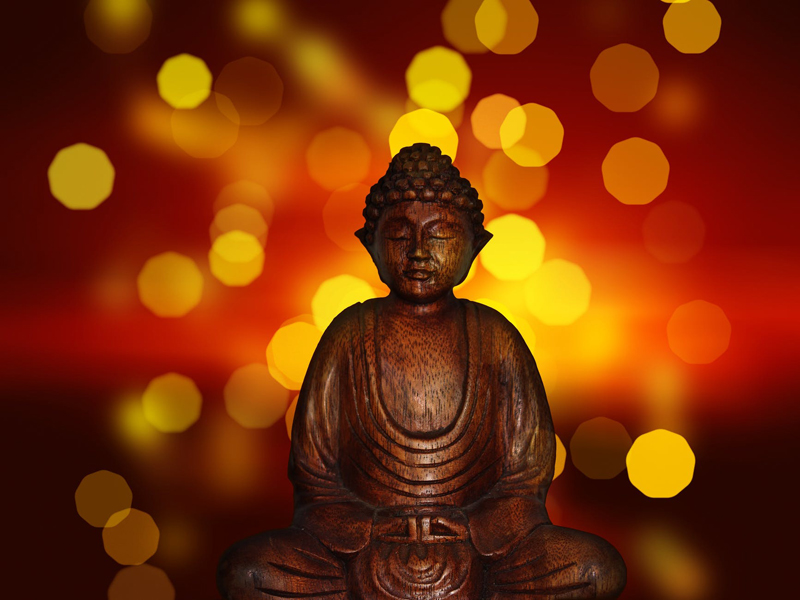 Zen is Japanese for "meditation." People who practice Zen Buddhism believe all people can achieve enlightenment but are simply blind to the fact. A great emphasis is placed on meditation and some other practices to help a person awaken them to a pure seeing of the true nature of everything. Zen Buddhist think enlightenment is a far-reaching goal but can be gained through Satori (meditation in moments of insight). While other schools of Buddhism place almost all learning from reading and contemplating ancient texts, Zen practitioners learn from individual practice of understanding one's true nature.
Zen is a branch of Mahayana school. The sutras that Zen practitioners rely on are Heart of Perfect Wisdom Sutra, the Sutra of the Perfection of Wisdom of the Diamond that Cuts through Illusion, the Lankavatara Sutra, and the "Samantamukha Parivarta" section of the Lotus Sutra. There are 2 forms of Zen practice: Rinzai and Soto. Rinzai tries to break through everyday thinking by using something called koans. These questions make no sense logically. The goal is to achieve sudden and pure awareness or Satori. Soto Zen takes a slower approach to enlightenment through sitting meditations called Za-zen. Sometimes koans are used to help achieve awareness. Zen has to be the school of Buddhism that has the most emphasis on long, intensive periods of meditation.
Many art forms are used when practicing Zen. Haiku is popular among people who are writers. If you study Haiku, you will run into a name repeatedly: Basho. He is said to be one of the best Haiku writers. Here is an example of his work:

How reluctantly
the bee emerges from deep
within the peony
This link
provides and excellent introduction to Haiku for anyone interested in learning more.
Some practitioners like growing bonsai trees as a form of Zen. There is even an elaborate tea ceremony where awareness to every step is taken. One of the easiest forms of Zen is to create a Zen garden. This is made by using sand in a flat container and stones of assorted shapes and colors. You will need a rake to move through the sand. Making patterns in the sand is very meditative. Many new age stores carry prepackaged Zen gardens.
It has been claimed that the tradition of Zen was passed along from Buddha to his chosen followers. So it is believed to be a true Zen practitioner, on must be taught by a qualified Zen teacher often called a Zen Master.
The Zen Guide
has a great listing on it's website to find a Zen center near you.


Related Articles
Editor's Picks Articles
Top Ten Articles
Previous Features
Site Map



Follow @mommymystic
Tweet



Content copyright © 2022 by Jeanette Stingley. All rights reserved.
This content was written by Jeanette Stingley. If you wish to use this content in any manner, you need written permission. Contact Lisa Erickson for details.