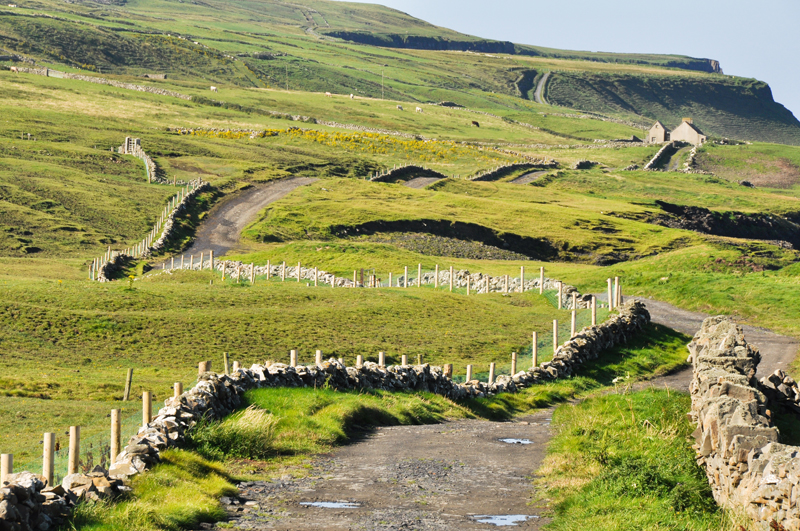 Oliver Cromwell is famously quoted as banishing inconvenient people who crossed him 'to hell or Connaught!' But that catchphrase is most unjust. The west of Ireland, or as some locals might call it 'the wesht', is sometimes less visited because of its reputation for rain. Yes, it rains. But get over it! When I was on a walking tour in the west many years ago as one store clerk said, 'if you've got the gear, you're grand!' It's true! Pack your waterproofs and just roll with the green fields.

Connaught is composed of counties Galway, Roscommon, Mayo, Leitrim and Sligo. In the interests of full disclosure, I suppose I should say that the village where I reside has one foot in Connaught; I live on the Ulster side of town.

Here's what I love most about the west of Ireland.

1) Coastline - Only Roscommon cannot boast access to the Atlantic Ocean. Even Leitrim has a one mile sliver of coast at Tullaghan. Much of Connaught follows the Wild Atlantic Way. Whether you consider the wide embrace of Galway Bay, the peninsular Achill Island in Mayo or the surfing heaven in Sligo, Connaught has some of the most dramatic and romantic coastline in the country. I should know. I got proposed to on Sligo's Streedagh beach.

2) Gaeltacht - Galway's Aran Islands lured playwright John Synge so he could learn to speak Irish. Galway still has many pockets of Gaelic speakers. These Irish speaking areas are designated 'Gaeltacht' and are posted along the roadside. Galway City is the focus for many of the Irish speaking arts activities in the country, too. Along with parts of County Donegal, Galway is the area where you are most likely to encounter the Irish language as a spoken, living culture.

3) The Arts - Connaught has to be one of the most vibrant areas in Ireland in terms of artistic activity. Property prices remained relative cheap even during the Celtic Tiger years, which attracted writers and artists to the region. DBC Pierre lived up Slieve Anieran in the early post-Booker Prize years. Brian Leydon and Michael Harding still live across Lough Allen on the Roscommon side of the lake. Dermot Healey lived overlooking the Sligo beach at Ballyconnell.

Leitrim, in particular, has become a haven for many visual artists, who followed sculptor, Jackie McKenna, to her hometown Manorhamilton, where she established a Sculpture Centre and bronzing foundry. Galway City's MacNas is known for fantastical creations for festivals, parades and public events adding dramatic flair with a distinctly Celtic accent.

W.B. Yeats found much in the Sligo, Leitrim and Galway to inspire his vast literary output. While Sligo is more readily identified as Yeats Country, he did spend time in Galway, most notably at Castle Coole. Nora Barnacle, wife to James Joyce, was from Galway and some parts of the county style themselves as Joyce country, although most people firmly identify him with Dublin.

4) The Landscape - You really can't beat Connaught for the variety of landscape. Galway has gently rolling hills that level out onto the bogs and plain of Moytura in Roscommon. From North Mayo the Ox Mountains rise and the drumlins march towards the Atlantic Coast.

Many Irish myths are connected with Connaught land. Diarmuid of the "Flight of Diarmuid and Grainne" fame met his sticky end at Benwisken in Sligo. Both battles of Moytura are located in Roscommon, as was Queen Maeve's court. The Tuatha de Danaan arrived in Ireland, landing on Slieve Anieran in Leitrim. Finn McCool's grave is alleged to be in that country as well. This is truly a land where the mythic giants of Irish lore strode.

In terms of planning a vacation in Ireland, Connaught can offer you city and country, seascapes and varied terrain. You can immerse yourself in mythic Ireland or make a pilgrimage to Knock or climb Croagh Patrick on Reek Sunday in July. Ancient or modern, Connaught has the last laugh on Cromwell. Even our 'bad land' blooms with art, craft, craic and organic vegetables!



You Should Also Read:
Irish Author Dermot Healey Dies Aged 66
Celebrating Yeats
Dancing at the Crossroads


Related Articles
Editor's Picks Articles
Top Ten Articles
Previous Features
Site Map





Content copyright © 2022 by Bee Smith. All rights reserved.
This content was written by Bee Smith. If you wish to use this content in any manner, you need written permission. Contact Bee Smith for details.