The Branch Mint of Charlotte, North Carolina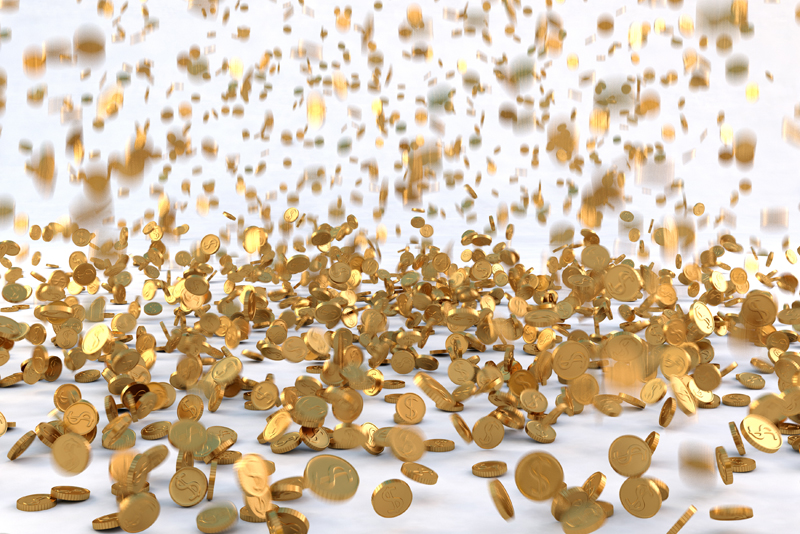 "Thar's gold in them thar hills!"  That was the cry that echoed across
the land at the start of the first gold rush in the United States.  That
was in the early 1800's.  "Wait just a minute," I can here you say, "Gold was first
discovered in California at Sutter's Mills in 1848 which caused the Gold Rush in
'49.  That was the first Gold Rush in the United States."  If that is
what you thought was correct for all these years, then ask someone from Cabarrus
County, North Carolina.  They will tell you a different story.
From historic accounts, the date is not exactly clear, but sometime between
1790 and 1799, a young boy by the name of Conrad Reed was playing in a creek
with his younger sister and brother on his father's farm in Cabarrus County,
North Carolina.  It was in that creek, he found this big old rock.  It
was different then most other rocks that he had ever seen before, so he lugged
that rock home to show is daddy.  His father did not recognize it for what
it was, but not wanting to just throw it away, and disappoint his son, they used
it as a doorstop.  A 17 pound doorstop.  Finally in 1802, the Conrad's
father, John Reed, decided to take that rock to Fayetteville while on a trip. 
He brought it to a jeweler there, who identified it as gold.  John Reed was
unaware of the price of gold, and asked the jeweler for $3.50 for the
nugget, and was paid.  John Reed was a happy man.  A year later, John
found another nugget in the same creek.  That one weighed in at 28 pounds,
which was the largest single find in the region.  Well, that was the start
of it all.  Soon neighboring Mecklenburg County found gold and by 1820,
Gold Fever reached its peak.  The region grew in wealth and
prestige, and soon private mints like those of the Bechtler's opened to handle
the gold and mint coins for the area.
A congressional delegation was sent from North Carolina to petition the
Congress to establish a branch of the United States Mint in Charlotte.  It
was thought that the opening of a branch mint would put the private mints out of
business.  On March 3, 1835, President Andrew Jackson signed the Mint Act
which made provisions for three new branch mint; New Orleans, Louisiana;
Charlotte, North Carolina; and, Dahlonega, Georgia.  New Orleans was to be
a full service mint because that city was the largest seaport in the United
States.  Charlotte was restricted to striking gold coins only, and so was
Dahlonega, because a similar situation as North Carolina's was occurring in
Georgia.
Major Samuel McComb was appointed by President Jackson to oversee
construction of the new mint facility in 1835.  Nothing went smoothly. 
There were site procurement problems.  There were flaws in the
architectural design.  There were a number of delays during the process of
construction.  It was not until January of 1836 that the cornerstone was
laid, and it was not until the end of 1837 that the machinery was installed to
mint coins.  The total cost of construction was just over $56,400. 
That was about 13% over projected cost. 

John H. Wheeler was the first mint superintendent at the Charlotte Mint. 
In December of 1837, he announced the mint was ready to accept deposits of gold
bullion.  Plagued with problems with the assayer and the gold-refiner, as
well as being bound by bureaucratic red-tape, the entire production for the
first year of operation (1838) of the Charlotte Mint amounted to only 7,880
quarter eagles ($2-1/2 gold pieces) and 17,179 half eagles ($5 gold pieces). 
Coins minted at the Charlotte Mint display a "C" mintmark.
The Charlotte Mint produced $2-1/2 and $5 gold pieces, and starting in 1849,
produced the $1 gold piece.  They never produced the $3, $10 or $20 gold
pieces.  Some numismatist reason that because the private mints in the area
only produced $1, $2-1/2, and $5 gold coins, that by the time the US Mint opened
in Charlotte, the general population was so entrenched with these denominations,
the larger coins would have not been used.
In 1860, President Abraham Lincoln was elected, and on April 12, 1861 Civil
War broke out.  It would be just a matter of time until the southern branch
mints would be captured.  In May of that same year, the Charlotte Mint took
its last deposit, and in June (end of their fiscal year) ceased operation. 
During the Civil War the facility served the Confederate States of America in
the manufacture of copper sheets and percussion caps, then as an assay office.
Over the years, the building has served many different functions, but when it
was slated for destruction in 1932, it was the Charlotte Women's Club who saved
the building, and it is now known as The Mint Museum of Art.
Mintages and dates of production vary greatly for coins minted at the
Charlotte Mint.  The $1 gold pieces range from a high of 41,267 in 1851 to
a low of 5,235 in 1859.  The $2-1/2 gold pieces range from 26,064 in 1843
to 3,677 in 1855; and, the $5 gold pieces range from 84,151 in 1847 to a low of
6,879 in 1861.  As you can see, all the mintages are low.  This makes
the entire series of Charlotte gold difficult to acquire, and a collector can
expect to pay quite a premium for these coins.  There is one other factor
that contributes to the scarcity of Charlotte struck gold coins.  During
the Civil War, much of the available gold coinage was used to purchase munitions
from European countries.  Once the coinage was shipped to other countries,
much of it was melted and restruck.  There is a numismatic theory that
states, for pre-Civil War gold, less then 10% of the original mintage remains
today.
Both investors and collectors in numismatics love Charlotte gold.  Some
say it is way overpriced, and due for a correction, but others do not see it
that way.  It does seem that the more sophisticated collector is attracted
to Charlotte made coins.  Whether the price of Charlotte gold coins
increase or decrease, I find that it is a great piece of American history, and
well worth having one or two coins as a part of any collection.


Editor's Picks Articles
Top Ten Articles
Previous Features
Site Map





Content copyright © 2021 by Raymond F. Hanisco. All rights reserved.
This content was written by Raymond F. Hanisco. If you wish to use this content in any manner, you need written permission. Contact Gary Eggleston for details.