Countess Markievicz 1916 Rebel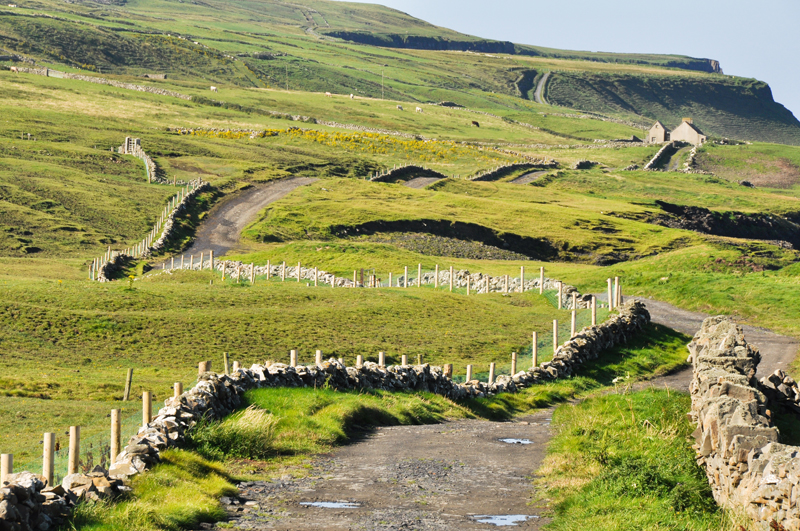 The recently elected leader of the British Labor Party, Jeremy Corbyn, was asked how the British government might commemorate the upcoming centenary of the 1916 Easter Rising that led to the founding of the Irish Republic. His idea was to create a plaque or monument in Westminster to the first woman Member of Parliament, Countess Constance Markievicz.

Countess Markievicz was probably considered unlikely radical material given her aristocratic Protestant upbringing. Yet in the 1916 Easter Rising she would be second in command of the fighting at St. Stephen's Green in Dublin. She was arrested by her first cousin, sentenced to execution like the other Easter Rising conspirators, but was reprieved because of her gender.

Countess Markievicz was born Constance Gore-Booth, daughter of the fifth baronet of Artarman in Co. Sligo in 1868. Unlike many aristocratic Irish landlords, Sir Henry resided on his estate. When the Great Famine of 1849 struck, he was a benevolent landlord, helping feed his tenants. As the economic depression continued he indebted himself to the tune of the equivalent of £50 million pounds, arranging the emigration of up to 1,500 of his tenants to North American in the hope that they would have a better life.

Yet, while Constance Gore-Booth was brought up within a family with a social conscience, her upbringing was in many ways traditional and privelaged. Lisadell House, the family estate was, and is a grand stately home. There were balls, shooting parties, picnics to local beauty spots like Glencar Waterfall. It was typical of the late 19th century leisured class. The writer W.B. Yeats was a frequent visitor and family friend. He was inspired to write "In Memory of Eva Gore-Booth and Con Markievicz" remembering their youth as he watched the sisters from the bow-windowed salon overlooking Lissadell House's lawn.


The light of evening, Lissadell,
Great windows open to the south,
Two girls in silk kimonos, both
Beautiful, one a gazelle.

W.B. Yeats was instrumental in introducing Constance to nationalist friends like his muse Maud Gonne. Her sister, Eva, was an ardent advocate of woman's suffrage and it seems that Constance's politisation began by her support for equal rights for woman. A gifted artist, she personally encountered barriers to her art education. While training at the Slade School of Art in London she was frustrated that women were barred from the Life Drawing classes, essential in training for portrait artists. She eventually went to Paris to get this training and married the widowed nobleman Count Casimir Markievicz in 1900. They returned to Ireland for the birth of their daughter Maeve in 1901.

The family, including stepson Staninlaus, moved to Dublin and in the artistic-political circles her nationalism and militarism became increasingly all consuming. Her husband returned to his Ukraine estates in 1913. Her daughter Maeve was in an English boarding school when she learned of her mother's death sentence. Markievicz was also estranged from her brother Jocelyn, the 6th baronet, who as a British military man was not in sympathy with her nationalism. While Markivicz was serving her sentence in England she converted to Roman Catholicism, a symbolic break with her Anglo-Irish Protestant upbringing. In Yeats' poem he writes about this detachment in the lines

The older is condemned to death,
Pardoned, drags out lonely years
Conspiring among the ignorant.

Sínn Féin supported her candidacy for Parliament in Westminster in 1918. She was elected but, as all Sínn Féin MPs then and since, never 'took her seat' in the parliamentary chambers in Westminster.

Hence, Countess Markievicz is the first woman MP in the British Parliament, even though she never darkened it's doors. It would be another foreign born woman, an American, Nancy Astor, who would have the distinction of being the first woman to sit down in the Commons hall the following year, 1919. By then Markievicz was a member of the first Dáil Éireann and was acting as Minister for Labor.

She died in 1927 with her husband and stepson by her side.

But while Ireland is not free I remain a rebel, unconverted and unconvertible. There is no word strong enough for it. I am pledged as a rebel, an unconvertible rebel, to the one thing - a free and independent Republic.
You Should Also Read:
Celebrating Yeats


Related Articles
Editor's Picks Articles
Top Ten Articles
Previous Features
Site Map





Content copyright © 2022 by Bee Smith. All rights reserved.
This content was written by Bee Smith. If you wish to use this content in any manner, you need written permission. Contact Bee Smith for details.