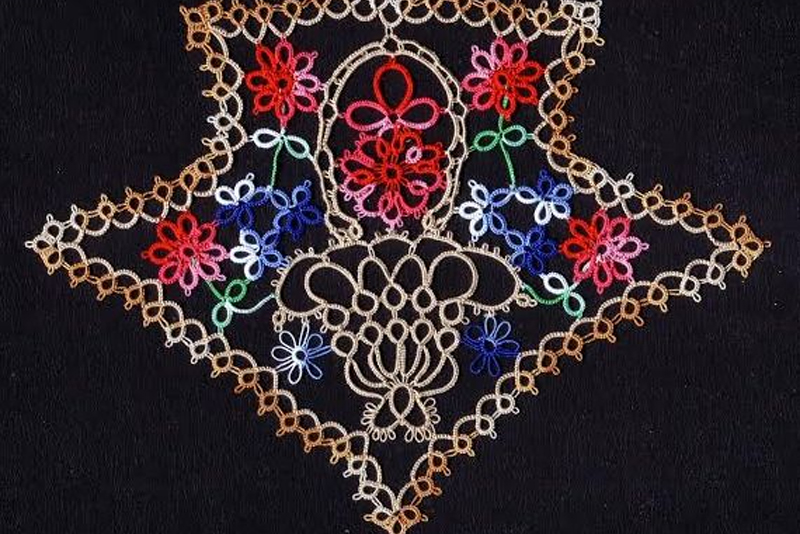 Single Shuttle Tatted Chain
Free form tatted elements such as the flowers, buds, leaves, tendrils and stem you notice in the next photo can be tatted separately or as you go and the threads encapsulated. You bring a thread out of the bundle and use it to make a flower or leaf then return it to the bundle and go on to the next element and the next color. Adding tendrils is a great way to enhance the look of any floral spray. Leaves, vines and tiny tendrils can be tatted by using the single shuttle chain technique.
From the tatting (or bundle) bring out the single shuttle which will make the tendril. Measure off a certain distance and either make a very tiny ring of 2 or 3 ds and close, or, place a space holder (paper clip, safety pin or a doubled thread) over the thread and use that for the pinching point. Next, change the left hand position so that forefinger and middle finger are together (or position clamp here instead) and the pinky and thumb and ring finger are together.
Remember that you must keep the working thread (between your forefinger and middle finger) taut. Do not let it relax. Do not let the loop be transferred. Instead pull the shuttle thread gently down towards the bottom of the loop until it is in position next to the first stitch of the ring.
In order that the second half of the split ring have the appearance of being right-side up, you begin with the second half of the double stitch. Thus when encapsulating threads in this manner, it may also be necessary to alter the half-stitch order as you change directions.
Step One - Measure out length of tendril and make tiny ring.
Step Two - Holding thread taut wrap ds onto the chain thread in reverse half stitch order.
Step Three - Continue wrapping chain back to the bundle, or, throw off additional tendrils as shown.
Step Four - Replace shuttle thread in the bundle and continue.
This photo illustrates the wrapping technique used to cover the bare thread of the single shuttle chain.


Related Articles
Editor's Picks Articles
Top Ten Articles
Previous Features
Site Map





Content copyright © 2023 by Georgia Seitz. All rights reserved.
This content was written by Georgia Seitz. If you wish to use this content in any manner, you need written permission. Contact Georgia Seitz for details.