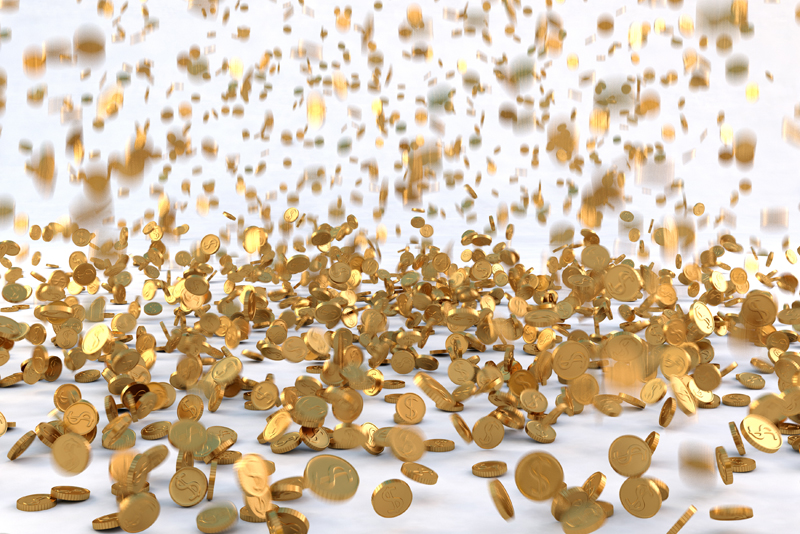 Coin Collectors love to talk about there coins, especially to other Coin
Collectors.  It is a like sports fishermen talking about fishing.  You
hear about the Big One or about the one that got away, but when
you talk to a fisherman from different parts of the United States, one will soon
realize that each section of the country has its own way of measuring their
trophy fish.  It seems some measure by length and others by weight. 
The same type of thing holds true in the grading of coins.  What one Coin
Collector grades as a Very Fine, another will call an Extremely Fine. 
There is really nothing wrong with that except when it come time to sell a
collection, then both parties need to arrive at some sort of common consensus in
grade which relates directly to money.  This common consensus in grade is
especially important when applied to a scarce or rare coin because just one step
in grade could mean the difference in thousands of dollars.  It is out of
this need that allowed for the establishment of the Coin Grading
Services.  Once a Coin Collector advances to the point of considering
acquiring coins that have been graded and certified by a grading service, they
will be faced with a plethora of grading services.  Is there a difference? 
Is one better then another?  What is a collector to do?
Welcome to my jungle.  It seems that once one becomes involved in Coin
Collecting, one will find it is a never ending process of learning. 
Before I begin to guide you through the alphabet jungle of grading services, I
would like to preface my remarks.  I understand that this website has a
fairly wide readership.  I know this from the emails I receive.  In
the process, I may leave a grading company or two out, and I may offend some
grading services, or someone's opinion of a grading service, but remember, likes
or dislikes of one particular grading service or another is an opinion, and
opinions can change.  It is just like the grading of coins, it is
subjective and an opinion, and it can change.  Cutting through the
political correctness, what I am saying is this: if a company does not receive a
stellar review, and they are offended, then strive to become better and make the
Coin Industry, as a whole, better for both the professional and the collector. 
Now, let's get on with the show!
There is an unspoken three tier system of grading services within the coin
industry, and grading services have been placed into these tiers by Coin
Dealers.  How does the average Coin Collector know into which tier a
grading service has been placed?  They don't, not until it is time to sell
their coins.  That is when they may find out a particular cherished coin
may not be what they thought it might be.  Don't get me wrong, for a scarce
or a rare coin at the time of sale, any grading service is better then a raw or
non-graded coin.  At the time of the writing of this article, there are
four grading services that are considered tier one companies.  I know not
everyone will agree with this assessment, but these companies have withstood the
test of time, and/or have proven themselves within the industry as conforming
closely and strictly to the standards and norms of grading.  These four
companies are PCGS, NGC, ANACS and ICG.  I wish I could say that politics
within the Coin Industry does not exist, but I would be lying.  Politics
exists in every industry, and those who conform to, and work within the
structure, rise to the top.  Here we go into the alphabet jungle.
PCGS (Professional Coin Grading Service) fulfilled the demand when the mass
appeal for graded and certified coins surfaced among Coin Collectors.  It
was established in 1986 under the direction of David Hall, one of the big guns
in the Coin Industry.  It was PCGS who set the standards and norm for the
grading and certification of coins.  Throughout the years, PCGS has become
a part of a much larger entity called Collectors Universe, whose has taken on
the grading and certifying of a whole host of collectibles, e.g. stamps,
currency, sports cards and autographs just to name a few.  The President of
PCGS is Ron Guth, author of Coin Collecting for Dummies, along with many
other publications.  PCGS has a very large and loyal following within the
Coin Industry, and is considered one of the best for authenticating and grading
coins.  A criticism sometimes heard within the Coin Industry is that since
David Hall is the involved with a retail coin company, then he can have coins
graded at his direction to personally benefit him.  Personally, I believe
that any top company is a target for negative press.  Most of the largest
Coin Dealers in the United States, and throughout the world have great trust in
the grading of PCGS.  From my personal experience, it seems to me that the
only Coin Dealers I have heard touting that garbage are those who do not want to
pay the slightly higher price PCGS Certified coins demand, or for that matter,
the slightly higher price any tier one grading service coins demand. It cuts
into their profits.
NGC (Numismatic Guaranty Corporation) was founded in 1987.  NGC provides
a great deal of competition for PCGS.  NGC has been given the honor as
being the current Grading Service of Choice for the ANA (American
Numismatic Association).  They are highly regarded, and respected within
the Coin Industry, as well as having a very loyal following among Coin
Collectors.  Top Coin Dealers within the United States and throughout the
world inventory and offer NGC Certified coins to their customers.  (Editor's
Note:  I consider both NGC and PCGS to be equals in grading and certifying
coins.)
ANACS (American Numismatic Association Certification Service) opened their
doors for business in 1972.  One could say ANACS wrote the book on grading
coins, and provided a valuable service for Coin Collectors when there was no one
else to provide such a service.  Originally associated with the ANA
(American Numismatic Association), ANACS no longer enjoys that relationship, and
is a stand alone grading service.  The company did struggle for a couple
years, but seems to be back on track.  In a recent conversation with the
President of ANACS, James Taylor, this editor was told that ANACS has just hired
one of the big names in coin grading to help oversee their operations.  Mr.
Taylor also told me ANACS will have a surprise for Coin Collectors which will be
announced officially in January 2006.  He made me promise not to reveal it
to my readers until that time, but he was seen at the most recent Baltimore Coin
Show doing a little advanced PR work among the Coin Dealers. 
ICG (Independent Coin Grading) is one of the newer companies in the coin
grading field.  Established in 1998, ICG came on like gang busters. 
ICG seems to be a good solid grading service.  They provide services to
Coin Collectors that the other tier one grading services do not, e.g. the
grading and certifying of ancient coins.  Being one of the newer grading
services, ICG is working hard to establish its place among the top companies in
the grading services field.  ICG has been bucking the system a little, and
has created a few waves in what is otherwise a clam sea.  Some Coin Dealers
see this as an unwanted disruption, but is it?  Could it not be that ICG is
just stepping forward and taking the lead to provide an expanded service for
Coin Collectors where other grading services are slow to move.  What some
Coin Dealers fail to realize is that it is the Coin Collector who makes the
market, not the other way around.
These are the top four companies in the field of grading services.  If
you asked any of the major players, either Dealers or Collectors in the Coin
Industry, they would tell you pretty much the same thing.  There are many
other companies out there, but they seem to fall a little short in one aspect or
another from what these four are doing.  Some of them are only a short step
away from a tier one company, and some just do not get it.  It does not
mean that I would not own a coin graded by other then a tier one company because
I do, but all things being equal, in general, I would rather a tier one graded
coin over any other, especially at the time of sale.
Here is a list of some of the other coin grading services you'll see in the
market place.  Please notice that some of the company names or initials are
very similar to some of the tier one companies, and each other.
ACG - ASA - Accugrade
ACGS - American Coin Grading Service
AGS - American Grading Service
CCGS - Capitol Coin Grading Service
DCGS - Digital Coin Grading Service
FSC - Fiducial Select Capitol
GCS - Global Certification Service
MCCS - Millennium Coin Certification Services
NNC - National Numismatic Certification
NSCGS - New Standard Coin Grading Service
NTC - Numis Trust Corporation
NGS - NuGrade Service
NGS - Numismatic Grading Service
PCC - Premier Certified Coins
PCGA - Premier Coin Grading and Authentication
PCI - Photo-Certified Coin Institute
PGS - Professional Grading Service
SDGS - Silver Dollar Grading Service
SEGS - Sovereign Entities Grading Service
SGS - Star Grading Service
TGS - TruGrade Service
So, now that I have completely confused you with the abundance of coin
grading services within the Coin Industry, why would a collector want a graded
and certified coin?  Let's keep in mind the actual goal of any Coin
Collector, and that is the end game, or the sale of your coins sometime in the
future.  In any collection there are coins that are called key date coins. 
A key date coin is not necessarily the coins with the lowest mintage, but are
the coins that are the most difficult to obtain.  These key date coins are
most likely the ones that carry the greatest value to them, and will actually
carry a majority of the value of the entire collection.  A good example of
this is a coin collection that I recently evaluated for a collector friend of
mine.  The total value of the collection was just slightly over $30,000.00,
however a majority of the value of the collection was in only 14 coins within
that collection.  For an investment of under $500.00 to have those 14 coins
certified and graded by a tier one grading service, that collector was able to
increase the value of the collection by $5,000.00.  In my mind, that not a
bad increase.  I'm not saying everybody will gain that kind of increase, it
will vary according to what kind of coins you collect, and the grade assigned to
those coins. 
The next question one may want to ask is, why would I want to have my coins
graded by a tier one company instead of a tier two or tier three company? 
This question is an easy one to answer.  They make fewer errors.  Yes,
it is true, there are mistakes made in grading, even by the tier one companies,
but they seem to error with much less frequency.  I am not saying that some
of the tier two or tier three companies don't do a good job, but what must be
considered by the collector is that some of the lower tier companies have a
tendency to assign a higher grade to a coin then a tier one company would. 
Coin Dealers know this and will compensate for coins they purchase accordingly. 
As a Coin Collector, you should be aware of this as well.  You should not
pay the same price for a coin graded by a tier two or three company as you would
for a tier one graded coin with all things being equal.  Sometimes you can
negotiate with a Coin Dealer when buying a coin graded by a second or third tier
grading service.  Here's how.  You have found that special coin for
which you've spent years searching; it is graded by a second tier grading
service; and, you cannot get the Coin Dealer to come down on his price. 
What do you do?  Talk to the Coin Dealer.  Tell him you are willing to
pay his full price with a condition.  You'll submit the coin to a tier one
grading service, at your expense, if the coin comes back at the same grade...the
deal is done.  If the coin comes back at a lower grade, then the Coin
Dealer will refund you the difference between the price you paid and the price
of the lower grade coin plus the cost to have it graded.  Get it in
writing, on your receipt.  Any good, fair and honest Coin Dealer will take
the deal.  If he doesn't, there is something wrong, and you should walk
away.  This technique is especially easy to do at a major coin show since
most of the major grading services offer express service at these shows.
There are many benefits to owning graded and certified coins.  For the
average Coin Collector, you do not need all your coins graded and certified, but
you should consider submitting the key date coins.  As you grow within your
hobby, it may be necessary to acquire higher quality pieces that are graded and
certified.  There is not a specific Coin Industry standard that says what
requirements a company has to meet to be considered a tier one, two or tier
three grading service company.  It is a general feeling within the
industry, or it is not spoken about, addressed or acknowledged to exist to the
general public, but it is very real.  Be careful in what coins you
purchase, and keep an eye on the end game.


Editor's Picks Articles
Top Ten Articles
Previous Features
Site Map





Content copyright © 2021 by Raymond F. Hanisco. All rights reserved.
This content was written by Raymond F. Hanisco. If you wish to use this content in any manner, you need written permission. Contact Gary Eggleston for details.