Natural Places to Practice Reading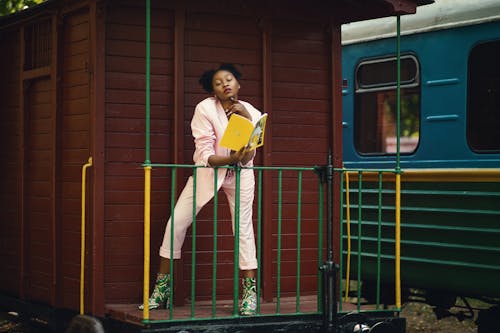 Reading at home is a wonderful thing. It builds closeness and helps with parent and child bonding. Children can participate in more adventurous reading, when they read with their parents and grand-parents. However, people tend to forget the natural places that kids can read. Those places also have the benefit of letting the child discover that reading is really important. It is useful to be able to read the words of your life.

Stores are perfect places to practice reading skills and to learn useful information. Kids love pet stores. Those stores often have brochures to tell about the animals. Pet food bags and cans are a treasure trove of information, just waiting to be read and to open discussions on pet nutrition. Gardening stores and nurseries have seed packets to read. Kids will be amazed when they find out that different plants have diverse needs for sun, water, space, and soil. Craft stores can pique a child's interest in various crafty adventures. There are books for the kids to peruse that explain how to do the crafts. When you take a child to a book store, they can read the backs of the books and dust jackets to see which books they might be interested in.

You cannot forget all of the excellent reading materials at the grocery store! Often there are tags on the produce that tell about each fruit and vegetable. Produce, meat, and seafood departments have recipes, as do the organic foods that are sold. Boxes and cans have ingredients and nutrition information. When you get the food home, you can look for recipes to use, or you can do that before you shop. Reading at the grocery and other stores has the additional advantage that there are no entry fees.

Community destinations often have entry fees, but they sometimes have free days, too. Art galleries have information about the pieces of art that they have on display. Arboretums and nature parks have plaques to give information about the plants and animals. Zoos also have information about the animals on display next to the exhibits. Often they have detailed information about the original habitats of the animals. Museums aren't just natural history museums with stuffed animals on display. Museums can feature sports, music, toys, local history, and living history. What museums do you have in your area?

From time to time, convention centers have special exhibits. Robotics, boat shows, and auto shows are popular with kids. So are model railway displays. Rock and jewelry exhibitions are fascinating, and they always have a lot of literature to read. Quilts combine history and fiber artistry. There is a lot that children can learn from quilting demonstrations. Garden shows combine the beauty of flowering exhibits with information about gardening in the area.

Every day has opportunities for natural reading. You just need to be alert for them. Teach your children to be active readers in their surroundings. It gives them opportunities to interact with their environment. In addition to improving their reading skills and acquiring a large body of knowledge, they will be more connected to their community.




Related Articles
Editor's Picks Articles
Top Ten Articles
Previous Features
Site Map





Content copyright © 2019 by Connie Mistler Davidson. All rights reserved.
This content was written by Connie Mistler Davidson. If you wish to use this content in any manner, you need written permission. Contact Connie Mistler Davidson for details.