Winnipesaukee Scenic Railroad Foliage Train
On a rainy Sunday morning in Meredith, NH, my husband and I boarded Cold Harbor, a private Pullman car on the Lake Winnipesaukee Railroad. We wound through a narrow hallway to a parlor, complete with overstuffed chairs, a couch, tables, carpeting and paintings on the wall.
I sank into a comfy chair and studied the "room". Someone had taken great pains to decorate the car in the style of the era - there were even suitcases on the overhead luggage racks. A decanter set decorated the top of a table. A wooden box opened to reveal a (non-working) phone.
There were seven other passengers on our car, ready to enjoy the Four-Hour Foliage Train Ride. One couple was from Maine, another group was from southern New Hampshire. Our Car Steward was Gary Gurske, and we even had a colorfully-dressed "hobo" checking on us.
Later, I toured the rest of the car. There's a kitchen, restrooms, another sitting area and private compartments. As I passed through the second sitting area, I remarked to its occupants, "I feel like I'm walking through someone's living room!" They laughed.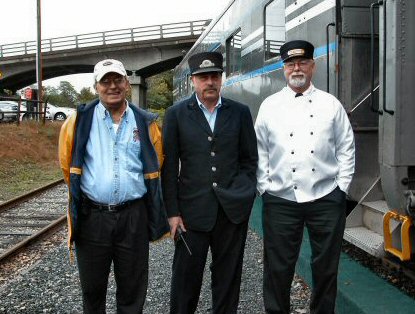 The rain had let up, but the sky was overcast and the landscape appeared saturated. The colors were still beautiful; even rain couldn't dampen the beauty of the fall foliage.
There was a water everywhere - a result of the rain that had fallen for two days. We saw a river that overflowed its banks and a flooded golf course. Several pieces of farm equipment seem to huddle together on a hilltop, as if they had retreated there to evade the rising water.
A carefully-compiled booklet, complete with photos, outlined the route we would be traveling, listing attractions and mileposts. I enjoyed knowing what was coming up next and having some background on the stations and natural attractions.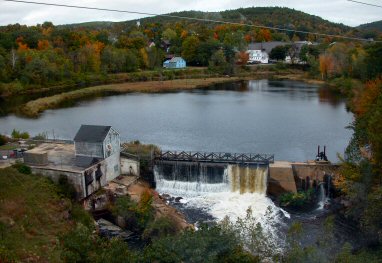 Our first stop was in Plymouth at the restored station. The building now houses a senior citizen center, and is also the site of a hot buffet luncheon, prepared for passengers on the Foliage Train. We disembarked and lined up for a hot buffet lunch, which was included in the trip. Two lines of hungry people filed along either side of tables offering a parade of hot dishes, including stuffed turkey rolls, chicken potpie and Alfredo Pasta Primavera. "Just like the school cafeteria," I joked to my husband. Thankfully, the food didn't taste like a school lunch at all; it was very good, thanks to the staff at Jack Rabbit Farm Catering.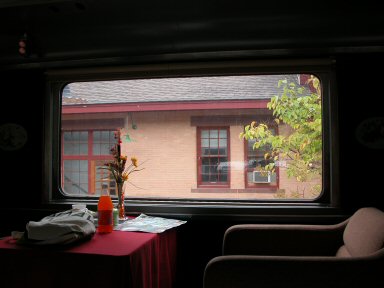 After eating, we had time to explore. We wandered through the building, then around the outside. Scattered raindrops drove us under the covered loading area where the hobo talked and joked with passengers and posed for photos.
We continued on to Livermore Falls. The falls were a sight to behold after two days of rain. The roar was deafening, and the water, spectacular. The train stopped for a few moments so that we could get a good look.
Later, I walked down through the President's Car where Terry Hendrick was in charge. He gave me a brief history and pointed out the piano in the center.
During stops, engineers George Kenson and Dave Gregoire circulated, chatting with the passengers. It was obvious that they, along with the rest of the staff, love what they do and enjoy sharing their passion.
On our return, we stopped at Ashland Station. This former passenger station, now restored, was honored in 1999 with a visit from then-secretary of Transportation Elizabeth Dole at its rededication. Inside was a wonderful display of railroad artifacts, including railroad lanterns, a set of old scales, and conductor hats.
It's the people that make the difference in scenic train rides. People who lovingly restore, tend to, and operate the equipment. People who do their best to ensure that passengers have a great experience while "riding the rails". The crew at the Lake Winnipesaukee Railroad do all of this, and more. They love their job, and it shows.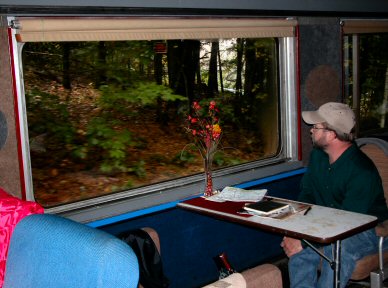 The Lake Winnipesaukee Railroad is located in Meredith, NH, and is a division of the Hobo Railroad, based in Lincoln. They offer a variety of train rides and events, including one and two-hour rides, Party Caboose Rides, Murder Mystery Turkey Dinner Trains, and special shuttle service between Meredith, Lakeport and Lakeport during Motorcycle Week. On some rides, you can purchase a Hobo Picnic Lunch®, a sandwich, chips, drink and giant cookie wrapped in a hobo bundle on a stick. For more information,
visit their website
or call 603-745-2135.
Photos
Photo 1
Our Engineer George Kenson, Car Steward Gary Gurske, and President Car Steward Terry Hendrick.
Photo 2
Scenic view of an old mill on pond.
Photo 3
View of Plymouth Station from Cold Harbor.
Photo 4
A passenger enjoys the view on the Foliage Train Ride.
All photos 2005 Copyright Brenda Potter Reynolds.
You Should Also Read:
Lake Winnipesauke Turkey Dinner Train
The Lucky Dog Tavern


Related Articles
Editor's Picks Articles
Top Ten Articles
Previous Features
Site Map





Content copyright © 2021 by Brenda Potter Reynolds. All rights reserved.
This content was written by Brenda Potter Reynolds. If you wish to use this content in any manner, you need written permission. Contact Michelle da Silva Richmond for details.