Coppertoppe Lodge and Retreat, Hebron, NH
As we drove up to the Coppertoppe Lodge and Retreat in Hebron, NH, I was admiring the copper roof on the building. But once I got out of the car, and looked behind us - oh, my! That view!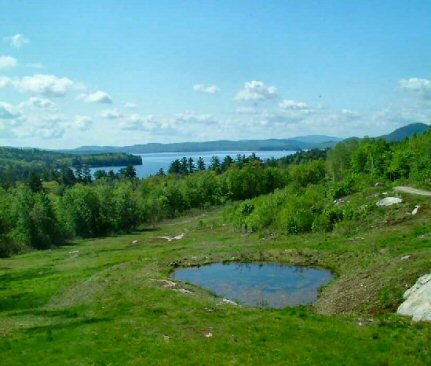 It was that view of Newfoundland Lake that first attracted Bill Powers and Sheila Oranch to the property. They were living in Massachusetts, and came to visit friends in New Hampshire. Their friends brought them up to see the unusual building, built for an artist and his wife.
"We just fell in love," Sheila told me. "With the lake, with the people, with the mountains."
When I entered the inn, Sheila met me at the door with hearty "hello!" She introduced my husband and me to her husband, Bill, who was working in the kitchen. I immediately felt right at home.
The kitchen was obviously designed for people who love to cook. There's a counter, then a large, open and airy dining room, with sliding glass doors that look out over a small pond, and beyond that, Newfoundland Lake. The room boasts a simply beautiful polished mahogany floor, and a large wooden table.
Later that evening, we sat with Bill and Sheila in the living room and chatted. They've hosted guests from all around the world, including India, Israel, Scotland, Germany and Scotland. Pretty good for their first year in business!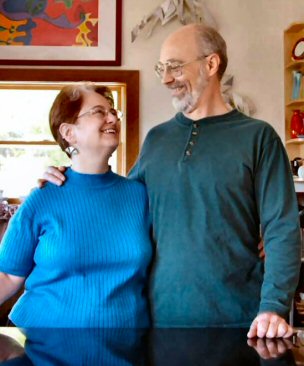 Coppertoppe hosts Sheila and Bill
There's five ski resorts and five "really good golf courses" within 45 minutes of the inn, Sheila said. She and Bill take advantage of the nearby attractions by planning special events around them. Antiquing weekends, skiing packages, cooking and spa specials are just a few of the events hosted by the Coppertoppe.
Our room was a delight. Large and decorated in a soothing turquoise color, we had sliding doors that opened to a balcony. There was a lovely antique desk, chairs and a large closet. Our bathroom was roomy, "large enough for two people to get ready at the same time," Sheila said. Our favorite feature was the towel warmer; after using one of the warmed towels, we vowed to get one ourselves.
Each room has its own unique design. The Garnet Room, my second favorite, boasts a four-poster bed, a fireplace, and a whirlpool tub. The Amethyst Room features various shades of purples and a Queen bed. The Carnelian Suite possesses a whirlpool tub as well as an adjoining room. All rooms have stunning views of the lake.
The next morning, we sat at the counter while Bill and Sheila prepared breakfast. Coffee, fresh fruit and juice, bacon and hot oatmeal and blueberry pancakes served with pure New Hampshire maple syrup appeared before us. We ate until we couldn't eat anymore.
We were reluctant to leave, but had hat to. We left loaded down with travel publications and travel materials Sheila had given us. She hugged us both and wished us a safe trip.
"If the day is a total wash-out, come back!" she told us as we walked out into the pouring rain. "We'll play board games!" She didn't know how tempting her offer was!
Contact Information:
The Coppertoppe Lodge and Retreat is located at 8 Range Road, Hebron, NH 03241.
For more information, call toll free: 866-846-3636; visit
Coppertoppe
.
Future special packages include a Passover Seder special, an Easter package and a Cinco de Mayo weekend special. For more upcoming specials, see:
Specials
.
You Should Also Read:
The Lucky Dog Tavern and Grill
Winnipesaukee Scenic Railroad Foliage Train


Related Articles
Editor's Picks Articles
Top Ten Articles
Previous Features
Site Map





Content copyright © 2021 by Brenda Potter Reynolds. All rights reserved.
This content was written by Brenda Potter Reynolds. If you wish to use this content in any manner, you need written permission. Contact Michelle da Silva Richmond for details.