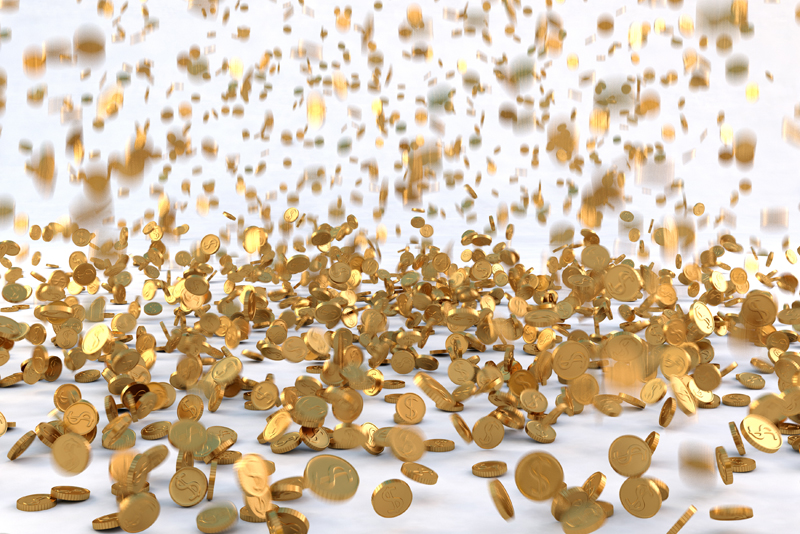 Everybody loves a great story.  Coin Collectors love a great story about
coins, and there are thousands of them.  What is even better to a Coin
Collector is a great story, involving coins, and the story is true.  This
is a real-life, silver dollar story about a man and his coins.  The man's
name was LaVere Redfield, and his coins have become known as the Redfield Hoard.
There is not a great deal of information on LaVere Redfield.  We can
deduce that he was born somewhere around the turn of the 20th century, and
probably only his immediate family can tell us about where he grew up. 
What we do know about Mr. Redfield is that when he died in 1974, his estate was
worth about $100 million, and in the basement of his modest home, behind a false
wall was a hoard of over 411,000 silver dollars.  Most of the silver
dollars were Morgan Dollars, and to a much lesser extent there were Peace
Dollars too.  Many of them were still in their original Mint bags. 
Just to give one a concept of 411,000 silver dollars; it is a weight of about
11-tons.
LaVere Redfield has been called thrifty, frugal, or a "hard-money" man, and
he has been described as colorful, a character, or eccentric.  What we
actually know about this man is that he had a great mistrust of banks, paper
currency, and the government.  After the Stock Market Crash of 1929,
Redfield arrives in Los Angeles, CA with his life's savings, and had decided it
was a good time to invest in Oil and Stocks.  He bought the kind of Stocks
no one wanted, and he made a fortune.  From California, Redfield moved to
Reno, Nevada, and began to invest in Real Estate.  All of a sudden he was
no longer a skinflint, "hard-money" man; he was a well-informed investment
mogul.  It seems he would take as much of his liquid assets as possible and
convert it into silver dollars whenever possible.  That is most likely why
he moved to Reno.  With all the Casinos using silver Dollars, the Banks
always had a ready supply.  Also, his mistrust of the government had him
embroiled in a running feud with the Internal Revenue Service (IRS) which
finally earned him prison time in 1960.
Estimates tell us that at one time LaVere Redfield had amassed over 600,000
silver dollars.  In 1963, his house was burglarized, and it was reported
that approximately 100,000 of the silver dollars were stolen.  That is
probably what encouraged him to build a false wall in front of his coal bin. 
That way, the only thing he had to do was to just drop the bags down the Coal
Shute.  If one would venture a guess, they would say that Redfield was not
a numismatist, and they would be correct, but he did want his silver dollars
unused and in original Mint bags whenever possible.
Upon the death of Redfield, the IRS seized the opportunity to audit the
estate.  While searching the Redfield home, the false wall was discovered
and removed.  One source reports that the false wall was discovered through
a note found by an IRS agent.  The note told of the hoard, and asked the
discoverer not to alert the IRS.  Behind the wall was 400 bags of silver
dollars, most of which had been sitting there for decades.
We are told that the exact inventory of the Redfield Hoard of silver dollars
has never been revealed.  A number exceeding 351,000 of the silver coins
found, were uncirculated.  When the coins were put up for auction, there
were so many coins the lot could not be properly examined by the potential
bidders, and when the hammer fell Steve Markoff of A-Mark Corporation purchased
the entire lot for $7.3 million.  It has since been estimated that the
wholesale value of the Redfield Hoard of silver dollars was about $20 million. 
So as to not flood the Coin Market with this huge number of coins, Markoff
utilized a three-year liquidation plan with a well thought out marketing
campaign.  That way the Coin Industry would see only a minimal effect, if
any, by these coins being retailed to collectors.  Several major Coin
Dealers handled the retail sales of the Redfield Hoard.  The most notable
of these was Paramount International Coin Corporation in Ohio.  This
company packaged the Redfield silver dollars in a hard plastic holder with a
cardboard label surrounding the coin reading either "A Silver Dollar from the
Redfield Collection," or "US Silver Dollar, Paramount International Coin Corp."
Most of the coins in the Redfield Hoard were Morgan Silver Dollars. 
Some of the more notable dates of Morgan Dollars found in this hoard are:
1892-P, 1893-P, 1879-CC, 1889-CC, 1895-S and the 1903-S.  The most notable
of the Peace Dollars found in the hoard was the 1925-S.
The Redfield Hoard created quite a stir within the coin community.  It
is not, nor has it ever been just about the coins, but rather it is the story
that surrounds the coins.  That is what makes it so exciting.  Some of
the other coin hoards containing Morgan Dollars are:  The
Illinois-Continental Bank Hoard, the U.S. Treasury Hoard, and the Binion Hoard.


Related Articles
Editor's Picks Articles
Top Ten Articles
Previous Features
Site Map





Content copyright © 2022 by Raymond F. Hanisco. All rights reserved.
This content was written by Raymond F. Hanisco. If you wish to use this content in any manner, you need written permission. Contact Gary Eggleston for details.