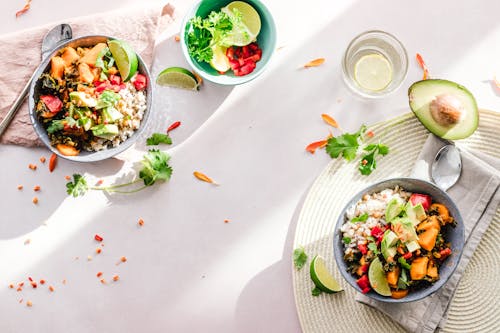 Years ago, when I was giving a student daily rides to school, his mother wanted to thank me. I refused money, but couldn't turn down a wonderful home-cooked dinner each Friday. For several months it was the highlight of my week. That's where I first encountered a chopped salad.

Chopped salad is made from finely chopped vegetables and lettuce. A small amount of dressing is added and the salad is tossed. You may use any types of vegetables that go well together. It's a great way to take a bit of this and a dab of that to make a great side dish. This frugal dish goes well with most sandwiches. It can also be used as a sandwich ingredient to enhance a plain sandwich. A basic chopped salad recipe can have many variations in vegetables and dressing. You make it your way!

Chopped Salad Recipe (serves 2-4)

Ingredients:

2 tablespoons of finely chopped green onion
¼ cup finely chopped celery hearts (stalks and leaves)
¼ cup finely chopped sweet peppers (yellow, orange, or red)
10 grape or cherry tomatoes, quartered (about 1/3 – ½ cup)
2 cups finely shredded lettuce (I used iceberg)
1 tablespoon of extra virgin olive oil (I use Kirkland brand. If you are using a dressing that has a lot of oil, you might wish to skip this ingredient.)
2 tablespoons of Wishbone Light Italian dressing (They use sugar, not high fructose corn syrup. You may use more or less dressing, to taste. Also, feel free to use your favorite dressings.)
Salt and pepper to taste

Method:

Combine the finely chopped onion, celery, peppers, and tomatoes. If you want to wait to mix the salad, put them into a covered bowl or zip locked bag. Half an hour before you are ready to serve it, combine the finely chopped vegetables and shredded lettuce. Toss with the olive oil and Italian dressing. Salt and pepper the salad to taste. Put in the refrigerator for up to ½ hour. Serve as a side dish for your sandwich.

You may also want to add the salad to a pita or tortilla to make a great sandwich. Use your choice of meat and cheese to make a truly special sandwich.

Variations on a Chopped Salad:

Vegetables: celery, onions, green onions, tomatoes, sweet peppers, hot peppers, cauliflower, broccoli, mushrooms, zucchini, yellow squash, carrot, radish, olives, and green beans.

Greens: iceberg lettuce, leaf lettuce, butter lettuce, spinach, baby lettuce, Artisan lettuce and herbs.

Dressings: Italian, blue cheese, ranch, French, Italian, Dorothy Lynch.

Sandwiches:

Breads: whole grain tortilla, low carb tortilla, fresh tortilla from a Mexican bakery, pita, naan, crispy taco shell.

Meats and meat substitutes: chicken, beef, pork, deli sliced meat, sausage, bacon, egg, surimi, tempah, or tofu.

Cheeses: American, Swiss, provolone, Muenster, pepperjack, Colby, and Cojack.

Whether it is served as a side dish to accompany a sandwich or as a part of a sandwich, this chopped salad can enhance any meal. The lovely colors, different textures and fresh taste make it a winner wherever it is served.

You Should Also Read:
Double Cheese Grilled Turkey Sandwich Recipe
Jalepeno Cheddar Roll and Chicken Sandwich Recipe
Roast Beef Saucy Sandwich Recipe


Related Articles
Editor's Picks Articles
Top Ten Articles
Previous Features
Site Map





Content copyright © 2022 by Connie Mistler Davidson. All rights reserved.
This content was written by Connie Mistler Davidson. If you wish to use this content in any manner, you need written permission. Contact Connie Mistler Davidson for details.