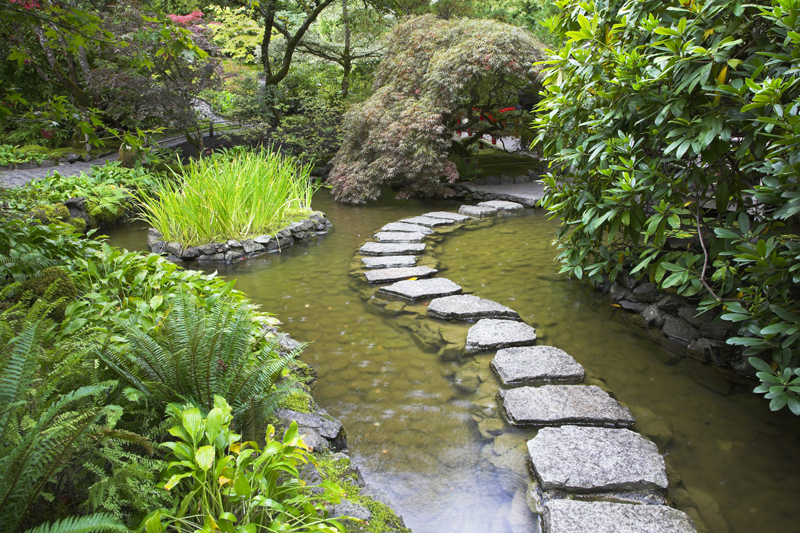 Landscaping trends reveal gardeners' varied tastes and interests. What is on gardener's minds these days? It doesn't take a mind reader to find out. All that's really required is to take an in-depth look at some of the things that are going on with landscapes.

Take time for instance, or in this case it's more like lack of time. They say the average American family is working fifteen more weeks a year than it did thirty years ago. The fact is people are time-starved, so they're looking for ways to cut down on garden work.

Planned development is a trend in real estate that does impact some gardeners. These often have neighborhood associations that establish restrictions on what property owners may do. They may say the grass has to be mowed to a certain height, and in some cases they really enforce these requirements. The rules may limit what plants or what styles of landscapes may be installed. I doubt if I'd be interested in buying property in such subdivisions. It would just take the fun out of gardening.

In a few cases, I've even read where certain municipalities had restrictions. The City Council of Watauga Texas passed a weed ordinance. They specified that sunflowers weren't to be taller than a foot. That pretty much eliminates most sunflowers. A couple months later they amended the ordinance to say that it pertained only to sunflowers growing on undeveloped property or near fences.

Once pink flamingos were thought to be the epitome of poor taste. Some people feel the same way about garden gnomes. These whimsical figures are used by some as garden accents. Then the anti-gnome folks came along. Calling themselves the Gnome Liberation Front, they began their liberation campaign. In numerous cases, these rescues made the news. I know I've seen various reports in papers and magazines. They hit two French towns in July 2001, and put the gnomes in public places like traffic circles. Seventy gnomes ended up on the steps of a cathedral in one town. About 150 were found on the steps of Australia's central bank on the day of an important economic meeting.

The first garden gnomes originated in Germany. They swept through Victorian England and America. Now upscale English gardeners wouldn't be caught dead with one. At one point there were about five million in England, but it's fallen to about 3.8 million. They are still welcome in the Gnome Reserve and Wildflower Garden in Devon, England.

Oddly enough, they continue to gain popularity in landscapes across America. They appeared in the Harry Potter book series and have been written up in various magazines and newspapers, including the New York Times and Wall Street Journal. Will Americans be willing to adopt these quirky, free-spirited garden accents? Maybe so.

If garden gnomes sneak in, can faux lawns be far behind? The original artificial turf was such poor quality one can see why it never caught on. Yet the faux lawn has a lot going for it. It saves money and labor because it requires no watering, mowing, or fertilizing. It will always look green in the midst of a terrible drought. It's disease and insect-free.

Today's faux lawn really looks and feels like the real thing. This means it is perfect for playgrounds where real grass would take a beating. You can even buy various kinds of fake grass. In a single year the sale of fake grass rose 25%. Every gardening trend has its good points and bad points. But I can see a lot of good ones with this one.

One trend that is easy to spot is the use of patriotic themes in landscaping. This ranges from using red, white, and blue flowers to using garden accents displaying American stars and stripes. So many kinds of plants are suitable for such displays.

In the past ten years, garden railroads have really caught on big. They are attractive and a source of great enjoyment. Naturally miniature plants are used for these landscapes. One mail-order nursery specializes in plants for garden railroads.

One trend that one doesn't want to see is burglary. Plant thefts are probably at an all-time high. The first one I heard about years ago involved some rare kinds of rhododendrons. Now thieves are stealing plants, both indoors and outdoors. Some botanical gardens apparently install computer chips inside valuable plants, enabling them to trace plants in the event of theft. At Christmas time thieves will even cut down evergreens for use as Christmas trees. This happened to a family in Elyria, Ohio. As a result, some families now spray their evergreens with what is called ugly mix, which makes the trees unattractive to would-be Christmas tree thieves.

What new landscaping trends will this year bring? We'll just have to wait and see.



Related Articles
Editor's Picks Articles
Top Ten Articles
Previous Features
Site Map





Content copyright © 2021 by Connie Krochmal. All rights reserved.
This content was written by Connie Krochmal. If you wish to use this content in any manner, you need written permission. Contact Connie Krochmal for details.