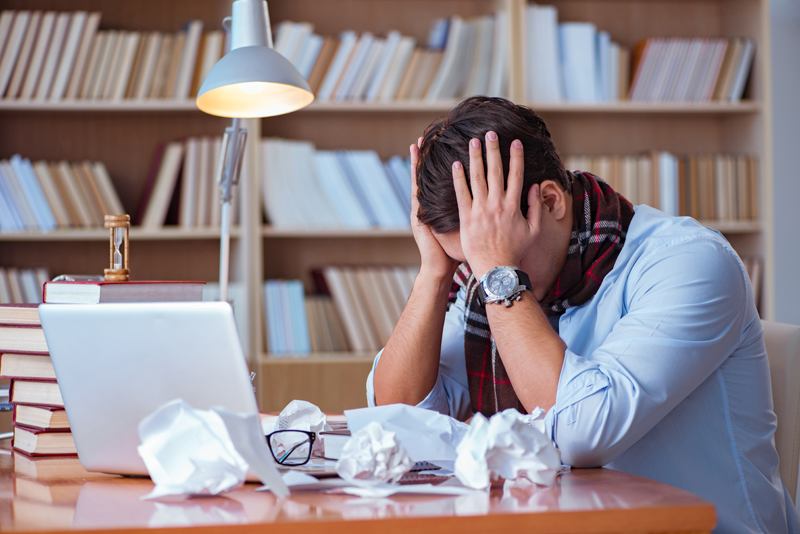 It is a commonly known fact that heavy computer use can be a bit of a strain on your eyes, but as a distance learning student, eyestrain is a problem that should not be ignored. Many distance learning students work full time while attending college, and some work in occupations that require heavy computer use. Many computer software programs are available to remind you to take breaks on occasion to complete ergonomic exercises as well as to rest your eyes. Unfortunately, many users under a deadline simply choose to ignore these messages. Familiarizing yourself with the warning signs of eyestrain may be an excellent first step in taking better care of your eyes.
Using various types of electronic devices such as laptops, tablets, smartphones, and personal computers for long periods of time can contribute to eyestrain, also known as computer vision syndrome, which can ultimately affect your work performance and ability to concentrate. Many symptoms are associated with computer vision syndrome, including back, neck, or shoulder pain, dry or watery eyes, sensitivity to light, tired or itchy eyes, difficulty focusing, and blurred vision. Long-term computer vision syndrome is not considered life-threatening, but avoiding treatment could lead to blurred vision and headaches.
Developing practices to take better care of your eyes can help reduce computer vision syndrome. Ensure the lighting in both your workplace and home office is not overbearing and that your computer is not facing a direct source of sunlight, which can create a glare on the screen. Adjust your computer monitor's settings to reduce the brightness level and increase the font size; these adjustments will help reduce extra visual effort. Another form of eyestrain is called focus fatigue. Focus fatigue is caused by staring at the same distance for long periods of time, such as at a computer monitor or at the road while driving. Try stepping away from your computer and observing an object at a longer distance for short periods of time, say 20 seconds. Then shift your eyes to a closer object for the same period of time. This eye exercise will help reduce the symptoms of focus fatigue.
If you suffer from computer vision syndrome, ensure you are using the appropriate eyewear. Using prescription reading glasses is great for reading books, but you might consider prescription computer glasses if you are a heavy computer user. Computer glasses have lenses that are designed specifically for the distance between your computer monitor and your eyes. They tend to have a broader visual scope and are sometimes tinted to reduce glare. Computer glasses are for computer use only, not for driving or reading. Although computer glasses can be sold over the counter, please resist the temptation of this convenience and schedule an appointment with your eye doctor. Before your appointment, be sure to measure the distance from your eyes to your computer screen when sitting behind your computer. Purchasing a pair of prescription computer glasses is a worthwhile investment; these glasses will help reduce the effects of eyestrain, which will ultimately improve your work performance and concentration.
Follow Patricia on
Twitter
or learn more about her books at
www.PatriciaPedrazaNafziger.com.
+Patricia Pedraza-Nafziger


Related Articles
Editor's Picks Articles
Top Ten Articles
Previous Features
Site Map





Content copyright © 2023 by Patricia Pedraza-Nafziger. All rights reserved.
This content was written by Patricia Pedraza-Nafziger. If you wish to use this content in any manner, you need written permission. Contact Dr. Patricia Pedraza-Nafziger for details.