Land's End Inn – Hilltop Luxuries on Cape Cod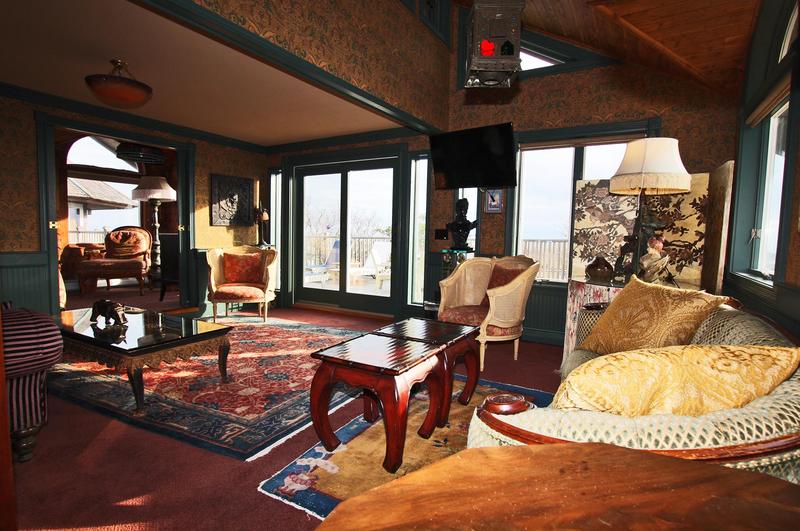 I've found the house of my dreams and I'm ready to live here forever. It's furnished with all the collections I've longed to acquire: cabinets filled with early 1900s iridescent glass, paintings of wistful ladies in languid poses surrounded by Art Nouveau frames, Maxfield Parrish illustrations from Eugene Field's Poems of Childhood, reading lamps with Tiffany shades, bronze statuettes of sinuous women.
Add to the décor the setting of this dream house, at the crest of a hill with a clear view of the sun rising out of the ocean on one side and setting into the ocean on the other side. Both views were visible out of the windows of our top-floor suite. A deck to the north overlooks the treetops of Provincetown and the dunes of Cape Cod National Seashore. Land's End Inn is well named.
High in one of the gables was our three-room suite, on two floors connected by a spiral iron staircase whose balustrade entwined with metal vines and leaves. The upper bedroom, which we chose for the sheer novelty despite the winding stairs, had a lower wall of stained-glass windows separating it from the upper wall of the double-storied sitting room below. Semicircular windows at one end of bedroom that give a full view over the end of the Cape by day were covered entirely by a solid shade at night.
The downstairs bedroom also had a king-sized bed; ceiling and walls of cedar gave the room a warm feel and windows on three sides kept the room bright in the daytime. It adjoined a large sitting room furnished in comfortable, but equally striking style. A long sofa faced a pair of carved teak tables with curving legs, and another deep sofa with rolled cushioned arms was upholstered in dramatic wide stripes of black and gold. Over it was a wood panel carved in deep relief.
A corner beside a wall of tall windows was accented by a Japanese screen, and at another a glass-enclosed etagere displayed a collection of iridescent and art glass. Lamps, chandeliers and other fixtures were an endless series of dramatic, colorful and exotic décor, but so well chosen that the rooms never seemed oppressive or cluttered.
The bathroom, also downstairs, had a long, deep tub in a wide marble casing that fills an alcove with a window. Elsewhere in the bathroom were a large vanity, good mirrors, a double-sized shower stall, and pump bottles of high-end toiletries.
Like our room, Land's End Inn sits high above the world in solitary splendor. It really is at the end, approached on foot by a flight of steps through the garden or by car up a long twisting lane.
We are here in May, before the throngs of tourists clog Provincetown's streets and form in lines at the restaurants and bars. In the spring off-season P'town seems almost deserted; it was tricky finding a restaurant open midweek, and driving home the length of Commercial Street after dinner we saw only 12 people and two dogs. In summer's warm evenings we would have walked, jostling past the lines in front of every door. We did find restaurants, and on balance, I like it better in May.
We were able to reserve a coveted table at Napi's half an hour in advance and enjoyed our dinner in this eclectic restaurant decorated in local art, stained glass and carousel horses. It's an odd combination, but it works. Our dinner was so good that once it was served, we didn't even notice the décor. Before me sat a steaming bowl of bouillabaisse filled with fresh-caught clams, scallops, shrimp, mussels and cod in a fragrant savory broth. Each type of seafood was cooked to its point of perfection and the seasoning was nicely balanced to allow the flavors to both blend and shine through. Just as savory was the Shrimp Santa Fe, sautéed with lime juice, Tequila, cilantro, garlic, and roasted Chipotle peppers.
Back at
Land's End Inn
, we sank into deep chairs beside a window in the downstairs common area (here an inadequate term, as nothing about the inn is common) to watch the lights twinkle below and the lighthouse flash over the breakwater. These first-floor rooms, too, are filled with period treasures, including some magnificent panels of stained glass. Each room in the inn is a very livable mini museum, a mix of the Art Nouveau and orientalism characteristic of the last century's early decades. Perhaps I was born a century too late.
You Should Also Read:
Fairville Inn
Maine Inns Along the Coast


Related Articles
Editor's Picks Articles
Top Ten Articles
Previous Features
Site Map





Content copyright © 2022 by Barbara Radcliffe Rogers. All rights reserved.
This content was written by Barbara Radcliffe Rogers. If you wish to use this content in any manner, you need written permission. Contact Barbara Radcliffe Rogers for details.