Henning's Wisconsin Cheese Factory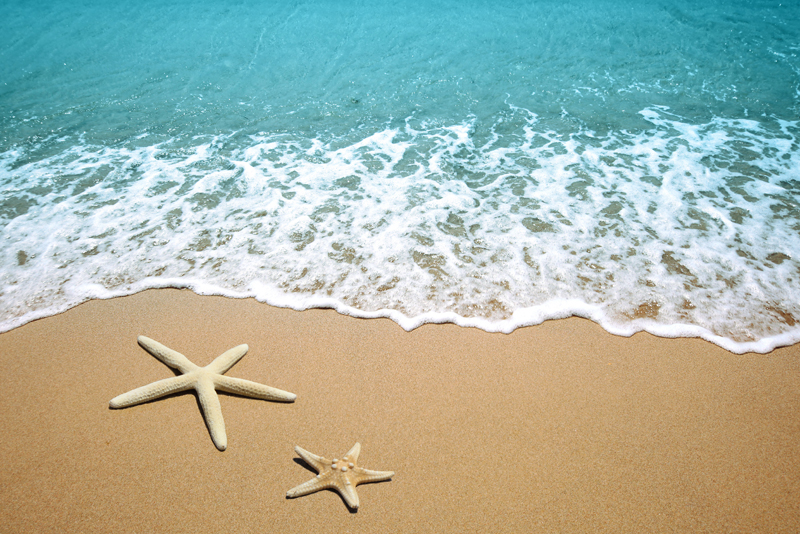 It's said Wisconsin cheesemakers turn milk into magic. I can attest to that as I had the pleasure of touring and sampling cheese in an award-winning family cheese business in Kiel, Wisconsin while on a trip to Wisconsin.
Henning's Wisconsin Cheese is a family-owned business with over 100 years of cheesemaking experience. Now in its fourth generation of operation, Henning's carries on their proud family tradition of making some of the finest, award-winning Wisconsin cheeses in the world. Henning's is located in northeast Wisconsin, in Sheboygan County, about an hour from Milwaukee and 2 1/2 hours from Chicago, and fifteen minutes from Elkhart Lake.
Here are Henning's most recent award winning cheeses:
Chipotle Cheddar - 2020 World Championship Cheese Contest - Gold
Colby - 2020 World Championship Cheese Contest - Silver
Aged Cheddar - 2019 U.S. Championship Cheese Contest - Gold
Peppercorn Cheddar - 2019 U.S. Championship Cheese Contest - Silver
Sharp Cheddar - 2019 U.S. Championship Cheese Contest - Silver
"We're small, but we can do big things," says Kert Henning. While one of the smaller cheese factories in Wisconsin, Henning's is the only cheesemaker in the U. S. that produces special order cheese wheels from 75-pounds up to 12,000-pounds. If it's a cheese wheel found in the U. S. 75-pounds or larger, Henning's handcrafted it. Henning's values the opportunity to use the freshest local ingredients available. They rely on only local dairy farmers within about a thirty-five-mile radius to get their fresh, hormone-free milk daily.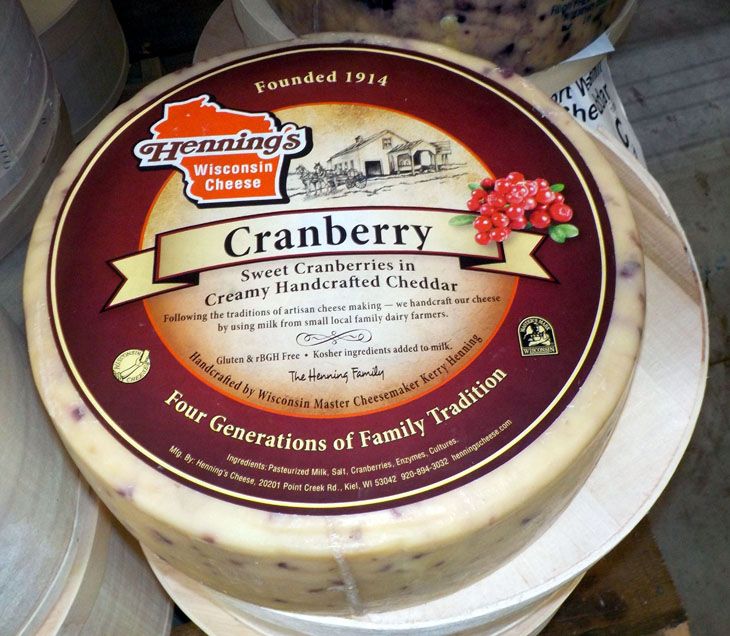 Kert's brother Kerry Henning is one of a small, elite group of Wisconsin Master Cheesemakers. Wisconsin is the only state to have the Master Cheesemaker apprenticeship program. The program requires participants to have held a Wisconsin cheesemaker license continuously for at least ten years and acquire additional extensive and advanced education and training. The program takes almost three years to complete once admitted and a 40-hour exam upon completion. Participants are required to produce the cheese they want to master in for five of the ten years while holding a cheesemaker license. Kerry Henning is a Master of Cheddar, Colby, and Monterey Jack.
The history of cheesemaking goes back some 175 years in Wisconsin, so it's no wonder they know how to make excellent cheese. European immigrants began arriving in Wisconsin in the 1840s. Over the next several decades, dairy farmers from as many as fifty different ethnic backgrounds called Wisconsin home. The great states of New York, and Ohio, where I'm from, once led in cheese production. By the early 1900s, Wisconsin had taken the lead as the nation's largest cheese producer and the leading dairy state, producing more milk and butter.
It seems there's no "TOO" big when it comes to how big of a block, or wheel of cheese, Wisconsin cheesemakers can make. In 1964, the Wisconsin Cheese Foundation sponsored The World's Largest Cheese for the New York World's Fair. A cheddar of 17 ½ tons was made for the fair, and it went on a nationwide tour. In 1988 the Belle of Wisconsin, a mammoth 20-ton block of cheddar, made a yearlong tour of the U.S.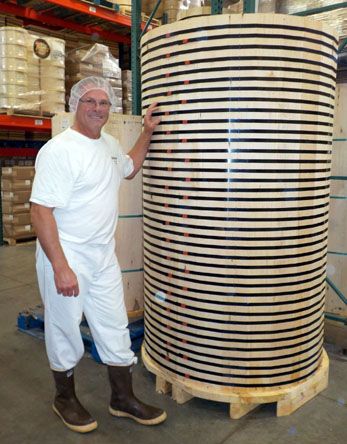 While touring Henning's, Kert Henning showed me a 4,000 lb. wheel of cheddar that was destined to the Northwestern part of Ohio. Walt Churchill's Markets near Toledo had ordered the mammoth wheel to kick off the holiday season. This has been a tradition in the Toledo area by various grocery stores since the 1950s. Henning's makes several special order mammoth wheels each year.
The dairy industry brings in some $43 billion, that's right billion dollars to Wisconsin's economy each year. That's more than citrus to Florida or potatoes to Idaho. So, you can see how important the dairy industry is to Wisconsin. In 2016 Wisconsin dominated the world champion cheese contest, bringing home the title of, Best Cheese In The World. I'd say that's a pretty prestigious award.
Of course, no visit to Wisconsin is complete without enjoying some squeaky, fresh cheese curd. While many people may be unfamiliar with cheese curd, those of us from dairy-producing states know just how good it is. Curd is formed during the first steps of the cheesemaking process. The curds are then placed into molds, pressed and aged, to become the blocks or wheels of cheese which most people are familiar. But if you get the fresh curds (small irregular shaped fresh cheese pieces) before they go into the molds, they are called cheese curd. If you want a really delectable treat, try fried cheese curds. Fresh, frozen curds battered and deep-fried. Oh, so good.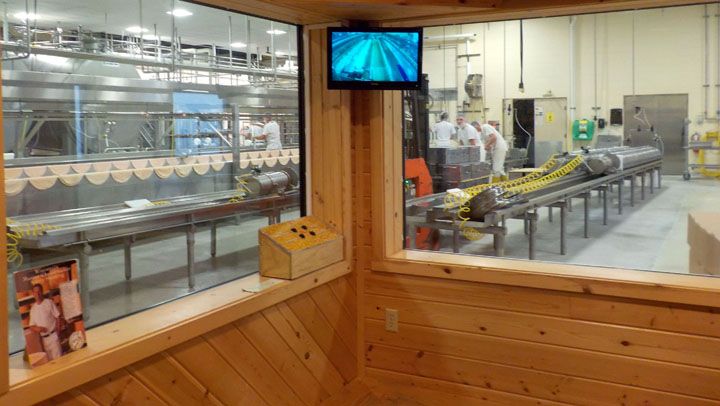 When you visit Henning's cheese factory in Kiel, you can sample the fresh cheese curd being made each morning Monday thru Friday. You can also watch the fresh cheese as it's made in the mornings, through the large viewing windows in the cheese museum.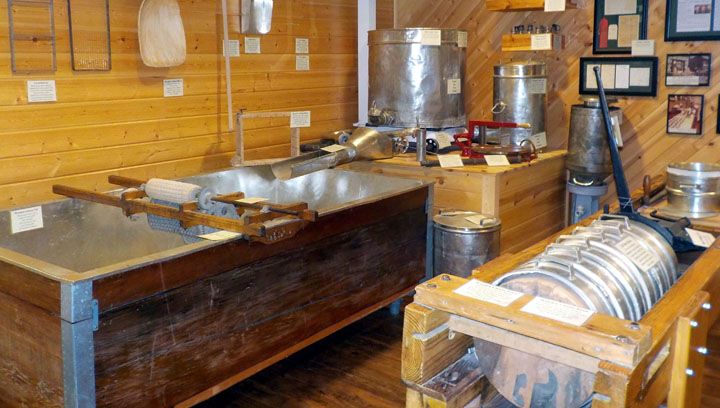 The cheese museum, a dream of Everett Henning's, the son of founder Otto Henning, was opened in 2008 along with the new store. The museum features cheesemaking equipment used during the early 1900s. You can also watch videos of cheddar and string cheese being made.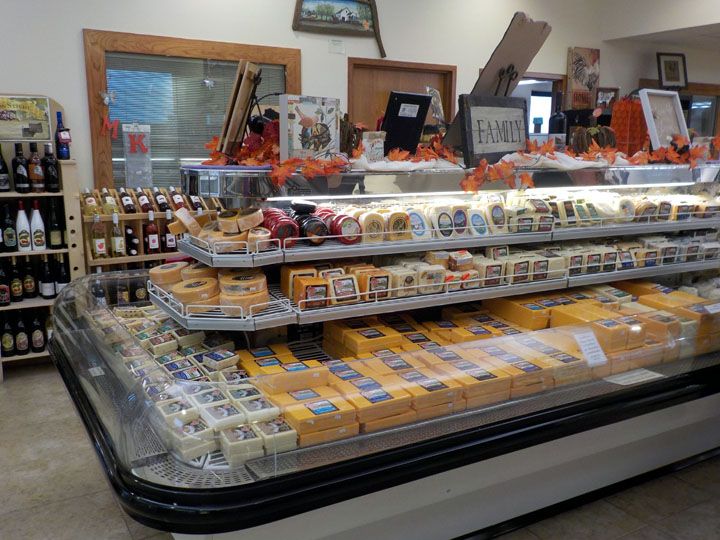 If you can't find the time to make a trip to visit Henning's, you can shop online, where you'll find an enormous selection of delectable cheeses and other food items from which to choose. You'll also find great cheese recipes and a downloadable brochure on pairing cheese with wine, beer, and food on their website.
You can find out more about Henning's Wisconsin Cheese by visiting: www.henningscheese.com. The store and museum are open Monday - Friday 7 am - 4 pm (CST), and Saturday 8 am to Noon (CST). For more info on Wisconsin's beautiful Elkhart Lake region, visit www.elkhartlake.com.
You Should Also Read:
Aspira Spa at the Osthoff Resort, Elkhart Lake


Related Articles
Editor's Picks Articles
Top Ten Articles
Previous Features
Site Map





Content copyright © 2023 by Hazel M. Freeman. All rights reserved.
This content was written by Hazel M. Freeman. If you wish to use this content in any manner, you need written permission. Contact Hazel M. Freeman for details.