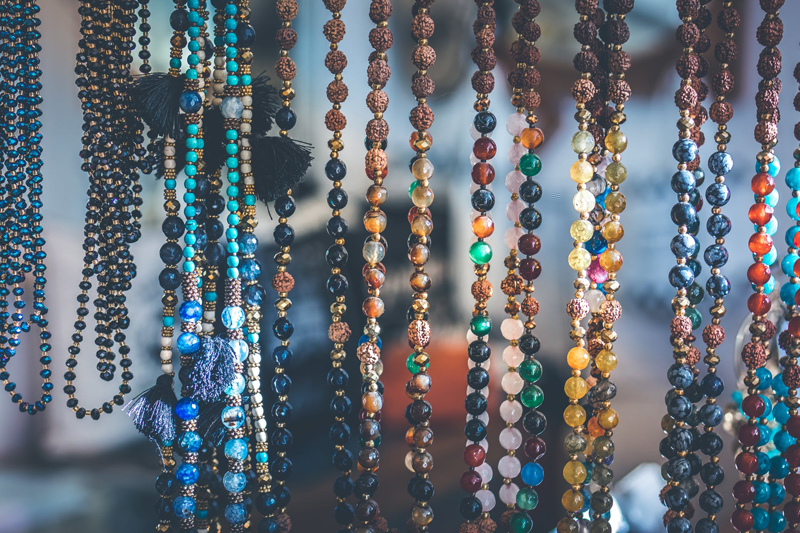 Romantic Rose Choker
The illustrations of how to do the stitches do not have as many beads as the pattern itself for the sake of simplicity. They simply serve as examples of how to do the stitches.
When I started this project it was because I was trying to make myself do two stitches I'm really not comfortable with yet, brick and square.I know a lot of bead artists started with brick stitch, but I started with
peyote and have never been able to get completely comfortable in brick.Square stitch is durable, strong, and slow, so I did a modified square stitch, adding two beads at a time instead of just one, comes out a little softer, but for a choker it seemed perfect to have it not be so stiff.
This choker is done in rich colors and looks quite rich when it's done,it's made up with two brick stitch triangles and a main centerpiece of square stitch connected by horizontal netting, the closure is a button closure, I used a 3/8th vintage button I had.

Supply List:
Red silver lined size 11 beads
Matte Black size 11 beads
Bronze size 11 beads
9 6 mm faceted accent beads
3/8th inch shank style button
silamide
size 12 needle
size 13 needle
Start with a length of thread you are comfortable working with and the size 12 needle. String on a stop bead,
String on 16 black beads and turn to work second row, add 2 more black beads and string through the 4th bead from the needle towards the needle,come out of the other side of that single bead and string through the last bead added, continue working the pattern according to the graph.


When you are through with the square stitched rectangle, switch needles to the size 13 needle and go through all the rows to reinforce, end off thread, weave in loose ends.

Next we do the triangle end pieces. Like I said, I wasn't comfortable in brick stitch, but most of what made me uncomfortable was the ladders used as a base, so time consuming, Pamela Welborn taught me this method of a peyote start that works really fast and since then I've used it. It helps.
String 3 beads on your needle, run your needle through the first bead,and tie in a knot, then work in a zigzag fashion until you have the first 2 rows of the triangle done according to the graph.


Continue working in brick stitch following the graph.
Romantic Rose Choker Page 2
When you are done with that triangle, with your needle and thread coming out of the top bead of the triangle add 3 bronze seed beads, your button,3 bronze seed beads, one accent bead, then a loop of 15 beads stringing back through the beads and button just added down to the top of the triangle,weave through the top three beads and come back through the beads and button a second time for strength.


Tie off and set aside.
Do the other triangle the same way except when you reach the top bead string 10 beads (one bronze, eight black, one bronze) then an accent bead, repeat that 7 times. Then add 7 black beads, an accent bead and 7 black beads and go through the second accent bead from the needle forming a loop, coming out of that accent bead add 10 beads, same as before, then go into the next accent bead, repeat until you are back at the triangle.Weave back through the top 3 beads and through the loops for strength like you did on the other triangle.


Tie off and set aside.Tie in a new thread to the square stitch square. Bring the needle and thread so it come out of one of the corners, you'll be working off the short sides of the rectangle. Add 7 black beads, 1 bronze, 7 black and repeat for a total of 11 bronze beads for medium to large necks and 9 bronze beads for small necks.


When you have as many beads as you'll need strung on, bring your needle and thread through the first bead on the bottom of one of your brick triangles,weave through according to illustration to the 5 the bead on the bottom of the triangle and come out of that and string on 7 black beads, 1 bronze, and 7 black beads, then go through the second bronze bead on the previous row, continue working netting in that manner until you reach the square stitched medallion. When you reach the square stitched medallion count 4 beads from the 1 that that first row came out of and enter the one beside it, add 7 black beads, go into the first bronze bead on the previous row, and continue working netting as before, this time when you get to the triangle bring your needle and thread through the 3 bead from the last one you came out of and weave back through to the last bead on the bottom of the triangle, add one more strand of netting worked in the same was as the second strand was done.

Tie off and knot, weave in all loose ends, and you have a completely adjustable choker.



Related Articles
Editor's Picks Articles
Top Ten Articles
Previous Features
Site Map



Follow @shala%5Fbeads
Tweet





Content copyright © 2022 by Shala Kerrigan. All rights reserved.
This content was written by Shala Kerrigan. If you wish to use this content in any manner, you need written permission. Contact Shala Kerrigan for details.