Burrito Ingredients and Ideas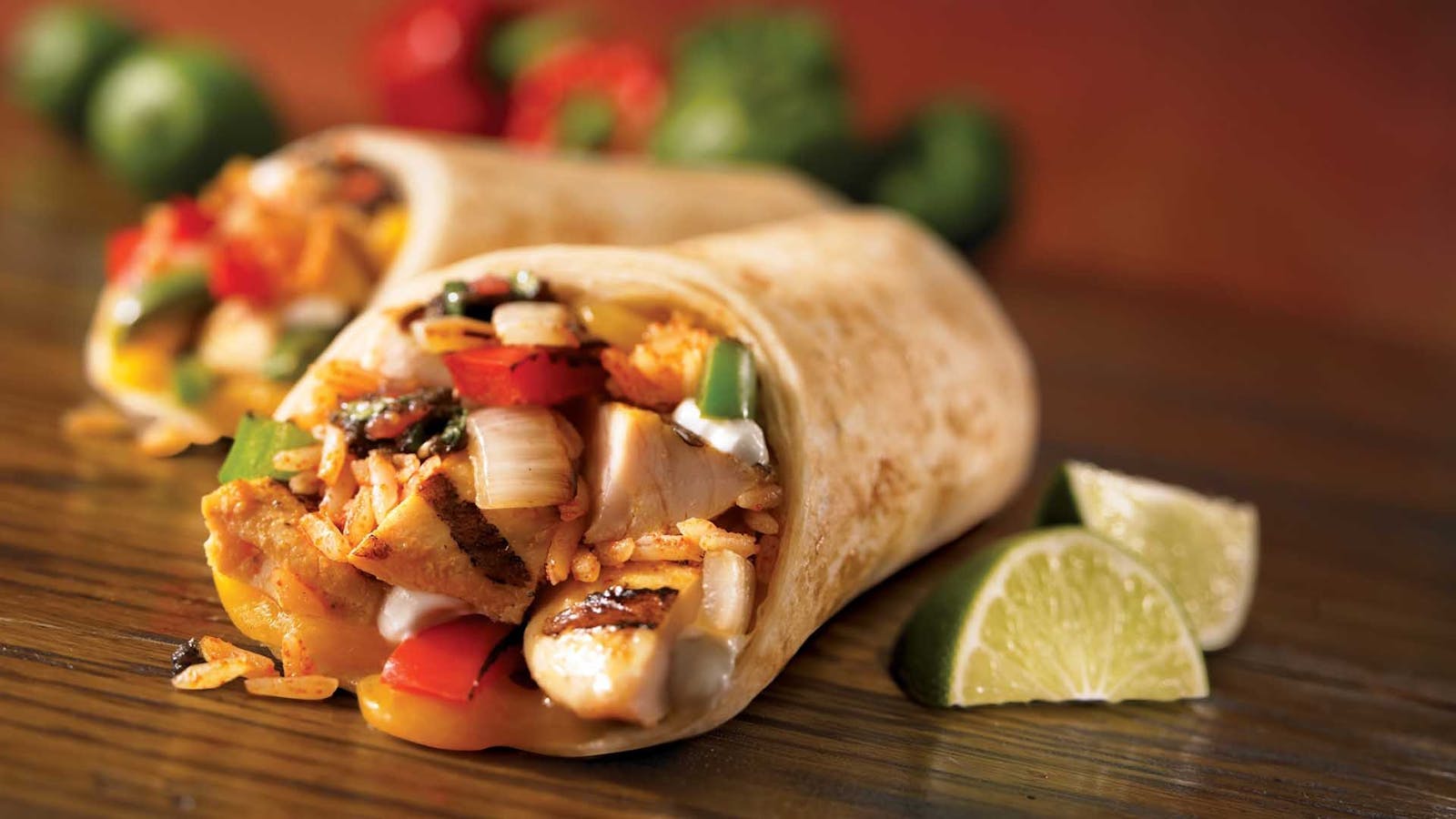 Burritos, those little rolled up sandwiches in a tortilla, are tasty any time of the day or night. You can design your perfect burrito and buy the ingredients to make them. However the burrito is also a delicious way to use those little bits of food that you have left from other meals. This article will give you ideas for burrito ingredients to help you quickly assemble custom meals for family and friends.
The basis of a burrito is the tortilla. I buy mine fresh from a local Mexican bakery. You can also buy low-carb tortillas. La Tortilla Factory makes a tortilla that has only three net grams of carbohydrate and 50 calories. This is a nutritional bargain! If you want to make your own high fiber tortillas, there is a link to a good recipe in the Related Links section below this article. Make sure that your tortilla is warm. You can heat tortillas in the oven wrapped in foil, or you may heat them individually in a hot heavy skillet. Do not overheat, or your tortilla will become brittle.
Many burrito recipes start with refried beans, however this is not a requirement if you don't enjoy beans. If you use beans, you can mash any beans that you have cooked, add a little oil and heat them in a heavy skillet. It's a great way to use leftover beans. My favorite way to get refried beans is to open a can of LaTiara Mexican Style Refried Beans. They are delicious and easy to use. Another quick option is Kuner's Southwestern Black Beans. There are several varieties of these spicy little legumes. They come in refried beans or loose beans. Make sure the can says "Southwestern," since the Kuner people also make plain black beans.
After starting with the beans, add the fillings. You can include meat, veggies, rice, cheese, sour cream, salsa, or whatever ingredients you have on hand. You are limited only by your taste, imagination, and refrigerator contents.
Here is a list of ingredients to use in making burritos. Take this as a starting point and expand on it! Use your favorite fillings.
Beans:
Refried beans, hummus, pinto beans, black beans, spicy black beans, red beans.
Meats:
Spice your ground meat like taco meat. You may use ground buffalo, beef, turkey, chicken, or pork. You may also use leftover meat from roasts or chickens. Sausage makes a nice filling, too. Grilled meats are always tasty!
Veggies:
Sautee or roast vegetables for fillings. If you have never roasted vegetables, there is a recipe at the bottom of the page under the Related Links. Onions, zucchini, yellow squash, tomatoes, eggplant, and peppers are good choices. The small sweet peppers, bell peppers, poblano peppers, and Anaheim peppers all make flavorful cooked additions to burritos. I also like to use raw leafy vegetables like shredded lettuce or spinach. Alfalfa sprouts are a fresh tasting option. Incorporate leafy vegetables right before you roll your burrito.
Rice:
Use flavored rice or plain. This is a great way to use leftover rice. One of my favorites is to quickly cook instant brown rice. Quinoa works well as a rice substitute.
Dairy:
Shredded cheddar, Mexican blend, or Pepperjack are all great filling choices. Sour cream or Fage Greek Yogurt makes wonderful additions. You can also use soft goat cheese crumbles.
Salsa:
Use your favorite salsa. At our house we like the Hy-Vee brand of black bean and corn salsa. It comes in a jar like the Newman's Own brand. They have several delicious salsas. Of course, for fresh flavor, the Garden Gourmet makes the Jack's line of refrigerated salsas. There are several very tasty ones to try.
Basic Method:
Lay a warm flour tortilla flat and spread on the hot refried beans. Add your choice of warm fillings and roll the tortilla up. Pick it up and eat it, or you may use a fork and knife.
This method uses warm tortillas and ingredients to just roll them up. If you have guests over, you may want to let everybody roll their own burritos. Have a burrito bar. It's a good way to have fun and you get to have more time with your guests. Have hot ingredients available. A tortilla keeper is great to keep those flour tortillas warm, or you can wrap them in foil. Plates, tortillas, fillings, and individual imagination combine to make a party and an easy meal!
The beauty of the burrito is the ease that you can make individualized dinners for people with different tastes. Vegetarians can get a zesty burrito. Meat lovers can build their meaty delight. By rolling warm ingredients that each person enjoys into a pliable flour tortilla, you can customize their burrito. It doesn't get any easier than that!
What's your favorite burrito? Let us know what you used in your burrito meal. Post your creations in the BellaOnline Sandwiches Forum. We look forward to hearing from you!
When I mention products by brand name, these are the ones that I use. I have not received free products from the manufacturers, nor have I been paid to mention the products by name.
When is a humble looking covered dish a must-have for your kitchen? If you want to have a burrito buffet, this is the utensil to have to keep tortillas fresh and warm. Tortillas will stay warm in this dish for about an hour. It is also highly recommended for keeping pancakes and biscuits piping hot for a lovely brunch. Here is an Amazon link for your convenience.
Norpro Tortilla Pancake Keeper
You Should Also Read:
High Fiber Tortilla Recipe
Low-Carb Veggie Sandwiches with Salsa Recipe
Potato Onion and Hamburger Burrito Recipe


Related Articles
Editor's Picks Articles
Top Ten Articles
Previous Features
Site Map





Content copyright © 2022 by Connie Mistler Davidson. All rights reserved.
This content was written by Connie Mistler Davidson. If you wish to use this content in any manner, you need written permission. Contact Connie Mistler Davidson for details.