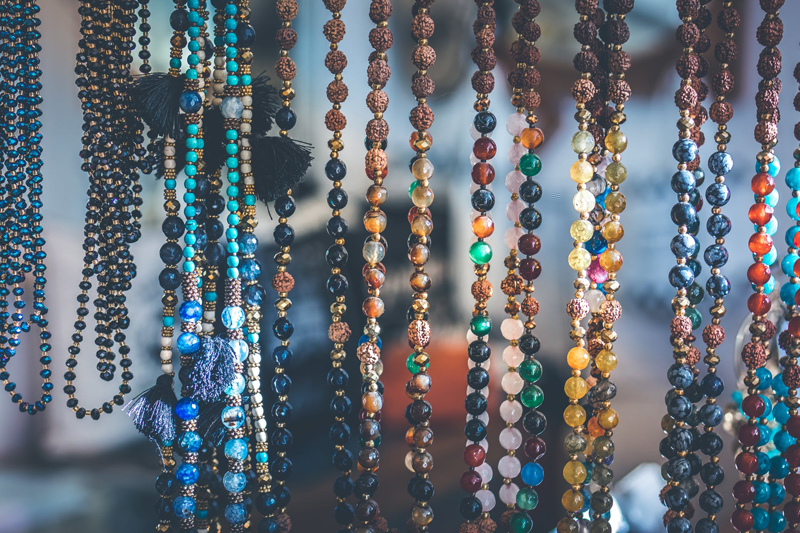 I was recently asked if I had any even count flat peyote ring patterns. I didn't, I've been working on in odd count flat peyote. I told her I would see what I could do.
If you don't know how to do even count flat peyote, I've posted instructions.
Even count flat peyote instructions
Rings can be tricky, because of how they are worn. You want something strong, because hands take a lot of abuse, but you also want something that won't be too thick for your comfort. So the first step in designing a simple even count ring is figuring out what kinds of beads you'll use. I used Delica beads in my example, but if it were a ring that was going to be worn a lot, I'd have used Japanese size 15 seed beads.
The advantages to using Delicas or other Japanese cylinder beads? They work up fast, and can accept multiple thread passes or doubled thread easily. The disadvantage is that they have very thin walls, so they are more fragile. In a pair of earrings, the thin walls are great because they make a very light bead that you can make big comfortable earrings with, for rings though, they can be a hazard.
Japanese size 15s are sturdier beads, but they are also a lot smaller and hard for some people to work with, plus because the holes are so small, you might have some that just won't work with multiple thread passes and doubled thread.
Size 11, 10 or 8's aren't the best for rings, for me at least, because they are so thick. If you don't mind a thicker shank, try it out!
Because hands flex and move and bang into things, you need a strong thread, and doubled for extra strength is a good idea.
Next, you need to figure out the size. Now, I have a great idea for this that I haven't actually used. I tend to size on myself as I'm working. Make up a 4 bead wide strip in 2 colors of the type of beads you are using. I'd just use extra colors and not your very expensive gold plated beads! The strip pattern below is 39 beads long, and the colors alternate every 5 rows (counting a row as back and forth)
Size it to fit. Since the beads alternate every 5 rows, you can just count number of color rows to figure out how long your strip needs to be to make a ring. In my case, using Delicas, my ring was 34 rows long. (again, back and forth, count each row singly it was 68 rows)
What I actually did was work off my graph from the middle and just sized it as I went. The back ends of the graph don't matter that much as long as you end it so you can join the ends, so the "up" bead from the left side is opposite a "down" bead on the right. Since the ends are on the back of the ring, not many people will see that.
The marks on the graphs show every 10 rows, the blue mark is the middle.
6x39 graph
8x39 graph
Some graphs I made up if you want to use them, feel free to change the colors.
The model I made up, I used red, black and shiny gold for. I let my daughter pick which one I was going to use, and her birthstone is ruby.
You Should Also Read:
Learning Basics= Even Count Flat Peyote


Related Articles
Editor's Picks Articles
Top Ten Articles
Previous Features
Site Map



Follow @shala%5Fbeads
Tweet





Content copyright © 2023 by Shala Kerrigan. All rights reserved.
This content was written by Shala Kerrigan. If you wish to use this content in any manner, you need written permission. Contact Shala Kerrigan for details.