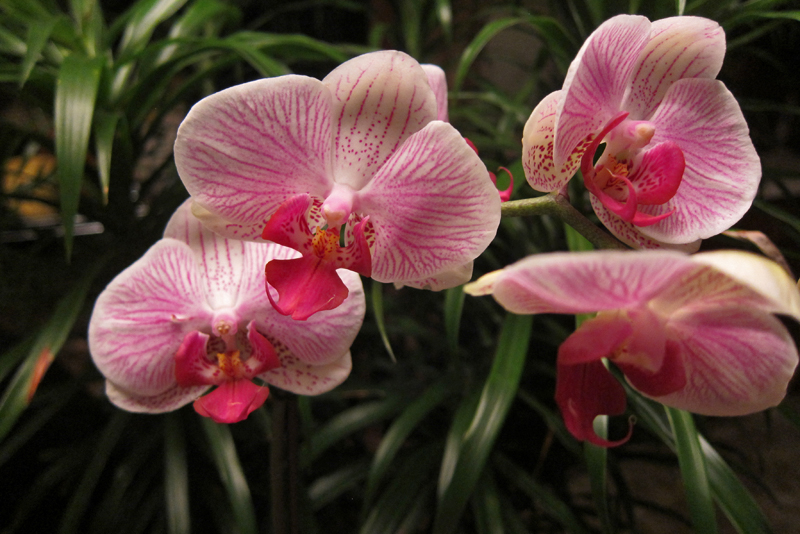 The genus
Dendrobium
is one of the largest in the orchid family. It is comprised of over 1200 species found from Asia, throughout India and the Pacific islands. Most are epiphytes (growing in trees) that have cane-like pseudobulbs. It is important to determine the exact growing requirements of the species you are dealing with since the genus is so diverse that they are broken down to sections in order to further classify them. Also be sure that your conditions are correct for the particular Dendrobium you are considering.
Dendrobium bracteosum
is native to Papua and New Guinea in forest trees near water or in mangrove swamps. It requires high humidity to grow well and is mostly grown mounted or in baskets. The fine roots must be allowed to dry out between waterings or they will rot, but the plants should never be allowed to dry too much. Daily waterings during the hot summer months are recommended.
The flowers are presented in ball-like clusters and can be white with orange lip; yellow or pink. On a well-grown plant they will appear to cover the canes in flowers and can last up to four months in bloom. They flower anytime from spring to fall from the sides of the canes which can be up to 12 inches or 30 centimeters tall.
As with most Dendrobiums, these plants require very bright diffused light in the range of 2500-3500 foot candles in order to bloom. They are deciduous and lose all their leaves during the winter months. They should be given a winter rest in November and December in the northern hemispheres when water should be reduced and fertilizer eliminated.
Here is a listing of some vendors who provide seed grown species. Of course, not all species are always available. If you're interested in something, talk to some of these vendors to see if there's another variety that is close. Often the only difference would be 8 inches tall versus 6 inches or a different colored flower. Also, please mention that you are calling as a result of seeing them recommended on BellaOnline Orchids.
Andy's Orchids
Bergstrom Orchids
Carter and Holmes
First Ray's Orchids
Miranda Orchids
Norman's Orchids
Oak Hill Gardens
Parkside Orchids Nursery
Tropical Orchid Farm
You Should Also Read:
Masdevallias
Miniature Laelias
Mounted orchids


Related Articles
Editor's Picks Articles
Top Ten Articles
Previous Features
Site Map





Content copyright © 2021 by Susan Taylor. All rights reserved.
This content was written by Susan Taylor. If you wish to use this content in any manner, you need written permission. Contact Anu Dharmani for details.