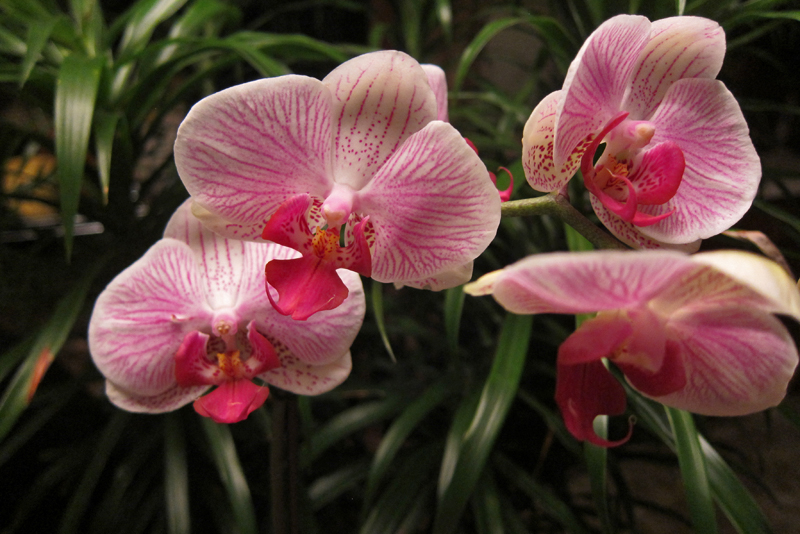 Cymbidiums are one of the most popular of orchids especially in California where they can be grown outside year round in the northern portions of the state. In general, Cymbidium orchids are large plants which need high light in order to bloom. They are often used inside for decoration while they are in bloom and then moved back outdoors. They prefer humid cool conditions so are most often found in northern areas.
This genus of approximately 50 species of orchids is from Asia, the Pacific Islands and Australia. They are divided into three groups: a tropical group with pendant inflorescences, mostly from Australia; the large flowered species from the Himalayas which need a distinct cool to cold period to flower; and an intermediate group which does not need cool temperatures to flower.
The large flowered Cymbidiums need temperatures in the 40-90 degree Fahrenheit, or 4-32 degree Centigrade, range and require approximately 20 degree Fahrenheit, or 6 degree Centigrade day-to-night temperature differential to initiate flowering. They do best with full morning sun or 50% sun all day. If yours is growing well but not flowering, try more light. An excellent source for these plants is
Santa Barbara Orchid Estates
which is well known for them. In general, these plants will not do well in areas that do not have temperatures in the winter months that go down to approximately 50-55 degrees Fahrenheit, or 10-13 degrees Centigrade, at night. They can tolerate temperatures as low as 27 degrees Fahrenheit, or -2 degrees Centigrade.
The second group of Cymbidiums, mostly from cooler areas in the Pacific Islands are loosely called "Asian Cymbidiums" and are grown extensively in Japan where they are prized. An wonderful resource for this type of orchid is
Winterview Orchids and Supplies
. They have a large collection of Asian orchid pots which are specifically made for Cymbidiums and have been shown to enhance the growth of these orchids significantly and increase flowering by allowing the roots to grow more naturally. They like cooler temperatures at night, but do not like it as cool as the large Cymbidiums, and in general will need cool night temperatures in order to initiate spikes.
The tropical Cymbidiums are mostly grown in hanging baskets to accommodate their full pendant inflorescences. They require temperatures above 60 degrees Fahrenheit, or 15 Centigrade, and year round water and fertilizer.
There has been a fair amount of hybridizing lately in order to produce more temperature tolerant and warmer growing Cymbidiums for the southern gardener.
Carter and Holmes
bought many of these hybrids and now sells them.
You Should Also Read:
Repotting Your Orchids - Cymbidiums
Staking Orchid Flowers
Orchid Profile - C. intermedia


Related Articles
Editor's Picks Articles
Top Ten Articles
Previous Features
Site Map





Content copyright © 2021 by Susan Taylor. All rights reserved.
This content was written by Susan Taylor. If you wish to use this content in any manner, you need written permission. Contact Anu Dharmani for details.