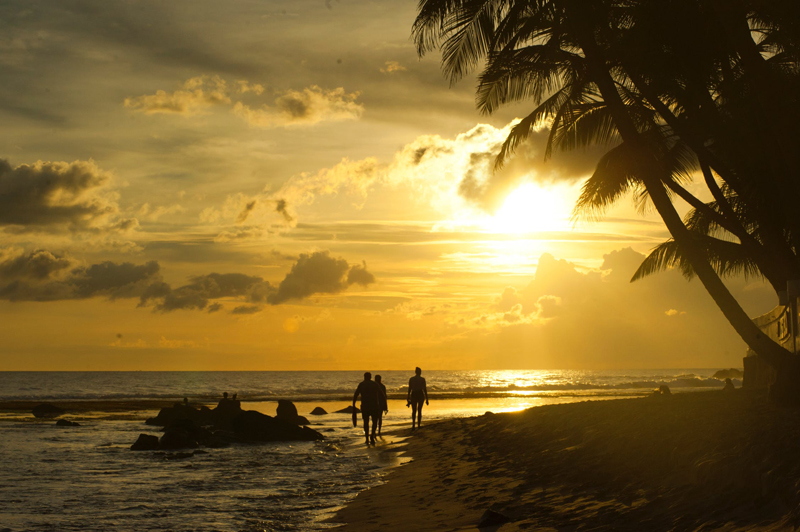 Nothing gets people arguing more than a list, and a sports one at that. Here we celebrate some of the Caribbean's greatest sporting legends. Head to the forum to stake a claim for someone we've missed or those we should have omitted.
Cricket
As a previous
article
explored in greater detail, the West Indies Cricket team once bestrode the cricketing world like a Colossus, dominating the game throughout the 1980s. In individual terms,
Sir Viv Richards
and Sir Garfield Sobers both made sacred cricketing almanac Wisden's Top 5 Batsmen of All Time list. Richards was also voted best one day batsman of all time. A product of Antigua Grammar School, King Viv played his whole career without a protective helmet and distinguished himself with the pride and swagger he brought to an otherwise staid game. Principled too, he refused to join a tour of South Africa during the apartheid era. The Sir Viv Richards National Stadium in Antigua is named in his honor.
Sobers
made his first class debut for Barbados aged just 16 and went on to become one of the game's greatest all-rounders, as a high scoring batsman and dangerous bowler. The first player to hit six sixes in an over (apologies to those unfamiliar with cricket), he is one of the ten National Heroes of Barbados.
As a youngster, Trinidad and Tobago's
Brian Lara
represented his nation at both soccer and table tennis. However, ping pong's loss was to be cricket's gain when the stylish, unruffled left-hander opted to pursue cricket instead. Lara in action was a one-man symphony of athleticism and grit. In 2004, he reclaimed the record for the highest Test innings in history and is still the only player to score over 500 in a first class innings. His feats are made all the more impressive by the fact that he was playing during one of the golden ages of cricket, pitting his wits against opposition who still dominate best-of lists a decade or so on.
Track
The fastest man on the planet is a Jamaican.
Usain Bolt
took just 9.58 seconds to cover 100 meters in 2009 and 19.19 seconds for 200 meters. Another athlete who dabbled in other sports at an early age, Bolt eventually chose track and currently has six gold medals from two Olympic Games. In the scowling, preening world of elite men's sprinting, what makes Bolt so legendary is the refreshing lack of pretension that he has brought to the discipline, adored internationally for his celebrations, languid style and post-race DJing.
Merlene Ottey
may be famous for the Olympic races she didn't win, winning three bronzes, but the graceful athlete was competing in the era of Gail Devers, Marion Jones and more. Overall, though, Ottey made 7 Olympic games appearances and won three World Championship golds. Her relationship with Jamaica later soured and Ottey decamped to her adopted Slovenia, where she turned out for the relay team aged 52.
Inspired by Ottey,
Veronica Campbell-Brown
became the first Caribbean woman to win an Olympic sprint, in the 200 meters and was also part of the 2000 Olympics relay team that took silver behind the Bahamas. Campbell-Brown currently has three gold medals to her name.
The Bahamas' Golden Girls
captured the archipelago's (and the world's) imagination when the team secured gold in the 4x100 relay in the 2000 Sydney Olympics. A tribute to Pauline Davis-Thompson, Eldece Clark-Lewis, Debbie Ferguson, Sevatheda Fynes, and Chandra Sturrup dominates Nassau International Airport and the athletes returned home to the Bahamas in 2000 to delirious scenes.
Boxing
Born in the US Virgin Islands on St. Thomas,
Emile Griffith
rose to fame as the world champion in middleweight and welterweight divisions. Knocked out in one bout by Ruben The Hurricane Carter, Griffith was perhaps best known for his controversial fight with Benny Paret, the subject of the 2005 documentary Ring of Fire. Griffith was inducted into the Boxing Hall of Fame in 1990.
An outstanding amateur fighter,
Eligio Sardinas Montalvo
from Havana, Cuba, was better known by the nickname 'Kid Chocolate'. Having moved to the US, Sardinas slugged his way to becoming Cuba's first world boxing champion in 1931. Upon retirement, Kid Chocolate returned to Cuba and was later inducted to the Hall of Fame.
One of many Puerto Rican boxing legends,
Carlos Ortiz
was born in Ponce but made his name in New York. A world lightweight champion, Ortiz fought some memorable bouts in San Juan and elsewhere. Ortiz's compatriot
Wilfred 'El Radar' Benitez
holds the accolade as the youngest world champion in boxing history, winning his first title aged 17. In a stellar career, Benitez fought Roberto Duran (winning), Sugar Ray Leonard (losing) and Thomas Hearns (losing) in epic bouts.
Sailing
The Caribbean is famous for its world-class regattas, but the region has produced some outstanding talent too. Born in St. Thomas,
Peter Holmberg
is one of the region's most accomplished competitors. Holmberg represented the USVI at the 1984 Olympic Games in the Finn Class, then won the USVI's first ever Olympic medal four years later, taking silver in Seoul in the Finn. Switching to match racing, Holmberg competed relentlessly in competitions around the globe, finally achieving #1 ranking in 2001. Holmberg has also competed in the America's Cup, on Stars and Stripes in 2000, and as helmsman on Oracle BMW in 2003. In 2007, Holmberg finally won the holy grail as helmsman on Alinghi in Valencia.
Baseball
In the Dominican Republic and Puerto Rico, the lure of MLB is a dream for many children, and many franchises operate training camps on the islands on the lookout for the next big thing. Dominican-born
Albert Pujols
is living proof that Dominican baseball is world-class. ESPN ranks the 9-time all star as the 16th best player of all time and the Santo Domingo-born slugger has 2 World Series wins to his name.
Puerto Rico's
Roberto Clemente
made ESPN's list at #34. Having worked alongside his father in the sugar cane fields as a youngster, Clemente left that island to make his name with the Pittsburgh Pirates, accumulating over 3,000 Major League hits. Clemente was inducted into the Hall of Fame posthumously after being killed in a helicopter crash on New Year's Eve, 1972. Clemente's number 21 uniform was subsequently retired by the Pirates and the player is honored with several parks and stadiums in his name in Puerto Rico and the US.
Basketball
Basketball has arguably surpassed cricket as the Caribbean's most followed sport, and the region has produced its own NBA stars.
Born in Jamaica,
Patrick Ewing
took up basketball relatively late for a future Hall of Famer, having initially excelled at cricket. Ewing achieved cult status both as part of the New York Knicks and the Dream Team. In 1996, he was voted one of the top 50 players in NBA history for the association's 50th anniversary.
More recently,
Tim Duncan
has lived the dream of every Caribbean child to pick up a basketball on an island court. The unassuming San Antonio stalwart grew up in St. Croix where he originally intended to pursue a career as a professional swimmer. When Hurricane Hugo destroyed the island's only Olympic-sized pool, Duncan switched to basketball. Currently, four NBA championships later, the decision looks to have been an astute one.


Related Articles
Editor's Picks Articles
Top Ten Articles
Previous Features
Site Map





Content copyright © 2023 by Nick Marshall. All rights reserved.
This content was written by Nick Marshall. If you wish to use this content in any manner, you need written permission. Contact Nick Marshall for details.