Simple Beaded Friendship Bracelet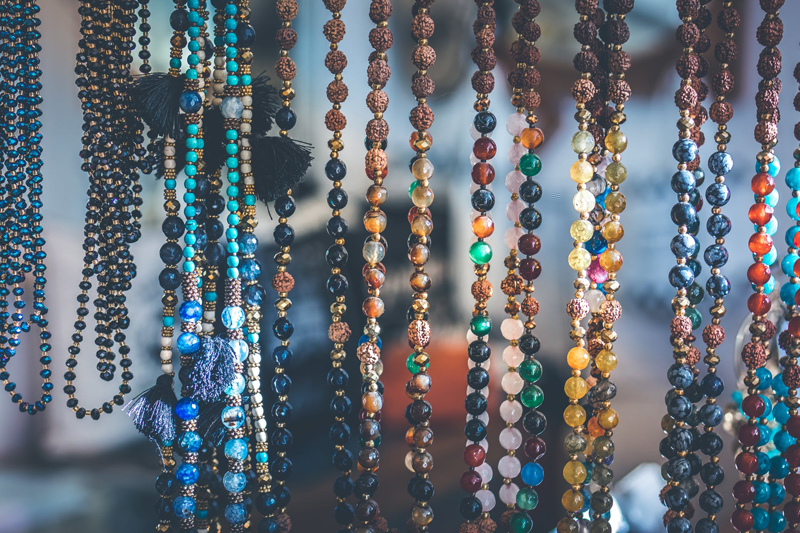 If you grew up in the 80s, you remember friendship bracelets. Knotted out of embroidery floss, they could be very simple spirals or very intricate. For a lot of us, that's been our one and only experience with micro-macramé. This project is just as simple as many of those bracelets, but it uses square knots and beads to make a friendship bracelet. It's something that could be done with kids, and you don't have to use embroidery floss, experiment and have fun. They are very customizable, so you can pick bead colors and floss colors that have meaning to you. For my example, I used mixed size E beads and blue embroidery floss.
You will need:
Size E beads- craft store beads are fine for this!
Embroidery floss
scissors
a small piece of tape
regular needle and piece of thread (to string beads on the floss)
Working surface
For the working surface, you have a few options, you can absolutely use a foam core board and T pins, but you don't have to. Remember how we used to make friendship bracelets? We would either tape our top loop to our desk, or we would safety pin the loop to the knee of our jeans. Either work just fine for this as well.
Cut the floss, 2 pieces that are 60 inches long, and 1 that is 24 inches long. Count out 11 E beads. Fold the 24 inch floss in half, and put a small piece of tape around the bottom near the cut ends to keep the beads on the strand. Thread needle, and make a loop of the thread that goes through the loop at the top of the folded piece of floss so they are looped together. Thread 11 beads on the needle, and slide them down the thread onto the floss. Snip thread to separate it from the floss. You should have a 12 inch loop of floss with beads strung on both strands of floss and a loop on the top. Fold the other 2 pieces of floss in half, and put match the middles of all 3 loops, and tie in overhand knot about a half inch long.
Now it's time to start knotting the bracelet. The strand with the beads is the "filler cord", and it won't be knotted at all. Put two strands of floss on each side of the filler cord. You will be working with the two strands as if they were one. Please excuse my lack of an overhand knot in my illustration. I just couldn't draw one.
Left side goes over the filler cord, then under the opposite cord, then take the right hand side, and go under the filler cord, and over the left hand cord.Pull tight, that's half the knot.
Then take the left hand side and pass it under the filler cord, and over the right hand cord, and the right hand cord goes over the filler cord, and under the left hand cord. Pull tight, one square knot completed.
Do 4 more knots, and slide up one bead. Do 3 knots starting right under the bead, and slide up the next bead. Keep on doing that until you get to the last bead, and do 5 knots under that. Slip off the tape, and make 2 braids with 3 strands each, finish each braid in an overhand knot, and trim. The bracelet is ready to tie on a friend's wrist. This makes a finished size from top of the loop to the bottom of the knotting that's about 6.5 inches long.
To make a longer strand like to tie around an ankle, add 2x the inches you want to add to the filler cord, and 10x the number of inches you want to add to each of the longer cords. So if you want to make an anklet that's 8 inches long, that would be 1 strand that's 27 inches long, and 2 strands that are 75 inches long.
I used the same technique to make a paracord bracelet for my son that's not beaded. If you're interested, instructions for that are
here
.
You Should Also Read:
Book Review : Bead & Fiber Jewelry
Knotwork Patterns E-Book
Book Reviews ; Suzen Millodot's Knot Books


Related Articles
Editor's Picks Articles
Top Ten Articles
Previous Features
Site Map



Follow @shala%5Fbeads
Tweet





Content copyright © 2021 by Shala Kerrigan. All rights reserved.
This content was written by Shala Kerrigan. If you wish to use this content in any manner, you need written permission. Contact Shala Kerrigan for details.