White Gull Inn Cherry Coffeecake Recipe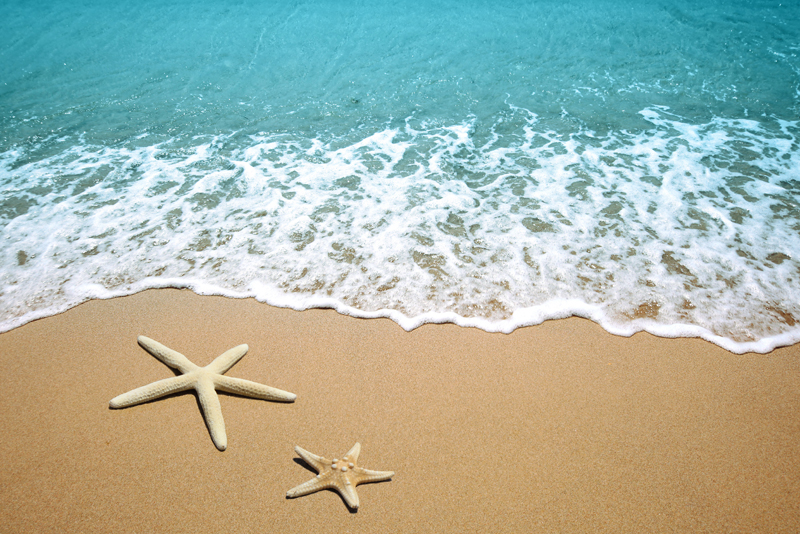 Established in 1896, the historic White Gull Inn sits amid the pristine, scenic beauty of Wisconsin's Door County.
With the charming little hamlet of Fish Creek as a backdrop, the White Gull has welcomed visitors for over a century With limestone bluffs at its back and the cool, sparkling waters of the bay of Green Bay lapping along the shore, Fish Creek, and the White Gull Inn remain a popular travel destination year after year.
Regaled by the likes of Bon Appetit, National Geographic Traveler, Midwest Airlines in-flight magazine My Midwest, Coastal Living, and Midwest Living Magazine, and dozens of others, the White Gull Inn, is the icing on a very decadent cake. To get there, you must travel through some of the most scenic, charming, and relaxing miles you'll find anywhere, out onto the Door Peninsula. .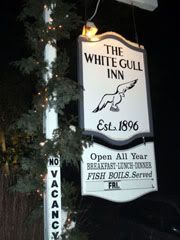 Named one of the top ten vacation destinations in North America by Money Magazine, it's no surprise that just about every inch, and acre, of Door County, is a delight to visit. So much so that you'll want to come back and explore the Door during every season of the year.
If eat, drink and be merry is one of your vacation requirements than Door County certainly measures up. One thing you won't want to miss is the traditional Door County fish boil. I had my doubts about how good boiled fish could taste but was eager to give it a try at the White Gull, where they've been perfecting the boil since 1959.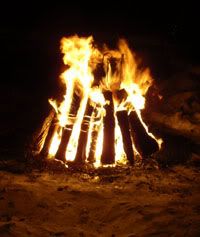 A traditional fish boil features fresh Lake Michigan whitefish caught from local waters daily, and a Master Boiler oversees the cooking process on an open fire outside.
With a boiling cauldron, fish chunks, small red potatoes, and a bit of salt, the Master Boiler knows just when to toss a small amount of kerosene on the fire.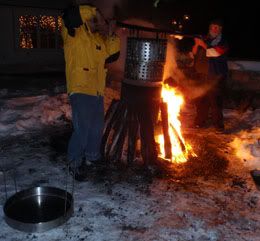 With a great burst of flames, the cauldron boils over, and over the sides wash the foamy fish oils, leaving the fish and potatoes perfectly done, ready for the Inns guests to devour.
As hungry patrons eagerly sit down to the meal, platters of steaming fish and potatoes arrive along with freshly baked bread, melted butter, creamy coleslaw and to top the menu off, homemade Door County cherry pie. The White Gull fish boil is served Wednesday, Friday, Saturday and Sunday nights in summer, and on Friday nights in winter. Come early to see the whole cooking process and to be safe, make a reservation.
Known as "Cherryland USA," Door County is one of the country's leading producers of Montmorency cherries. With more than 2,000 acres of orchards, the county can harvest more than 10 million pounds of fruit in a good year. Although not every year may be a bumper crop cherry year, there are usually plenty to go around for visitors year-round.
You'll find all things cherry available from wonderful wines, delectable jams and jellies, super salad dressings and delicious desserts. Most eating establishments have special recipes that showcase this fabulous fruit, such as the one provided here by White Gull Inn owners Jan and Andy Coulson. Make sure you give it a try.
If all of the above aren't reasons enough to plan a visit to Door County, and a stay at the White Gull, then here's one more reason. The White Gull Inn recently became the latest Door County business to become Travel Green Certified. If you like the notion that the lodging establishment you choose is concerned about preserving the earth's natural resources, protecting the environment, and reducing their environmental impact, then look for a certified Travel Green business.
________________________________________________________________
For more information on Door County visit: www.DoorCounty.com. For information, or to make reservations at the White Gull Inn visit: www.whitegullinn.com.
For more articles on Door County click the "Related Links," below.
White Gull owners Jan and Andy Coulson are happy to share one of their favorite recipes with my readers here at BellaOnline.
Montmorency Cherry Coffeecake - The White Gull Inn – Door County, Wisconsin
Ingredients
Topping
1 1/2 cups brown sugar
2 Tablespoons cinnamon
3/4 cup chopped walnuts
Coffeecake
2 cups sour cream
2 teaspoons baking soda
4 cups flour
1 Tablespoon baking powder
1 cup butter, softened
1 1/2 cups sugar
4 eggs
2 teaspoons vanilla
2 cups frozen tart cherries thawed and drained
Directions
Preheat oven to 350 degrees F. Make the topping by mixing brown sugar, cinnamon, and walnuts together and set aside.
Mix together sour cream and baking soda. In a separate bowl, mix flour and baking powder. In medium mixing bowl cream butter and sugar together.
Add eggs one at a time and vanilla. Cream until fluffy. Add sour cream and flour mixtures alternately and mix thoroughly.
Spread one-half of the mixture in greased 9" x 13" pan. Sprinkle cherries over this base layer, then sprinkle 1/3 of the topping over the cherries. Spread the other half of the batter on top and sprinkle the remaining topping over the cake. Bake for 1 hour to 1 hour 15 minutes. Cover with foil after 30 minutes if browning too quickly. Yield: Serves 8
For more on the White Gull Inn visit: www.whitegullinn.com
For planning your getaway to Door County visit: www.doorcounty.com
For more fun things to see and do on Door County visit the "Related Links," below.
You Should Also Read:
Door County Wisconsin is a Winter Treat
Hands On Art Studio is a Creative Getaway
Egg Art In Egg Harbor


Related Articles
Editor's Picks Articles
Top Ten Articles
Previous Features
Site Map





Content copyright © 2022 by Hazel M. Freeman. All rights reserved.
This content was written by Hazel M. Freeman. If you wish to use this content in any manner, you need written permission. Contact Hazel M. Freeman for details.