Encyclia bractescens – Miniature Orchid Series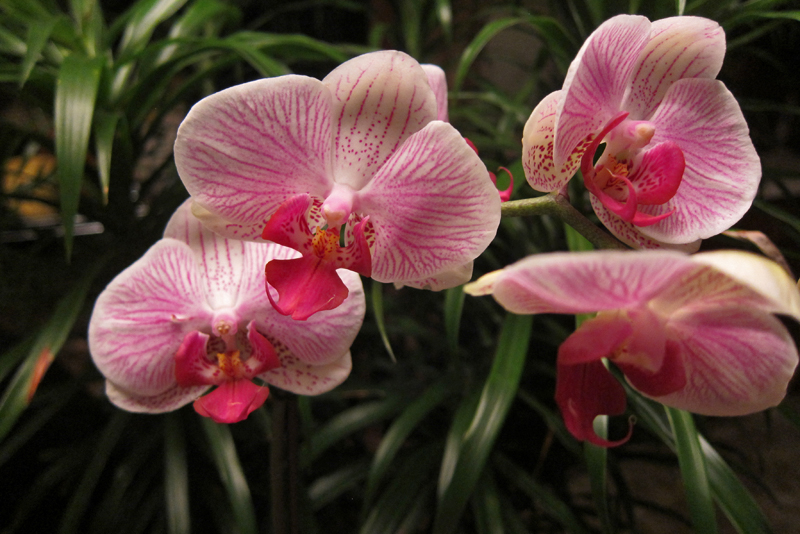 Encyclia bractescens
is a native of Mexico and Central America. It is one of the smallest of the Encyclias and is very attractive even when not in bloom as the foliage is rather grass like in appearance with two to three leaves on each pseudobulb. The small bulbs are about the size of pigeon's eggs from which the leaves and inflorescence emerge. This is an easy-to-grow orchid which will form a nice size plant in three or four years. They remain compact rarely reaching more than 8 inches, or 20 centimeters, high. The flowers are held above the leaves to make a very nice display.
Most people grow this plant mounted, but it will do well in small pots, especially when grown in lava rock so that the roots will dry out quickly. It does not require very high light to flower well, although it will flower more prolifically with higher light and air circulation.
This orchid normally flowers in the spring, but some plants when mature will bloom twice a year in the spring and fall. The spikes emerge with new growth in the fall and mature during the winter to bloom on inflorescences up to 12 inches, or 30 centimeters long. There can be up to 14 flowers on a single inflorescence and the flowers are up to 2 inches, or 5 centimeters, and are an attractive gold or brownish color with a white and pink lip. The flowers are long lasting and slightly fragrant, depending upon the cultivar.
They need warm to intermediate orchid conditions year round and will do well grown with Cattleyas but with slightly less light. They should be grown in moderate light of 3,000-4,500 foot candles with night time temperatures in the range of 60 degrees Fahrenheit or 15 degrees Centigrade. They can tolerate high temperatures during the day with adequate water and air circulation. If grown mounted daily watering is necessary especially during the hotter months of the year. They have very fine roots so will respond negatively to under watering. Watch the pseudobulbs for any withering which will indicate that they are not receiving enough water. They do not need any kind of a rest since they are truly tropical plants.
The Encyclia genus is found throughout Central and South America including the West Indian islands and has approximately 250 species. In general they are all epiphytic in nature (growing on trees) so they need high humidity, good air circulation and frequent watering without allowing their roots to become waterlogged. They have been extensively interbred with Cattleya Alliance plants.
You Should Also Read:
Pleurothallis - Miniature Orchid Series
Ionopsis - Minature Orchid Series
Orchid Profile - Encyclia


Related Articles
Editor's Picks Articles
Top Ten Articles
Previous Features
Site Map





Content copyright © 2021 by Susan Taylor. All rights reserved.
This content was written by Susan Taylor. If you wish to use this content in any manner, you need written permission. Contact Anu Dharmani for details.