Official Name:
Togolese Republic
Alternate Names:
Togo
Former Names:
French Togoland
Capital City:
Lomé
Flag:
The flag of Togo has five equal horizontal bands of green alternating with yellow with a white five-pointed star on a red square in the upper corner.
Date of Independence:
April 27, 1960 from France
National Anthem:
"Hail to thee, land of our forefathers"
Population:
6,019,877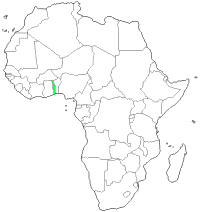 Size/Area:
56,785 sq km, slightly smaller than West Virginia.
Land Locked:
No
Coastline:
56 km
Bordering Countries:
Benin, Burkina Faso, Ghana
Administrative Divisions:
Togo is divided into 5 regions - Savanes, Kara, Centrale, Plateaux and Maritime. These regions are subdivided into 30 prefectures and 1 commune.
Major Cities:
Atakpamé, Kara, Kpalimé, Lomé, Sokodé
Languages:
French (official), Ewe, Mina, Aja, Kotokoli, Akessele, Bassar, Losso Kabiyé, Dagomba
Religions:
Christian, Muslim, indigenous beliefs
Major Holidays:
New Year's Day, Mediation (Liberation) Day (Jan 13), Easter, Mouloud, National (Independence) Day (Apr 27), Labour Day (May 1), Whit Monday (May or June), Day of the Martyrs (June 21), Assumption, Anniversary of the Failed Attack on Lomé (Sept 24), Eid al-Fitr (End of Ramadan), All Saints' Day (Nov 1), Tabaski (Feast of the Sacrifice), Christmas
Currency:
CFA Franc
Currency Code:
XOF
Highest Point:
Mont Agou at 986 m
Lowest Point:
Atlantic Ocean
Bordering Bodies of Water:
Atlantic Ocean
Climate:
Togo has a tropical climate. It is hot and humid in south and semiarid in the north.
Major Industries:
Phosphate mining, agricultural processing, cement, handicrafts, textiles, beverages
Major Agricultural Products:
Coffee, cocoa, cotton, yams, cassava (tapioca), corn, beans, rice, millet, sorghum, livestock, fish
Natural Resources:
Phosphates, limestone, marble, arable land
Time Zone:
UTC 0

Tribes of Africa eBook
This eBook is the most complete listing of African tribes available on the internet. The first section of this book is the tribes sorted alphabetically by country. The second section is the tribes sorted alphabetically by tribe name.
This site needs an editor - click to learn more!

You Should Also Read:
Nigeria Country Facts
Benin Country Facts
Burkina Faso Country Facts




Related Articles
Editor's Picks Articles
Top Ten Articles
Previous Features
Site Map





Content copyright © 2021 by Jeanne Egbosiuba Ukwendu. All rights reserved.
This content was written by Jeanne Egbosiuba Ukwendu. If you wish to use this content in any manner, you need written permission. Contact BellaOnline Administration for details.