Hollyhocks & Radishes Apple Bread Pudding Recipe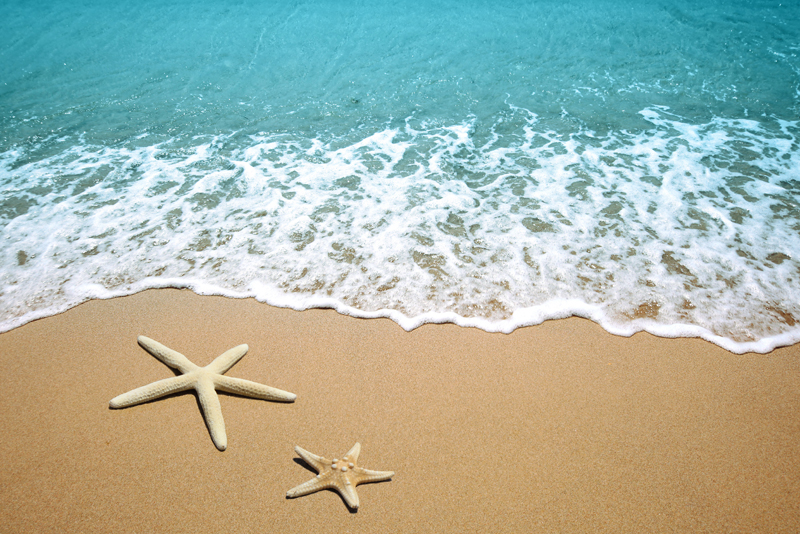 Nestled along the northern shore of Lake Huron, in Michigan's Upper Peninsula (UP), are the beautiful Les Cheneaux Islands. Scattered along the coastline, this group of 36 small islands with their sheltered bays and channels, give refuge to the small communities of Hessel and Cedarville.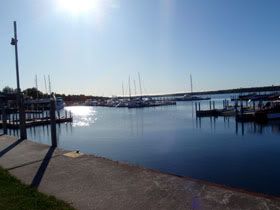 It was here, in the little dockside town of Hessel that I met award-winning editor and cookbook author, Bonnie Stewart Mickelson.
Tucked in amongst the cedar and balsam woodlands, and influenced by the big waters that lap on their doorstep, Hessel and Cedarville emanate the rich heritage handed down from their Scandinavian, Italian, and Irish ancestors. "These communities are the heart of the area," says Mickelson, author of Hollyhocks & Radishes, Mrs. Chard's Almanac Cookbook.
Deep in her element, I watched as she bustled around the Hessel Grocery & Deli tending to customers, checking on food preparation in the deli, and chatting with out-of-town visitors like myself. Her warm and friendly nature filled the little store with a welcoming, small town charm.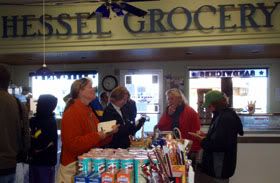 Originally from Ohio, Mickelson's family spent summer vacations in "The Snows," as the islands are often referred to. Her journey through life, while raising a blended family with 15 children, landed her on the West coast, where she was involved with several award-winning cookbooks. She now resides permanently in the little town of Hessel.
Change in this part of the UP is very subtle, and the lack of it provides much comfort for locals and visitors alike. "This place seems to be almost timeless in its traditions," says Bonnie. "It's a wonderful place to be."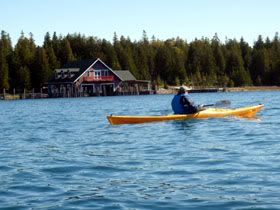 For many years' local residents Marv and Julia Chard operated a farm produce stand outside of Hessel for summer visitors to the Les Cheneaux Islands. The farm stand and its proprietors were known for offering not only the freshest, tastiest, fruits and vegetables, but also an infectious sense of pleasure and appreciation for the simple things in life.
It was this rich, yet simple life of the Chards that influenced Bonnie, to write another cookbook. This time she enlisted the help of her mother who was suffering from stomach cancer and failing quickly. Bonnie hoped a return to Windswept, the family retreat, and the Les Cheneauxs would be the elixir her mother needed to hang on for a few more years. And so it was.
Bonnie had decided that writing this cookbook would take as long as her mother's health would hold out. She couldn't complete the cookbook as long as it was giving her mother the inspiration to go another day. After three years Bonnie's mom finally lost her battle with cancer in 1988.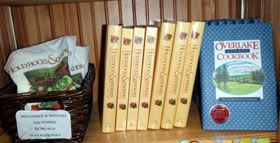 The following year Hollyhocks & Radishes was published and is still in publication in its sixth impression. Bonnie describes the cookbook as, "A culmination of her great love for the north country, and its people, for her family, and for the fun she has in the kitchen cooking to please."
Not just another cookbook, Hollyhocks & Radishes is a book to enjoy even if cooking isn't yet your forte. The book has dozens of interesting side notes as well as each chapter is introduced with a letter from Mrs. Chard to Bonnie, about her garden, the produce stand, the community, and family.
The beauty of nature in the Les Cheneaux is captured not only in Julia Chards writing but also in the lovely illustrations sprinkled among the pages of the cookbook.
Hollyhocks & Radishes is filled with unique, delightful recipes made with simple, wholesome, fresh ingredients. For those that grow your own, you'll find recipe after recipe to showcase the delicious fruits and vegetables picked fresh from your garden.
I had the pleasure of sampling (alright I admit two or three samples!) of Bonnie's Apple Bread Pudding with Maple Cream. This bread pudding I guarantee will get rave reviews from your guests. Bonnie generously gave me a copy of her cookbook and has given me permission to share this recipe with my readers.
APPLE BREAD PUDDING with MAPLE CREAM
Serves: 4
Prepare: 20 minutes
Bake: 1¼ hours
3 apples, peeled and cored ¼ tsp. each ground cloves, nutmeg, ginger, and allspice
2 Tbs. butter ½ of a 1-pound baguette of French bread*
¼ cup brandy 1 Tbs. sugar
2 Tbs. dried currants
1 ½ tsp. cinnamon
· Thinly slice apples, cutting each slice in half. Melt butter in a medium skillet over medium-high heat. Add apples and remaining ingredients except bread and sugar. Cook about 10 minutes apples should be tender but still firm.
· Remove all crust from bread, then slice ¼-inch thick. *(Any bread of similar texture may be used, but keep pieces thin and less than 2 inches in diameter.)
· Butter an 8-inch, deep casserole, and sprinkle with 1-tablespoon sugar. Layer with half of the bread, then half of the apple mixture. Repeat. At this point, the dish may be set aside, covered, until baking time.
· The following topping may be prepared in advance, too;
o ½ cup flour 3 Tbs. sugar
o ¼ cup butter, softened 1 Tbs. cinnamon
· With hands, combine the above 4 ingredients in a small bowl. Set aside.
· Shortly before baking time, preheat oven to 350 degrees, and prepare the following custard:
o 2 whole eggs ¾ cup sugar
o 3 egg yolks 1 ½ tsp. vanilla
o 1 ¼ cups light cream
· With a whisk, lightly beat eggs and egg yolks in a mixing bowl. Whisk in cream, sugar, and vanilla. Pour over apple/bread mixture. Cover with reserved topping.
· Place casserole in a shallow roasting pan filled with 1-inch hot water. Bake 1¼ hours.
· Serve warm with the following delicious Maple Cream, which also can be made ahead.
MAPLE CREAM
Yield: 1¾ cups
Prepare: 10 minutes
1 ½ cups pure maple syrup
¼ cup brandy
1 cup heavy cream, warmed
· In a saucepan, over medium-high heat, combine syrup and brandy. Cook uncovered, until reduced about half or until the mixture has begun to darken; about 5-6 minutes. Whisk in warmed cream.
· Note: The sauce may be reheated to serve warm but do not boil.
For more information on the lovely Les Cheneaux Islands visit: www.lescheneaux.net. For information on Michigan's Upper Peninsula visit: www.michigan.org.
You Should Also Read:
The Soo Locks Of Sault Ste. Marie
The Great Lakes Shipwreck Museum


Related Articles
Editor's Picks Articles
Top Ten Articles
Previous Features
Site Map





Content copyright © 2022 by Hazel M. Freeman. All rights reserved.
This content was written by Hazel M. Freeman. If you wish to use this content in any manner, you need written permission. Contact Hazel M. Freeman for details.