Potato Onion and Hamburger Burrito Recipe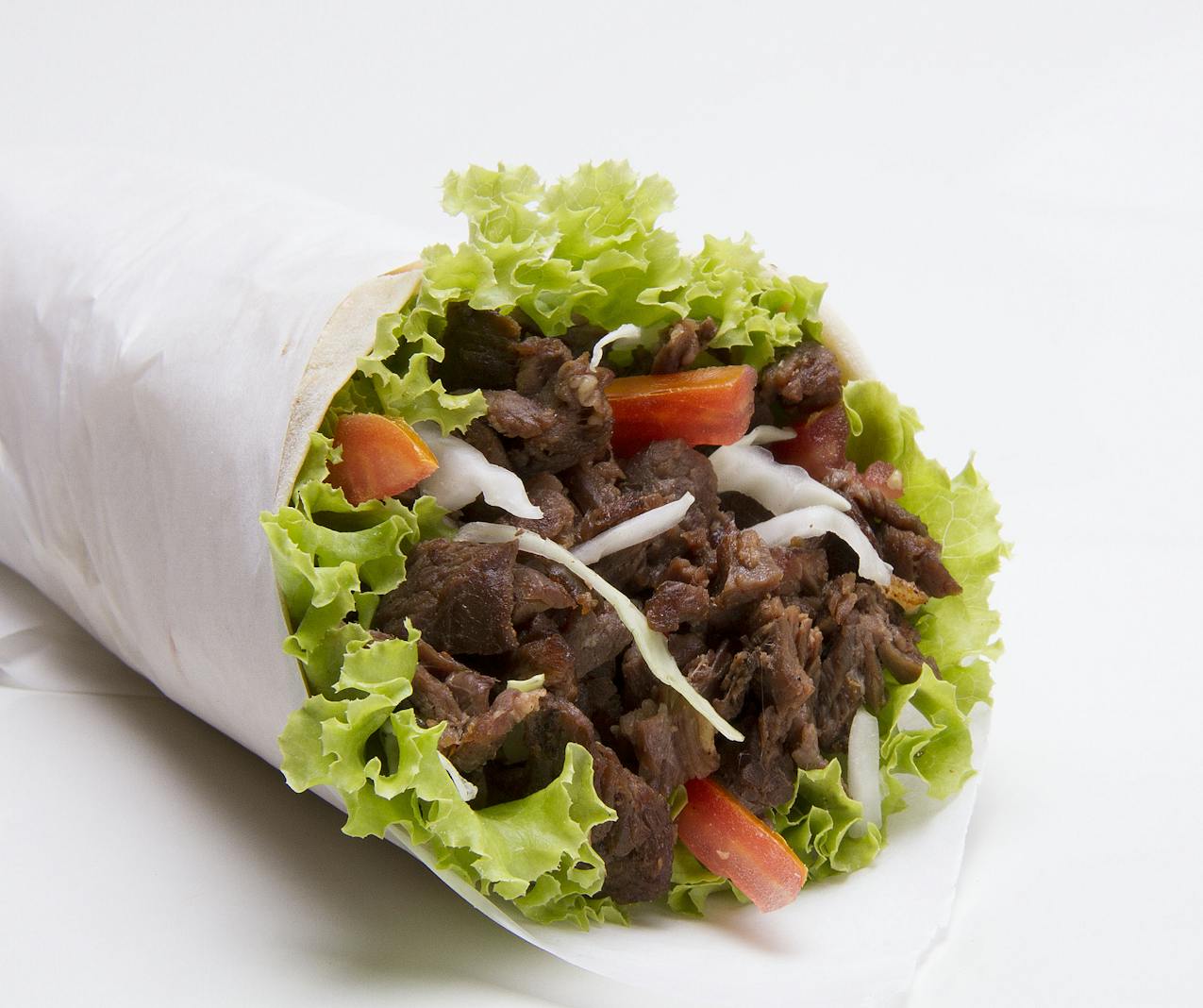 When I go breadless in these recipes on the Sandwiches Site, often I'll advise people to use a low-carb version of a tortilla. These low-carb/high fiber tortillas are so useful. They allow people to control their carbohydrate and fiber intake.
Today, I'm going to tell you that this recipe is only good with a very fresh flour tortilla from a Mexican bakery. As I told you not to use the low-carb tortillas, I'm also going to say, "Don't even think of using some machine made uniformly white flour tortilla." You will be sorely disappointed with this recipe if you do. What's the difference?
Fine to use with bean and cheese burritos, smothered and baked with cheese and sauce, machine made tortillas are stiff and thick. Contrast these with the supple, flaky, brown-spotted fresh tortillas from a Mexican bakery. These tortillas have a delicate taste that lets subtly flavored fillings shine through. You may never have had a potato burrito before. Try it; you won't be disappointed.
Potato Onion and Hamburger Burrito Recipe
Ingredients:
2 cups cubed new red potatoes (You may leave the peels on , if they don't bother you. Scrub them well. )
1 cup coarsely chopped onions
1 ½ cups cooked hamburger
½ finely chopped jalapeno pepper
1 teaspoon coriander
1 teaspoon paprika
1 teaspoon Lawry's salt (or plain salt, if you don't have Lawry's)
½ teaspoon garlic salt (or to taste)
3 home style flour tortillas (10 inch) from a Mexican bakery
¾ cup mild shredded cheese (I used a Mexican blend with Monterey Jack, medium cheddar, queso quesadilla, and asadero cheeses.)
Method:
In a saucepan, add the water and bring it to a boil. Add the potatoes and onions. Stir them to mix. Add the hamburger and let it stay on top. Cook over a medium high heat until the water is almost gone. The potatoes and onions should be soft. If they are not soft, add more water and cook until they are soft. When the potatoes and onions are soft, add the pepper, coriander, paprika, and salts. Lower the heat and stir for about two minutes. This knocks starch off of the potatoes and makes a bit of gravy. Taste a potato and adjust the salt, if needed. Cover the pan and set it aside.
In a large ungreased skillet, place one tortilla. Sprinkle ¼ cup of cheese evenly over the tortilla. Heat over medium heat until the cheese starts to melt. Place the tortilla on a dinner plate. Put 1/3 of the filling in the middle of the tortilla with cheese. Roll it up and serve. A salad makes a great side dish.
Variations:
Spoon a little corn bean salad into the burrito before rolling to add color and flavor.
Finely chop tomatoes, cilantro, garlic, and lettuce to your taste. Add it to the burrito before rolling.
Dollop a little Greek yogurt, I like Fage, along the side of the filling before you roll it up.
My family was pleasantly surprised at how wonderful these potato, onion, and hamburger burritos tasted. Now, there's a standing request for them. In addition to taste, the ease of preparation makes these a winner. From starting preparation to serving them, they take about a half an hour to make.
When I mention products by brand name, these are the ones that I use. I have not received free products from the manufacturers, nor have I been paid to mention the products by name.
When is a humble looking covered dish a must-have for your kitchen? If you want to have a burrito buffet, this is the utensil to have to keep tortillas fresh and warm. Tortillas will stay warm in this dish for about an hour. It is also highly recommended for keeping pancakes and biscuits piping hot for a lovely brunch. Here is an Amazon link for your convenience.
Norpro Tortilla Pancake Keeper
You Should Also Read:
Egg and Oriental Vegetable Wrap
Crunchy Chicken Salad Wrap


Related Articles
Editor's Picks Articles
Top Ten Articles
Previous Features
Site Map





Content copyright © 2022 by Connie Mistler Davidson. All rights reserved.
This content was written by Connie Mistler Davidson. If you wish to use this content in any manner, you need written permission. Contact Connie Mistler Davidson for details.