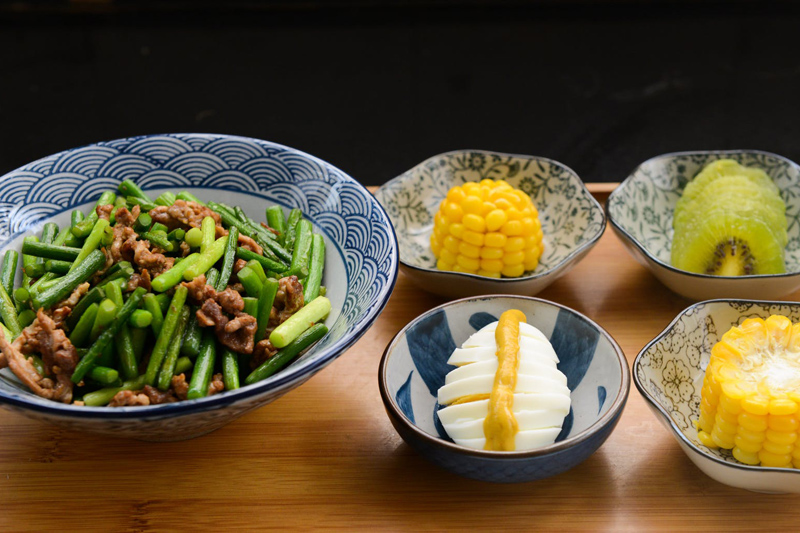 Chinese Mandarin pancakes are easy to make and are similar to French crepes. Usually used when eating moo shu or Peking duck, these pancakes can sometimes vary in flavor. For this recipe I use stir fry oil which has the flavors of ginger, green onion, and garlic already infused in it, making the perfect flavored pancake for my
moo shu chicken recipe
. Enjoy!
To watch a video for these instructions click
here
.
3 cups flour
½ tsp salt
1¼ cup water
2½ tsp stir fry oil
Place the flour in a large bowl and using a fork, stir in the salt until it is evenly distributed.


Bring one cup of the water to boil. Then slowly add it to the flour a little at a time, stirring it in constantly.


Once the boiling water is mixed in, then add the remaining ¼ cup of cold water and mix it in with your hands to form stiff dough.


When a stiff dough forms, flour a board or work surface. Place the dough on the floured board and knead it for about 10 minutes.


Then place the dough in a bowl and cover it with plastic wrap. Let it sit at room temperature for about 45 minutes.


After 45 minutes, divide the dough into 4 equal pieces. Take one of the pieces and place it on the floured surface. Place the remaining pieces back in the bowl and cover them with plastic.


Roll the piece of dough into a log shape about 1½ inches round. Then cut the log into 5 equal pieces. Using a rolling pin, flatten each of these pieces into circles about 3 inches round.


Then take another piece of the dough from the bowl and repeat step 7.


Now you should have 10 flat circles of dough. Take 5 of the circles and top each of them with ¼ tsp of the stir fry oil. Then place the remaining 5 circles on top of the first 5 circles so that you have 5 stacks of 2 pancakes with ¼ tsp of oil in between.


With a rolling pin, flatten each of these stacks into 6 inch round pancake stacks.


Then repeat this process with the remaining dough pieces.


Once all the dough is rolled you should have 10 stacks of pancakes in total.


Next, lightly oil a non stick frying pan by wiping it with an oiled paper towel. I use peanut oil here, but vegetable or corn oil would work well also. Then heat the pan on medium high.


Once hot, add one stack of the pancakes and let it cook until you see the top start to bubble and the underside turns slightly brown, about 30 seconds to a minute. Then flip the stack over and cook it on the other side for another 30 seconds to a minute, or just until lightly browned.


Remove the pancake stack and let it cool slightly. Then pull apart the two pancakes and place them on a plate. Cover them with a damp paper towel and continue cooking the remaining pancakes.


Serve these pancakes with the moo shu chicken and a side of fried rice. Makes 20 pancakes.


Editor's Picks Articles
Top Ten Articles
Previous Features
Site Map





Content copyright © 2021 by Lila Voo. All rights reserved.
This content was written by Lila Voo. If you wish to use this content in any manner, you need written permission. Contact Lila Voo for details.