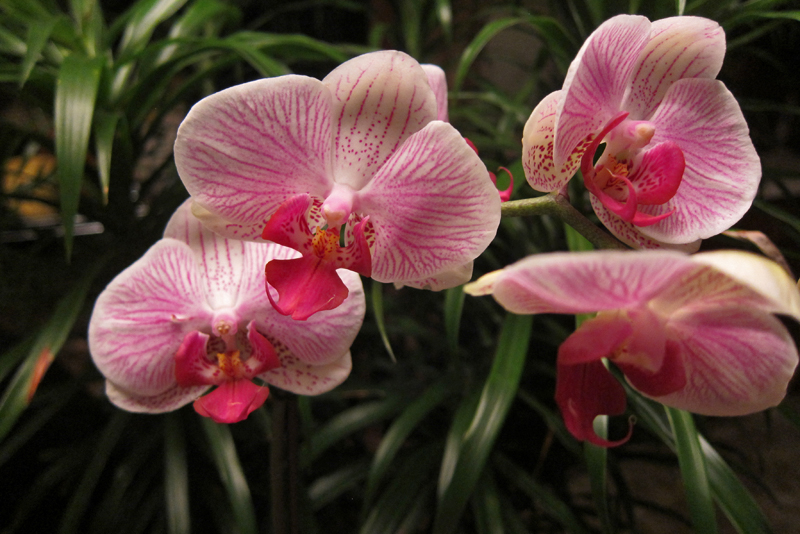 For the beginning orchid owner there are very few supplies that you really need. Your plant, fertilizer, a spray bottle and
Your First Orchid
an excellent publication from the American Orchid Society.
As you continue to acquire plants it's useful to get a humidity try to provide better conditions for your collection. They are available in a considerable variety of price ranges, depending upon the materials. The simplest of these are plastic with a tray and a higher open weave material to set the plants on. If you're serious about growing indoors, they are necessary. Most orchid vendors online carry a variety.
Supports for staking your plants are a very important part of growing orchids. You will want to stake as the plants grow so that the flowers will be displayed to their best advantage. Fortunately, it's possible to use almost any kind of stake that you like. Bamboo kabob skewers will work well for small plants, any kind of plant stakes will do for larger varieties. There are many decorative stakes to choose from which will enhance the beauty of your inflorescences.
You will also want to consider some kind of small fan to increase air circulation as your collection grows. Crowding plants can provide excellent conditions for insect pests and various fungi. One of the things which can make life harder for these nuisances is good air circulation. If you see signs of insects, spraying with soap and water will kill any of them that you can saturate. Even better is Bayer's Flower and Insect Spray which will kill the live insects and provide 30-day protection for any sucking insect through its systemic action.
For fungal and bacterial problems get Physan or Consan 20 which will kill both. Be sure to spray at the first sign of problems because some of these problems can kill a plant within about a week if left untreated.
Once you have established a collection you will want to get pots and media for transplanting as well as wire supports of several sizes and varieties. For decorative purposes you can use cachepots (decorative plant pots) but you need to be very careful not to allow water to sit in the bottom of these pots. Another decorative alternative are the orchids pots which are available in glazed and non-glazed varieties. These have openings in the side of the pots which allow the plant to breathe.
You Should Also Read:
Potting Media
Staking Orchid Flowers
Orchid Windowsill Gardening


Related Articles
Editor's Picks Articles
Top Ten Articles
Previous Features
Site Map





Content copyright © 2021 by Susan Taylor. All rights reserved.
This content was written by Susan Taylor. If you wish to use this content in any manner, you need written permission. Contact Anu Dharmani for details.