How to Make Simple Charm Bracelets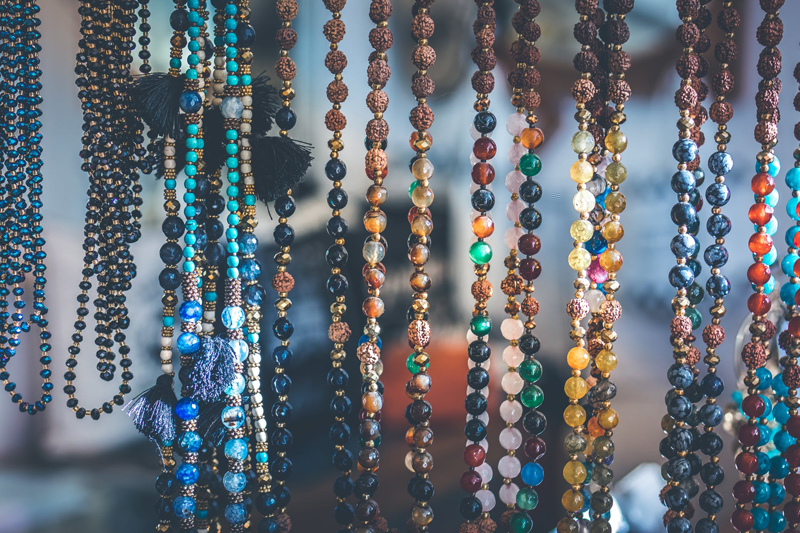 Charmed I'm Sure.
Charm bracelets are so much fun to wear and make. I have one that belonged to my grandmother with charms to celebrate the births of me and my brother, my uncle and my mom. It also has charms from vacations she took with my grandfather, and an airplane because he was a pilot.
It's special. So many memories and stories in that chain.
I don't wear it except for special occasions. It makes me too nervous. However I love the look of charm bracelets. So I decided to see what I could do for beaded versions. This isn't really instructions for making charm bracelets, just a couple ideas I used that I wanted to share.


The first bracelet is charms that I put on split rings. I found some pewter charms at my local beadstore, then opened split rings using a metal nail file to slip the charms on it, then strung it on SoftFlex (tm) with 6 mm beads and spacers. These work well with themed charms like cats or horses, the theme of this one was fantasy and magic.


The round beads on here, I got from Beyond Beadery, the charms and spacers beads I found locally, however you can also find wonderful ones at Fire Mountain Gems, which is where I got the clasp as well. I cut a piece of SoftFlex (tm) about 3 inches longer then I wanted my finished bracelet to be, then attached one end of the clasp using 2 crimp beads. I put all the charms on split rings, since I don't have split ring pliers, I opened them slightly using the tip of a metal nail file, then slid the charm on. As you can see my pattern was bead, spacer bead, bead, spacer bead, bead, spacer bead, charm, spacer bead, bead. However, it's completely up to you what kind of look you want. Just make sure your split rings are small enough that they can be caught between two beads, but big enough to give your charms some movement. Imagine one in red with valentine hearts, or a patriotic one in the colors of your national flag with charms that go with that theme.
Being a major fan of fairy tales I plan to look for charms that match some of my favorite stories and make some for them. Like a baskets and wolf charms on a red bracelet.

The other technique I used to make a charm bracelet was using a chain and beads for the charms. I'm a flower and butterfly bead junkie. I admit it, and my address is.. *grin* okay. So I won't blatantly beg for more flowers. I made two of these, one each for my daughter and myself.
Fairly simple, you can find instructions for making wrapped loops at Metallique's World of Wire in the First Step's Tutorials.


For this one, I used sterling chain wire fairly open links, sterling head pins, and Bali Silver bead caps. I cut the chain a half inch shorter then I wanted my finished bracelet to be, then attached the clasp, I used a clasp I made for this, but commercial clasps work just as well. However I would suggest attaching a commercial clasp using either a split ring or with a wrapped loop link rather then a jump ring, bracelets take a lot of abuse.

Then I started attaching the beads by stringing them on the headpins, then putting the head pin on a link in the chain, and making a wrapped eye loop to hold it in place. The drop flowers I put a Bali beadcap on the end of them.

As always, for shaped beads, I really recommend Out on a Whim Beads, I know she has a bunch of shapes I'm planning on getting from her to make more of these.
Another idea is gemstone chips or rounds, or possibly check out the Christmas crafting supplies available at your local craft store. I found some darling miniature Christmas lightbulbs I'm planning on using with the first technique to make a necklace for myself for the holidays.

I hope you found this article inspiring and helpful!




Editor's Picks Articles
Top Ten Articles
Previous Features
Site Map



Follow @shala%5Fbeads
Tweet





Content copyright © 2022 by Shala Kerrigan. All rights reserved.
This content was written by Shala Kerrigan. If you wish to use this content in any manner, you need written permission. Contact Shala Kerrigan for details.