Crochet Bear Artist, Berta Hesen-Minten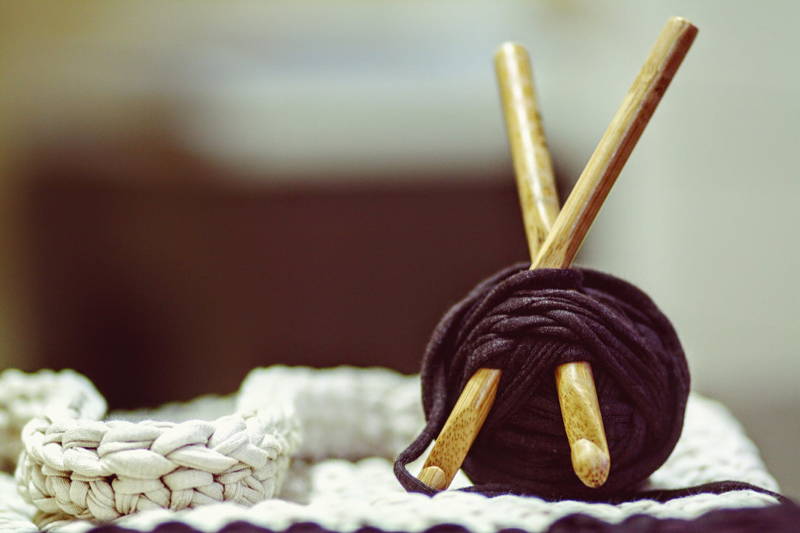 N.O.S.T Bears by Berta Hesen-Minten
Interview with Berta Hesen-Minten Part One
...Continued
KP: I've been looking at the gallery section on your
website
. Do you have a favorite bear or animal that you have made so far? I know you have won many awards - how does it feel when one of your creations wins an award?
B H-M: I have many favorites, Flip-Flop was for a long time my all over favorite, but right now my favorite is my N.O.S.T. series, stands for New Old Style Teds.
These are bears designed after the old look teddy bears, however they are created from crochet, which is new. Usually these are fabric made. I love to make decorations and clothes, for them, adapted from old style patterns and techniques. I think these were so much nicer and made with so much detail.
I love it to take part on challenges; it keeps the mind fresh, and if a bear then gets an award or nomination it is very rewarding and a great feeling.
KP: Which other crocheters work do you admire - either miniature bear makers or makers of other items.
B H-M: I admire the real life designs from Barbara Anderson. I admire Dutch artist Rina Soffers. The first jointed crochet bear I have seen was from Rina, not a mini though but full size. Then I love the work from so many thread artist, in bear making and/or other designs, specially those who have chosen their own special look.
N.O.S.T Bear with Oya flowers
KP: I can see from your website that you obviously enjoy a lot of different crafts - what is it that you particularly enjoy about crochet?
B H-M: Yes, I do love all kind of needlecraft, and get really excited when I discover something new I have not tried yet. Unfortunately much time is involved in each and every needlecraft, if you like to do it well. For that reason I had to give up bobbin lace, I only learned the basics but it fascinates me what all can be made, with "flipping" over the bobbins following the pattern. Recently I discovered Oya.. a wonderful lace art that has his origin in Turkey. I searched all over to find information or patterns, but was not successful. Coincidentally, I came across this website. I was lucky, the lady who did this project was Dutch and I called her. From her I received an address for a Turkish lady in Amsterdam who gave workshops in "Oya". Boy, Amsterdam is at the top of the Netherlands, I live south - but, I wanted to know more about Oya and wanted to learn this so badly, I called and stepped into a workshop. What this lady made... I cannot describe - so wonderful!! And a very unique circumstance, crochet, which is my favorite needlecraft, is used in Oya - and so is knitting, embroidery, needle lace and tatting. I enjoy all these craft so I am sure Oya will hold my attention for longer. The lady gives a workshop each month and I definitely plan to go back and learn more.
And of course my goal is to use this old but very new discovered needlecraft with my bears. My first projects I made with Oya you can see in the picture.
KP: How does crochet and needlefelting work together?
B H-M: Well, the wool used for needlefelting is the same wool as the yarns used to crochet my bears. Needlefelting is not new, but definitely newly discovered by bear artists. As I love bears, and I also love all kinds of craft, I definitely had to try my hand to needlefelting. And also this I am also going to love - oh how I wish there were more hours in a day! I combine needle felting with crochet, and my cRo-FeLt© bears were born. I developed a way to attach the crochet to the needlefelting, but it also is possible to needlefelt into a crochet bear. The sky is the limit.!
KP: The threadanimals Yahoo group is an extremely vibrant and busy community - what do you think it is that makes the groups such a success?
B H-M: I think the success of the group is that it is free, that it was founded to have fun, but also to learn and teach each other. The group was founded in October 2003 by Debbie Nicholas, her dream was to promote this wonderful form of art and to have a place, where people who love to make Thread Animals and want to learn, could come together in one place and help each other. The groups owner has changed, but she continues to lead the group after Debbie's dream. It's a very warm and friendly group. There is a lot buzz. with swaps, challenges and fun. I am proud to be a member from the very early start in 2003 and I became moderator in 2006. I think for Thread Artist and Collectors, Thread Animals is THE place to be.
KP: What tip would you give someone looking to crochet their first miniature bear? What skill level would you say that someone needed to embark on their first bear project.
B H-M: To be able to make a crochet bear you should know/learn the basic stitches like chain stitch, single crochet and slip stitches. These are the stitches I use to build up my bears. I have seen bears done in double crochet, but as I like it to stuff my bears very firm, double crochet is not useful, as you don't want the stuffing to show through. Start with an easy pattern and a smooth thread. Use thicker thread until you have the hang of it, and go down a size when you have built up some experience. Your first bear will probably not look like the pattern but don't worry, with practice and patience, and a willingness to learn (but above all to have fun in what you do), you will come a long way very quickly. It is also fun to join a group, like the Thread Animal group. There you can share the same interests, and there is always someone to answer the questions you may have.
KP: Are any specialist materials or equipment required?
B H-M: A crochet hook and thread in fact is all you need. A smooth thread to start with is my advice, but any thread of yarn can be used. Then of course stuffing, and beads to use for eyes. As you get more experienced you might want to assemble the bears differently, perhaps to use other joints. Everything used in traditional bearmaking can be used for crochet bears too.
KP: I am afraid I do not know much about the popularity of Crochet in the Netherlands, is crochet very popular? Is there a traditional type of crochet unique to the Netherlands?
B H-M: I grew up with my mother always working on a project for one of us 8 children. Or crocheting doilies, or a bedspreads... Crocheting is still very popular with the older people, and they know the most wonderful patterns and designs, often not learned from a book, but patterns they learned at school. I don`t think the Netherlands is known for a traditional type of crochet. I think people who love to crochet, make what they like, no matter if it is a doily or something to wear.
KP: What are the current crochet trends in the Netherlands?
B H-M: I visit regularly the yarn shop in our village and look at the new stuff. Right now for crochet, there is very colorful stuff, like shawls and hats decorated with flowers, and jewelry crocheted with metallic and colorful threads. I especially love to visit the shop when there is the change from Winter to Summer, and visa versa, as then the new threads are coming in - and for crochet addicts like me it is always a feast!

It was such a pleasure to be invited for this interview. Thank you so much for inviting me. Maybe I have inspired some readers and if they like to see and know more about crocheting bears, please visit my website at www.threadteds.com or come by at the biggest yahoo Thread Animal group https://groups.yahoo.com/group/threadanimals/ and say hello (we would love to salute the 1000st member this year), and who knows they may fall into an adventure like I did 7 years ago... where my adventure and success in thread crochet bear making started.
'Cradle Me Bear' by Berta Hesen-Minten/div>
You Should Also Read:
More information about Oya
Threadteds website
Thread Animal Yahoo Group

Related Articles
Editor's Picks Articles
Top Ten Articles
Previous Features
Site Map
Content copyright © 2021 by Kate Pullen. All rights reserved.
This content was written by Kate Pullen. If you wish to use this content in any manner, you need written permission.
Contact Holly Messenger Aamot for details.