Marvel Ultimate Alliance PS3
Marvel Ultimate Alliance lets you play with a team of your favorite superheroes. Choose from Wolverine, Spider-Man, Thing, Storm, and many others!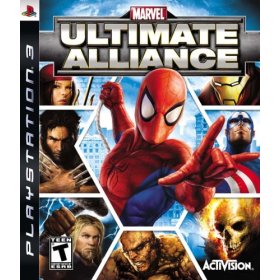 You can sort of consider this a Diablo style game with a much more upbeat style. You are one of four characters on the screen at any time, and can quickly flip through them. You go through the rooms hacking, slashing, slashing, and then hacking some more. Along the way you grab colored orbs and glowing coins to help you level up your own character and unlock goodies.
It's disappointing that at the beginning your four starting characters are Spider-Man, Thor, Wolverine, and Captain America. As much as I like those guys, couldn't ONE of them have been female? Still, it's only maybe 10 minutes later that you get to the "team switching" spot and can begin to design your own team. They're not stingy with the characters. Right from this point you can immediately begin to use spider-woman, deadpool, iceman, colossus, elektra, human torch, iron man, thing, luke cage, invisible woman, storm, mr. fantastic, ms marvel, and moon knight. There's also other unlockable characters that you can get as you go.
Each character can be levelled up to gain new abilities and outfits. You can choose characters that "traditionally" (in comic book stories) work together, and they will actually know to do combos in gameplay.
The characters personalities really shine through in the cut scenes. Wolverine is stand-offish and a bit arrogant. Spiderman cracks jokes the entire time. Captain America feels he's in charge. I realize that it would be IMPOSSIBLE for them to have redone the cut scenes for every single combination of characters that you could have done! So again, I wish they had a woman in the set :) Maybe kick out Spidey and his incessant comments ...
The graphics are rather good, from the flickering flame to the shadows and reflections. This isn't a game of subtleties, though. No textured fabrics or flower petals here. Everything is shiney and plasticky.
On the sound side, it's a comic book adventure. You have incredibly cliched dialogue given by over-the-top voices, and lots of booming going on. It's to be expected.
The storyline is also a traditional comic book story but heck, we all grew up with them! You're saving the world. Depending on how well you play, you achieve that mission to different degrees. They did a great job getting you to replay it over and over again in order to unlock the best ending you can.
I really give the game great kudos for their multiplayer and online options. If you're playing at home, you can easily co-op in four people, one for each character, and go to town. There aren't many games where four people can easily have great fun playing together. For online, the same is true - you can really have a lot of fun conquering levels as a wide range of characters, interacting with players all over the world.
This isn't a heavy thinking game, and it doesn't involve complex concepts. Instead, it's a game that adults can easily play with kids, and that can give you a few hours of fun relief from the real world. Well recommended!
Screenshots from Marvel Ultimate Alliance PS3
Buy Marvel Ultimate Alliance from Amazon.com


Related Articles
Editor's Picks Articles
Top Ten Articles
Previous Features
Site Map



Follow @lisavideogames
Tweet





Content copyright © 2022 by Lisa Shea. All rights reserved.
This content was written by Lisa Shea. If you wish to use this content in any manner, you need written permission. Contact Lisa Shea for details.