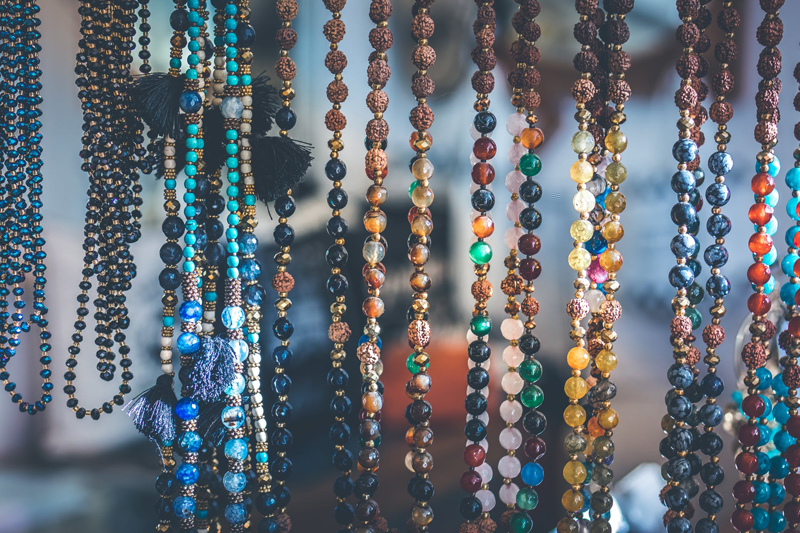 Simple Wine Charms
Wine charms, definately one of those ideas who time had come, and made you think, "Why didn't I think of that?"
They are so popular, and so simple to make.
I use a few methods to make them, and I'm going to discuss my 2 favorite methods here.
The first one, is to thread beads on ring memory wire. While this seems incredibly simple, remember, ring memory wire is very tough. Threading the beads can be difficult at times because the small loops of the hardened steel don't open easily to add beads to.
For this method, buy ring memory wire, which is available at Softflex , and cut off just a little bit more then one full loop, bend one end in a small loop, and add your beads and charm and then bend the other end into a small loop. I would strongly recommend using cutters marketed as memory wire cutters for cutting memory wire, it will destroy normal cutters.

The other method, which I prefer, is to use earring bead hoops, which you can get from
Rings and Things
, these wire hoops have a wire loop on one end, and the other end is straight meant to be bent up at a 90 degree angle after sliding on the beads to create a closure. Using this method offers a lot more possibilities to the experienced beader, you can work netting or brick stitch off the hoop (as shown above) for example.
This earring by Lisa Lane shows another possibility
The thing to remember while your designing your wine charms, is that the idea of them is simply to tell glasses apart, and to go on and off a glass of wine easily. After that, you have so much room to play.
I use extra beads from other projects on head pins for the identifying "charm", and then use inexpensive hematine 4 mm beads for the rest of the ring, this makes nice understated sets with a lot of variation possible just in that identifying bead.
If you stick with just faceted beads and wine themed charms, they will be much more expensive to make, and you won't have nearly as many possibilities for design!
Other things you can do with wine charms if you don't happen to drink wine.
Pam Glass suggests using them mark soda or coffee.
Tara Parker of Two Beading Hearts suggests decorating taper candles with them.
Lisa Lane sent me a bunch of suggestions!

Hi Shala
Thought I'd just write whatever comes to mind, no matter how silly, maybe something will hit you and give you a bunch of ideas.
Napkin rings, dangles from hoop earrings, put on neck of water bottles when a group of friends are all drinking so you know which is yours, keyring pretties, use as tatting bobbins?? Good to put on on your toothbrush if other family members insist on having the same colour toothbrush.
Wonder if there is a way to incorporate them into a hair do?
Put on zips for embellishment, hang off cell phone holder, space out along a chain and wear as charm bracelet.
Space along bottom of a lace curtain. Remeber those doily things they use to hang over pots of tea with the beads hanging down??? Use wine charms instead (jug covers)??

If you have any other suggestions for uses for wine charms, please let me know!




Editor's Picks Articles
Top Ten Articles
Previous Features
Site Map



Follow @shala%5Fbeads
Tweet





Content copyright © 2021 by Shala Kerrigan. All rights reserved.
This content was written by Shala Kerrigan. If you wish to use this content in any manner, you need written permission. Contact Shala Kerrigan for details.