My recipe for Southwestern Shrimp and Fried Egg recipe will be in your repertoire for ever - if you hate peeling and cleaning raw shrimp, that is! Who likes doing that unless it says on the frozen bag that it's done already?
By purchasing already steamed shrimp from your local seafood monger or grocery stores seafood counter, you can turn those plain boiled shrimp into something spectacular. Just by adding a few southwestern spices and fresh ingredients and topping it off with an over-easy fried egg, this will be one of the easiest and quickest dishes you could ever put together.
I added fresh jalapeños to this recipe, but you can always omit those if you are catering for the less fiery palate members of your family. Whichever way you choose it will be delicious either way.
This is a great recipe for unexpected guests, a hungry spouse or any seafood lover who also loves eggs. This will be ready from your skillet in 5 minutes or less when you start cooking!
If you cannot afford the large sized shrimp, then by all means go for what is on sale in your market. Just make sure that if you purchase medium sized shrimp, then count 2 medium shrimp as 1 large. That way the recipe will be balanced with the rest of the ingredients.
You really have to try this. You could even make it into a southwestern cocktail in a fancy little glass for the holidays – but instead of the egg on top (or you could fry quail eggs,) you could place a little chopped avocado, cilantro, sour cream or whatever else you can think of. Try this, you will love it!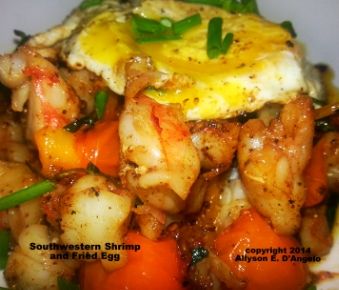 Ingredients
Olive oil
10 sweet cherry tomatoes, halved (any color)
1 tbsp. fresh jalapeño, seeded and finely diced
1/2 tsp. red pepper flakes
10 large steamed shrimp, chopped
1/2 tsp. ground cumin
1/2 tsp. ground chili powder
2 tbsp. fresh chives, chopped
2 eggs
Salt and ground black pepper
Method
1. Combine the chopped, steamed shrimp along with the ground cumin and chili powder. Set aside.
2. Heat 1 tablespoon of olive oil over a medium heat in a large skillet for 1 minute, then add the halved cherry tomatoes and diced jalapeño. Cook, stirring often for 2 minutes. Next, add the shrimp mixture and sauté for 2 minutes.
3. Move the shrimp to the outside of the skillet and reduce the heat a little to fry the eggs. Add another tablespoon of olive oil on the other side of the pan and crack the eggs into it. Cook the eggs until the whites are almost set (they should still be a little wet around the yolk.) Finally, flip the eggs over and count 5 seconds. Remove from the heat and serve the eggs over the delicious, mouthwatering shrimp mixture. Add salt and pepper on top of your egg if you wish (I do!) and enjoy.
Serves 2.