New Graphic and Type Features
New Filter Effects. Flash 8 has new prebuilt bitmap-like filters that are similar to those found in graphics programs such as Adobe IllustratorR and PhotoshopR. The new Flash 8 filters are Drop Shadow, Blur, Glow, Bevel, Gradient Glow, Gradient Bevel and Adjust Color and the tools to use them are also very similar. You can apply these filters using either the Filters tab on the Property Inspector or ActionScript; and because these effects are applied at runtime, the size of your Flash document is not substantially increased. You can even animate the filter effects with tweening and ActionScript.

New Blend Modes. If you have used the blend modes in Illustrator and Photoshop you know what beautiful and varied results you can achieve. Like the new Filter Effects, the new Blend Modes are very similar to those in graphics programs and include Normal, Layer, Darken, Multiply, Lighten, Screen, Overlay, Hard Light, Difference, Invert and Alpha.

New Drawing Mode. In previous versions, you had only one drawing mode; the Merge Drawing mode, which had one drawback. When you draw a shape on the top of another shape, the part of the underlying shape that is covered by the top shape will "disappear". This makes manipulating previously drawn shapes difficult. When you move or change the top shape, you will see that the part of the underlying shape that was covered by the top shape has been destroyed. In order to prevent this in the past, you needed to draw each shape on a separate layer. This problem has been solved with the new Object Drawing mode which is similar to drawing in graphics software. Now when you draw one shape on the top of another shape, both shapes remain independent of each other. Therefore you can move or change the top shape without destroying the underlying shape. For those who prefer to use the old Merge Drawing mode, you can toggle between modes with a toggle button in the Toolbar.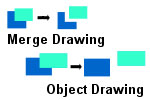 FlashType. Rendering (displaying) small type in Flash applications has been a problem in the past. Flash 8 has a new type rendering engine with better anti-aliasing of small type for both static and dynamic text. This new engine makes small type more legible.

Improved Animation. The new Custom Ease In/Ease Out dialog box is a graph-like easing tool which uses a bezier curve to control speed, rotation, scale, color and filters for animations. This new tool allows greater, refined control of your animation and better runtime results.

Bitmap Cache of Vectors. Because Flash is a vector based program, it continuously redraws the vector objects as your movie plays. It would be more efficient if your movie knew which objects remained unchanged as the movie plays. Perhaps you have the same background throughout the entire movie. These "static" vectors could then be treated as bitmaps and would not be continuously redrawn. This would reduce the amount of calculations that occurs during your movie and improve the runtime performance. With this new cache feature, you can use the Property Inspector or ActionScript to tell your Flash movie which vector objects to cache as bitmaps. However, the vector data is retained so that it can be used to redraw these objects when needed.

Flash 8 Player. One thing that may appear to be a drawback at first glance is that the new runtime features cannot be viewed in the older Flash Player. Your audience will need to download the updated Flash 8 Player to enjoy these new goodies. However, the Flash 8 Player has been redesigned to improve runtime performance and is worth the few seconds it takes to download.

Online Support. Besides the reorganized Help file which makes finding answers easier, the Adobe - Macromedia online support site includes numerous resources such as forums, FAQ, tutorials and the Developer Center. There is a wealth of written tutorials which demonstrates how to use both old and new features and these tutorials include downloadable demo .fla files which you can examine as you work through the tutorials. There are also some video tutorials that you can sit back and enjoy during those few spare minutes at the end of the day.

← Back

Adobe - Macromedia Flash 8 Workspace



AdobeR product screen shot(s) reprinted with permission from Adobe Systems Incorporated. AdobeR, BridgeR, IllustratorR, PhotoshopR, PhotoshopR AlbumTM and FlashR are either registered trademarks or trademarks of Adobe Systems Incorporated in the United States and/or other countries.