Corn tortillas: warm, intoxicatingly fragrant and hopelessly addictive - the quintessential Mexican food. They take centre stage in the national cuisine as the "bread" of Mexico, and no meal is complete without them. They are a truly pre-hispanic food which is eaten daily in every household, by rich and poor alike, and they play a vital role in countless traditional dishes throughout the country. While the wheat which arrived with the Spaniards half a millennium ago has managed to make a place for itself on the Mexican table, it is the tortilla which is deeply woven into the country's gastronomic history, and which holds the heart and soul of every Mexican; it is and always will be one of the most staple ingredients in Mexican eating and cooking, despite the efforts of the dictator Porfirio Díaz.
This Francophile president, who ruled Mexico with a rod of iron for almost thirty five years, was relentlessly ambitious in his desire to modernise the country and rejected the tortilla, staple of the poor, in favour of wheat which was thought to have a higher nutritional value. Luckily the tortilla survived his determination and approximately 300 million tortillas are produced and consumed in Mexico every day. Wherever there is a Mexican kitchen, there are tortillas.
The first step in the creation of tortillas is the "masa" or dough. It has been made throughout the centuries by soaking and boiling corn kernels in a mixture of water and lime, a process which loosens the outer skin and facilitates its removal, making the corn more digestible and nutritious. The soft kernels, known as "nixtamal", are then ground while still damp into masa. This was originally done by hand on a slab of lava rock called a "metate", a fundamental piece of equipment in the pre-hispanic kitchen. When the masa reached the required consistency, a ball of it was patted out into a disc between two hands, before being briefly cooked on a "comal" or griddle. Needless to say, the masa is now mostly ground in electric mills and tortillas made mechanically but this is done by small scale, often local or neighbourhood family-run businesses who can provide their customers with freshly made tortillas on a daily basis.
Street food, comida callejera, is part of Mexican culture and the way of life, and the tortilla really comes into its own on the pavements, at the food stalls, and in the markets, where it is extensively used in what are very charmingly known as antojitos, little cravings or whims, delicious spicy snacks which can be enjoyed at any time of day, and which I shall be writing about in my next article.
From the streets and markets, the tortilla moves into the home where it features daily as an accompaniment to midday and evening meals: it comes to the table warm and fragrant from the griddle, wrapped in a special tortilla "cosy" which keeps it soft and pliable for an hour or two. It can be eaten plain, but a popular treatment for it, which I remember so well from my childhood, is to butter it, sprinkle it with salt, roll it up and bend it into a U shape to ensure that the butter does not drip out. When it is not taking a back seat in this way, it is used in any number of traditional dishes to be eaten at any hour, from sauces to casseroles and soups to salads, from chilaquiles with fried eggs for breakfast – what a glorious way to kick start the day! – to Aztec "puddings" at midnight.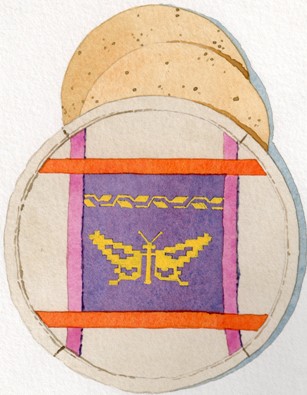 Tortillera © Philip Hood
This traditional tortilla soup is a good way to use up various left-overs, including stale tortillas but I tend to take the easy way out and use a bag of tortilla chips! Although grilled or roasted tomatoes always feature in the base to give the soup a deep, intense flavour, many other ingredients can be added "a gusto", to taste: shredded chicken or pork, beans, chopped carrots or peas, crumbled dried chillies, cheese and diced avocadoes for instance.
Tortilla soup - Sopa de tortilla
Serves 4
750 g/1 3/4 lb tomatoes, halved
75 ml/5 tbsp olive oil
500 g/18 oz onions, peeled and coarsely chopped
3 fat garlic cloves, peeled and crushed
1 red and 1 green chilli, as hot or as mild as you like, deseeded and finely sliced
15 ml/1 tbsp cumin seeds, coarsely ground in a mortar or spice grinder
1 litre/1 3/4 pints chicken or vegetable stock, or water mixed with 1 tbsp bouillon powder
150 g/5 oz black, red or pinto beans, cooked until soft and drained or 400 g/14 oz tinned
15 g/1/2 oz fresh coriander, coarsely chopped
125 g/4 1/2 oz plain tortilla chips
Fresh lime juice
Sea salt and freshly ground black pepper
Heat the grill to high. Line the grill pan with kitchen foil and arrange the tomatoes on it, cut side up. Drizzle with 2 tbsp of olive oil and grill 5 cm/2 in from the heat for about 20 minutes, until lightly charred. Transfer them to a food processor, add any juices, and blend to a smooth purée.
While the tomatoes are grilling, heat the remaining olive oil in a frying pan and cook the onions and garlic on low heat, stirring occasionally, until soft and golden, about 30 minutes. Sprinkle in the chillies and cumin and stir-fry for a further two or three minutes. Add the tomato purée and some seasoning, and cook over medium heat for 5 minutes longer, until it starts to thicken.
Pour in the stock, stir in the beans and cook for a further 10 minutes. Check the seasoning. The soup can be prepared up to this point ahead of time and refrigerated.
When you are ready, add the coriander and tortilla chips and divide between four warm soup plates.
Serve immediately.
Buén provecho!