Celebrating other people's cultural holidays like Cinco de Mayo is fun. But, do you really know the significance and meaning of the Mexican holiday Cinco de Mayo? This is a
BIG
party in the park for a reason!
First of all, Cinco de Mayo (the fifth of May) is
not
Mexican Independence Day as many would think. This is a victory celebration where the Mexicans defeated an overwhelming French army who wanted to take over Mexico City.
This was called the
Battle of Pueblo
where the ancestors of my friends (I have so many,) decided enough was enough and fought off the French army in Pueblo defending Mexico City on May 5th, 1862. Later, the French eventually took over Mexico City, but the Mexicans valiantly fought for their country against the odds. This was a huge victory and a well-deserved celebration!
So, as May 5th brings warm weather in most parts of the U.S.A. where picnic parks are packed with kids, Mariachi bands, hanging Piñatas and the parents cooking fajitas on the grill - I thought I would whip up a wonderful easy no-cook Mexican Crab Salad recipe to take along as an appetizer. This salad is full of flavor from South of the Border but just a little different for the region – I'm sure my friends will forgive me. You will love it - and it's ready in a snap!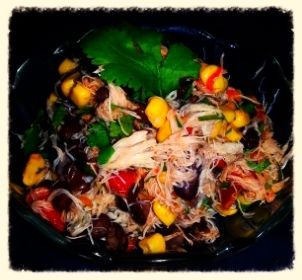 Ingredients
8 oz. canned or fresh lump crab meat, shredded
1/2 cup frozen corn, defrosted under running cold water
1/3 cup canned black beans, rinsed and drained
1/4 cup fresh chopped cilantro, lightly packed
1/2 tsp. cumin powder
1/4 cup roasted red bell peppers, roughly chopped
1 tbsp. finely diced jalepenos, ribs and seeds removed (or not!)
1 - 2 tsp. hot sauce (optional)
Salt and pepper to taste
Method
1. Combine all of the above ingredients well in a bowl (except the salt and pepper) and refrigerate for 1 hour or more, stirring occasionally to blend all of the flavors together.
2. Remove the mixture from the refrigerator and taste it. Add salt and pepper if necessary to your liking, stir it again and let this sit for at least 5 – 10 minutes to blend.
Serve chilled. Transport to the park on an ice pack to keep it cold. Once you serve it - it will be gone in 5 minutes. :) Trust me!
Check out some of my favorite Southwestern recipe links below on my site. You will love them.